Postal service Ford Windstar, How to buy a USPS used van
I had recently won an auction for a used 1998 Ford Windstar cargo van from the
USPS
.
My valuable advice here is meant to help others be aware and empowered by knowing what to expect. I keep updating this guide with the developments in my personal case.
The following relates to my experience bidding, winning, communicating and scheduling pickup by phone and email, vehicle inspection, paperwork & payment on location, post-sale complaint filings and subsequent handling by USPS.
An eye witness had testified in writing describing the on-location experience and various
buyer's feedback
raising false-advertising issues for similar items can be found on seller's page.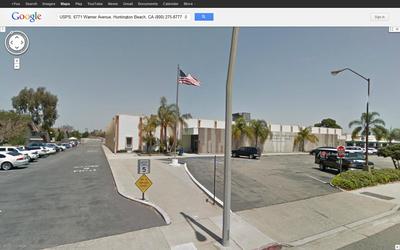 USPS Vehicle maintenance facility VMF pickup location
6771 Warner Avenue, Huntington Beach California 92647
US Post Office, CA.
What to be ware of:
Undisclosed damage (false advertising)
Missing vehicle parts
Misleading description (underestimated damage)
Bullying and threatening customer rep (at pick up location)
Practically impossible to reach post-sale Philadelphia office customer service (opposed to bombastic promises on auction ad)
Post pick-up mechanical issues arising ( possibly USPS pre-sale vehicle computer resets )
Similar cases on seller's record
(Negative feedback from buyers):
"Seller does not describe all of vehicle
problems."
Buyer:
a*******a ( 90 )
Jun-27-12 23:38
Ford : Windstar Cargo Van (#300712793447)
----------------
"Seller did not disclose defects after stating they had
a complete inspection"
Buyer:
b********$ ( 155 )
Mar-12-12 14:40
Ford : Taurus (#300648101641)
--------------
"Car has a lot of major problems that were not
disclosed prior to purchase."


Buyer:
d*********5 ( 40 )
Oct-14-10 11:49
Ford : Contour (#300473979214)
What to benefit from:
Under market average buying prices (provided the above repair costs do not nullify the difference)
Good post-winning/pre-pickup email/phone/fax service by Philadelphia office: for billing, invoice etc. ( 3190 South 70TH Street, Philadelphia , PA 19153-9990)
------------------------------------
Undisclosed damage:
Damage and repairs needed described on an ebay auctions are acceptable once you've decided to place a bid. Even a couple of minor undisclosed issues can be tolerated as a courtesy by a buyer of a used car.
However, major undisclosed pre-existing conditions such as accident damage or faulty mechanical/electrical systems should be considered false advertising.
usps-al-pmsc, US Postal Service Vehicle Category Management Center - as described on the sellers 'about me' page, tends to focus around paintjob, upholstery, carpeting and tires condition but keeps mostly silent and failed to disclose mechanical/electrical failures and missing parts anywhere on the vehicle.
For example, the ad for the car I bid on and won never mentioned the following:
- Accident (see photo below) - 5 feet long, body and paint job dent
- Fuel gauge - Out of order
- Cigarette lighter - Burned
- Dome (Interior) lamp - Smashed bulb and cover
- Driver's door switch (for dome lamp) - Broken
- Sliding door guide - Broken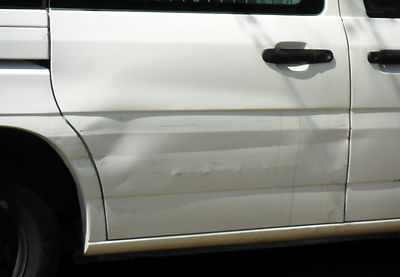 Similar cases on seller's record (Negative feedback from buyers):
"had damages that were not discloded, Driver door
lockmissing, Big fender dent"
Buyer:
m****3 ( 48 )
Oct-27-10 09:28
Buick : Regal (#300480541296)
Missing parts:
- Spare tire and jack - Missing
- Rear hatch door paneling (~4X3 feet) - Missing, ripped off.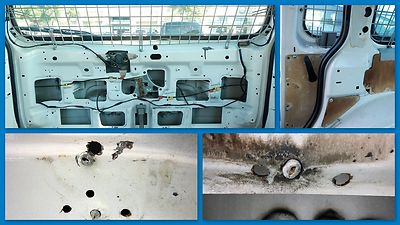 Similar cases on seller's record (Negative feedback from buyers):
"bad dent in rear bumper, no spare tire, no cass
radio, rips in seats and headliner"
Buyer:
1************e (105 )
Jul-21-09 17:45
Ford : Aerostar (#300328734026)
-----------------------------------
"IT IS UGLY INSIDE & OUT"
Buyer:
coathanga ( 827 )
Apr-11-11 17:34
Ford : Windstar (#300525231533)
Misleading advertising:
Moreover, some of the flaws which ARE disclosed on the eBay ad may be misleading and underestimating the severity of pre existing conditions, for example:
"The interior is fairly dirty", but in reality on top of being dirty there was water damage on all cargo wall panelling.
"Three tires are in new condition" - Those 3 Goodyear tires are 2 years old each, by the manufacturing date embossed on them and suffer aging cracks. On driving, tires dangerously skid on curves at normal speed and loose grip on braking where my previous car with 3 year old Kumho tires did much better. One of the tires has inconsistent shape, another wheel rim is rusty inside and out and was never originally painted.
Please consider the meaning of 'New' tire because: "The United States Postal Service's vehicle maintenance facility in Huntington Beach, CA, is shifting to the use of retreaded tires for its 4,095-vehicle fleet to save tire budget dollars." ( Quoted from Highbeam website )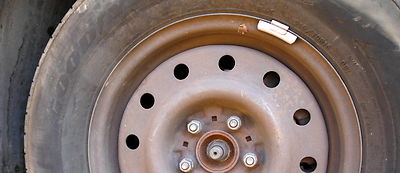 - Seller took the time to post photos of petty hole in the carpet and cigarette burn to the seat but avoided placing a photo on the extensive and apparent rust on roof.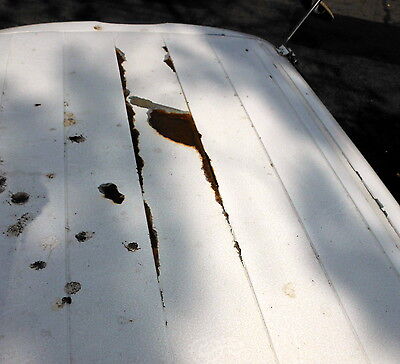 Post pickup issues:
After about a 100 miles of driving this car the 'Service Engine soon' light came on (Check Engine). a check with an OBD scanner I purchased showed the code P0420 and says: "Catalyst system efficiency below threshold bank 1". However consulting a professional I was told the vehicle computer may have been reset prior to the sale, for example by disconnecting/replacing the battery. That means that some evidence of pre-existing problems may have been temporarily unavailable to the buyer at the time of inspection and sale.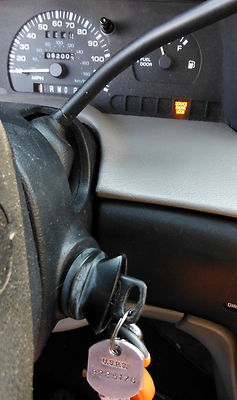 Pep Boys pulled engine light codes. Here is the report confirming trouble code P0420 :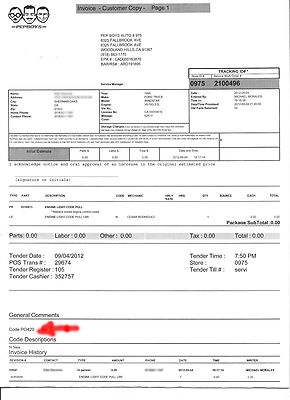 - P0420 Downstream Oxygen sensor reporting low catalyst efficiency on Bank 1 (Rear Bank).
- Coolant when topped to 'Cool Maximum' level in tank, drops by half after a couple of hundred miles.
Similar cases on seller's record (Negative feedback):
"Halfway home check engine light came on, has
serious transmission problems"
Buyer:
z*******r ( 122 )
Sep-29-10 07:15
Ford : Contour (#300466540171)
------------
Vehicle History:
I found my USPS vehicle was not registered in the DMV and when I applied for a CarFax I found only one entry for the 14 years since it was manufactured, which was a Ford recall.
Although eBay offers a vehicle history report on each auction, it is of little relevance in the case of USPS vehicles. Unfortunately this seller takes advantage of the lack of information available to the potential buyer and avoids volunteering past and current issues on both the auction and pickup.
Buyers who wish to inspect the vehicle prior to bidding are facing an impossible mission:
- The seller won't let prospective buyers drive the vehicle for inspection.
- The seller does not disclose the reset done to the vehicle computer, erasing error codes and 'check engine light'. Prospective buyers, even equipped with a code reader can not detect current problems (the codes reappear only a 100 miles of driving after computer reset).
- The seller claims some problems (i.e. the accident) happened after posting the eBay auction. In which case even a prospective buyer who inspects the vehicle prior to bidding can expect further damages upon pickup.
Sale & Pickup:
Beware of pressure to take vehicle with no update of 'As-is' condition and no record or address provided for complaints/compensation. In my case it included threats by USPS representative for cancelling the sale and eviction by police.
Also be advised that no available information about faults in the vehicle with be volunteered by representative and you will need to adopt investigative attitude or be left in the dark to only find out too late, after payment and pickup.
For example: about a week after picking up the car a postmen saw it on the road and asked me if there are airbags installed in my car because as he mentioned USPS uninstall them on all these model cars in service. I forwarded this question to usps-al-pmsc by eBay email two weeks after I had picked up the car and never got a reply to date.
Here is a summary of the events during the pick up transaction at Huntington beach location:
I arrived at Huntington beach at 4:00pm, just as scheduled with Mr. Michael R. (from here on referred to as Mr. R.) by phone earlier the same day yet have waited for 20 minutes until he showed up. First thing I thanked him for the service I experienced so far with all the mentioned above: Mr. Malecki and Mr. Sgarlata.
We proceeded to the parking lot where he pointed out the vehicle which I had bade on and won. To my amazement I found a long accident scratch and deep dent running from the front passenger door across the sliding side door and onto the rear fender. Nothing that was mentioned on the vehicle auction description on eBay.
As I asked Mr. R. about it he ignored my question and instead, standing with folded hands and with his eyes covered by black sunglasses posed an ultimatum: "You can take it or leave it" he said impatiently. Of course after all I had been through to manage winning an auction, make funding arrangements and having a friend take a day off to drive me from San Fernando Valley I practically couldn't afford to let it go.
I told Mr. R. that in matters of ethics and transparency such a major flaw as an accident should have been mentioned ( however he did find it important to mention on eBay rather lesser flaws such as a hole in the carpet and cigarette burns in upholstery). He said that for him selling cars is like selling chairs, he is not interested in the cars history, they arrive anonymously without any service record so he can't know their condition so he can do nothing about anything I find in the vehicle. I told him I would like to address this issue to whoever is responsible for the vehicle condition, whoever puts down the vehicle description on eBay. He replied that he is the one placing these vehicle auctions on eBay and there would be no one else I can refer to. In this manner he shook off personal responsibility and at the same time acted as the final authority. An intimidating experience from an employee whom duty is to serve customers and represent USPS in public.
He handed me the keys as he hurried me to look inside the car. I stepped in, the car was dirty but that was expected, however the ceiling light was smashed broken and the huge 4 X 3 feet panel was missing from the rear hatch door, exposing all dangling electric harnesses. Neither were these mentioned on the auction. I pointed these out to Mr. R. and he repeated impatiently "as I said, you can take it or leave it". I said "I need the car and want to take it but if you were in my shoes, buying a car, wouldn't you be similarly concerned?". Lifting the hood I noticed the alternator, distributor and cables were in a new condition, I asked Mr. R what was the reason those were replaced and he said the vehicles come with no history from the branch they used to serve and be maintained at. Whether this is true or not, this recent major electric system repair would require the disconnection of the battery, resetting the OBD computer saved codes and eventually conceal from the buyer (me) the check-engine light referring to the Catalyst system existing problem.
After all this, having a strong sense that he may not volunteer other flaws in the car I asked "Are there any other things different about USPS cars?"
He then went to the back door and wanted to show how it locks automatically when shut but had to lean his whole body against the car and rock it until he managed to turn the key in the lock. Then he went on to the sliding side door and while trying to show me how it locks he found out the mechanism is broken.
We went into the office to sign paperwork. I asked him to update the the "as is" car condition on the auction printout he held in his hand with the flaws we had just found before I sign and pay for it. He said what difference does it make since there is no other USPS person beside himself who can change anything about his transaction and asked me to sign a few USPS forms he gave me. I said: "I am talking to you as a person. I am sure that deep inside you know that being a buyer you would probably be similarly cautious as I am". At this point he became furious, pulled away all the paperwork from the counter and told me: "The sale is canceled, leave the place immediately before I call the police".
My friend, Wendie, who gave me a ride that day is a witness to these happenings and I attach her testimony hereby. Also a secretary was at the room, behind the desk at the time.
My friend had to beg him for a few minutes to allow me to buy the car telling him how much effort I had to go through to get it all together for this day. Luckily she managed to calm him down and he let go of the paperwork so we can proceed.
As we completed the signing we all walked over through the parking lot to the nearby post office so I can pay the car's purchase price.
After paying Mr. R. became more talkative and relaxed and arriving back at the Ford Windstar on the parking lot, he then gave his explanation to the damage. Pointing at the damage on the sliding door he said it was probably hit by another USPS truck while sitting on the lot for a few months, because the black marks color and height are typical to such accidents.
-----------------------------------------------------------
Actually, the accident damage had already been done at the time of posting this auction!
Retrospectively, knowing what and where to look for, I can vaguely see traces of the damage on a photo posted on the auction which was taken in the shade and from distance but no decent close up or honest mention was made anywhere, leaving a heavy impression that an attempt was made to conceal this significant damage.
usps-al-pmsc person who posted the eBay auction made an effort to place close-up photos of the hole in the drivers carpet but avoided posting one of the much more significant and costly to repair accident damage. For the passenger side photo the vehicle was placed in a much unfavorable position where it's entirely shadowed muting all distorted reflections that naturally occur where body damage is present. It also was taken from a greater distance which blurred any scratch and discoloration marks on the paintjob.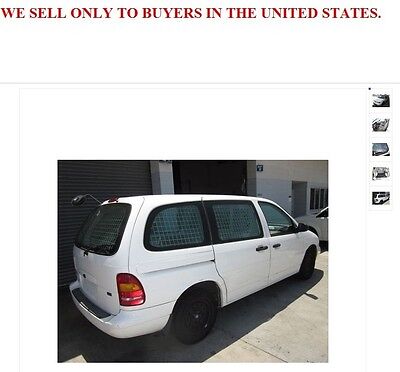 Why wasn't he upfront with this information and only revealed it after the sale was paid and done? And why did he roll the responsibility for the damage over to the buyer despite not having it disclosed on the ebay auction?
Reviewing all of Mr. Rosales attempts to conceal missing parts (rear door panel, spare tire and jack, ceiling lamp) it also raises questions whether this car was cannibalized for providing missing parts to other similar cars sold, to satisfy other buyers with Mr. Rosales was more interested or affiliated with.
Before we left I turned to Mr. Rosales and told him that since we may not see each other again I wanted to leave in a peaceful manner and clear any anger. He, with eyes still covered by dark sunglasses, giggled and went off into the office. We then took that Ford Windstar and drove back home.
Supporting documents:
Eye witness testimony:
The following is the testimony of an eyewitness, a friend who gave me a ride to pick up the won vehicle on that day: