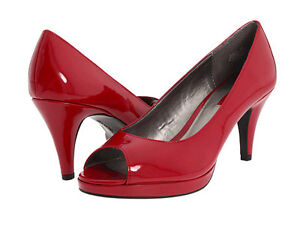 Jeans and heels are two articles of women's clothing that tend to play on opposite ends of the spectrum in regards to casual and dressy. Heels automatically connote a sleek, polished look that requires concentration to pull off, not only in style, but also in walking. Jeans, on the other hand, portray a casual, comfortable feel, far removed from the sophisticated and sometimes painful high heel. However, pairing heels and jeans together is a popular fashion trend, and when done properly, can either dress up a casual ensemble, or add a carefree look to a polished outfit.
Pairing jeans with high heels is a trending style that requires some thought before achieving the correct look. Though there are many different kinds of jeans that come in varied cuts and colors, and most of them can be paired well with high-heeled shoes, the most popular jean to wear with heels is the skinny jean .
The skinny jean style was popularized as early as the 1950s and continues to flourish today with more modern touches, like adding boots or high heels. Buyers interested in finding the right kind of jean, skinny, or otherwise, and pairing it with the right kind of heel, should first know the different options and styles available. They can then search their local boutiques, outlets, or department stores for these styles, as well as specialty clothing stores that also carry shoes. Alternatively, buyers may direct their search online to eBay to do their pairing.

Types of Jeans
Though there are several styles of jeans that make up a buyer's options when trying to pair them with high heels, the first thing to be considered is the features of the jeans. Each style of jeans has varying distinctions that make a difference in the way they look and the way they fit the wearer. Once buyers have a good idea of what features will work for them best, they can move on to choosing a style that supports those features.

| Jeans Feature | Description |
| --- | --- |
| Cut | The cut of the jeans is determined by the shape of the legs; bootcut jeans, for instance, have a wider pant leg than skinny jeans, and bell - bottoms and flared jeans are both wider than bootcut |
| Fit | The fit of the jeans is in the seat and thigh area; jeans may be tight or slim fit, meaning they are tight at the seat and thighs, or relaxed and loose fit, suggesting a roomier feel |
| Rise | The rise feature is determined by where the jeans fall at the waist; here, there are several options, including classic rise, which sits at the belly button, high rise, which sits above, and low or ultra-low rise, which falls below the belly button |
| Wash | The wash of the jeans relates to the color, texture, and overall look; there are several options for washes; original wash is stiff and dark; stoned or dirty wash jeans are pre-washed and have a worn feel to them |

Understanding the features in the previous chart will go a long way towards helping a woman pair the perfect pair of heels with a pair of stylish jeans.

Styles of Jeans
When choosing jeans to wear with heels, there is more than just one option. Different styles of jeans pair well with different styles of high heels. Wearers should first know the difference between these styles before choosing what is best for their desired look.
Bootcut Jeans
Bootcut jeans are loose and wide on the wearer. They are not quite form fitting, but instead leave extra room for the leg and widen out towards the pant opening, giving just enough flare to show off boots or shoes. These jeans can be found in a variety of different washes and colors, and can be found in low-rise or waist-hugging styles.
Heel Pairing
A good type of heel to wear with this style is the pump. The pump heel is anywhere between two inches and three inches and is usually wide at the base and thin at the bottom. Choosing a pump with a pointed toe can counteract some of the wideness of the boot-cut and will elongate the look of the legs and feet to suggest a taller, slimmer stance.
Another popular option would be to wear these jeans with high-heeled boots under the pant legs. Again, the heel will even out the wider look of the jeans, and choosing a pointed toe will give length to the style.
Straight Cut Jeans
This style of jean is exactly what it claims to be. It has the same proportions from the hip to the ankles and has a straight cut all the way down without any flaring at the hem. It is akin to the skinny jean in that it doesn't add any extra shape, however, unlike the skinny jean, straight cut jeans remain a little wider than the leg itself. These too can be found in varied styles with either a low - rise or high-rise, though they tend to have more of a high waist than the boot cut jean.
Heel Pairing
Since straight cut jeans are such a simple style and tend to be considered more casual, a smaller, more casual heel like the kitten heelwould pair well with them. The kitten heel is usually between one and one and a half inches tall and connotes the same simplistic air that straight cut jeans imply.
Flared Jeans
The flared jean style is somewhere between the boot cut and the bell - bottom . These jeans are generally worn low at the waist and fit tighter around the hip and thigh area than bootcut jeans. Flared jeans get their name from the wider flare hem they sport, which gives the legs an hourglass shape.
Heel Pairing
The best heels for flared jeans are the ones that will give the most height. In this case, stilettos with a chunky base would pair well. Stilettos are by far the tallest shoe, with a slim tapered heel that can range anywhere between three to eight inches in height. Adding this heel to flared jeans will keep the wearer from looking too short with a long flared hem.
Bell-Bottom Jeans
The bell - bottom style sports the widest pant leg and is worn tight at the waist and loose throughout the rest of the legs, creating the same hourglass shape that flared jeans display on a smaller scale. These jeans tend to cover the heel and shorten the stature of the wearer with their length.
Heel Pairing
Because bell-bottom jeans suggest a shorter appearance in the wearer and cover the ankle entirely, the best heel to wear with this style is the one with the greatest height and the most defined look. Just like the flared jeans, bell-bottoms pair best with stilettos, preferably ones with a chunky base to balance out the hourglass shape and length of the legs.
Skinny Jeans
Skinny jeans are one of the most popular current trends in jeans today. They are slim-fitting and are usually lo -rise in the waist. Unlike the straight cut jeans, skinny jeans are entirely form fitting and taper off at the ankle, leaving plenty of room to show off a pair of high heels or boots. The skinny jean is the best style to pair with heels, not only because of the tapering off at the ankle, but also because it accentuates all the same target areas that heels tend to display, such as the legs and backside. Because of their tight fit, skinny jeans are the most versatile style and can be worn in both casual and dressy situations.
Heel Pairing
Skinny jeans can be paired with almost any type of heel to achieve either a dressy or casual look. The best choice for the skinny jean is pumps with a pointed toe, to create that elongated look. Wearers can also try a variation of the pump with a peep-toe heel, and have the added feature of an open toe, usually with lace, bows, or some other accentuating object that can make a dressy ensemble lighter and more carefree. High-heeled boots are also another popular choice to mix with skinny jeans and can be worn over the pant leg to give the wearer a taller, slimmer carriage.
The only heels that should be avoided while wearing skinny jeans are kitten heels and chunky heels, such as wedges. Kitten heels are too low to give off the desired look that skinny jeans represent, and wedges add wideness to the wearer's stance that distracts from the form-fit of the skinny jean.

How to Buy Jeans and Heels on eBay
Buyers interested in finding the right jeans and the right heels can search online at eBay for both products. eBay provides an array of choices and styles presented in a way that makes it easy to find what you're looking for.
Searching Made Easy
You can find both jeans and heels to match on eBay by using the search bar or by using a category search for each item. When looking for jeans, you can simply type the keywords "women's jeans" into the search bar to receive hundreds of options, including pictures, brands, and descriptions. This same search can be done for high heels. You can type the keyword "heels" into the search bar to browse through several options.
You can also narrow down your search by selecting a category. Search for jeans by choosing the Fashion category first, and then choose Women's Clothing. From there, select the Jeans category where you can pick out the style jeans you prefer, as well as your desired size, brand, wash, and material. You can perform this same search for a pair of newly purchased jeans with heels. Choose Women's Shoes instead of clothing and then choose Heels to browse your options.
Buying with Confidence
Buyers that opt to purchase on eBay can be sure to get their product for the best deal. eBay offers you the chance to research the sellers as well as view the seller's feedback on other sold products and their ratings from past transactions in the Feedback Forum to ensure that you are buying from a trustworthy source.

Conclusion
The popular trend of wearing high heels with jeans can make a look both casual and dressy, but buyers interested in such a pairing should be aware of their options. There are several different types and styles of jeans, as well as an equally long list of high heels to choose from. Knowing which jeans to pair with which heels can make all the difference in achieving the long and slimming look desired. Finding the right jeans and heels pairing can done by searching online at eBay, where finding both products is made easy by comprehensive searches and clear seller ratings.