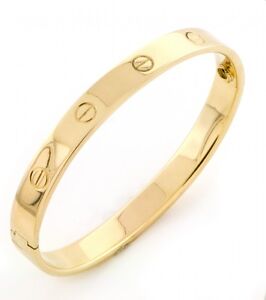 Archaeologists have found evidence that women have been wearing bangle bracelets for almost 6,000 years. In many cultures, these simple but stylish bracelets are used as both accessories and for ritual purposes. Indian women stack on as many bangles as they can prior to their weddings. In some countries, women wear fine jewelry bangles as a sign of wealth and power. Of course, many women simply choose these striking bracelets as accessories. Women of all ages can add a fashionable touch to their outfits by wearing bangle bracelets.
Bangle Basics
Both fine jewelry bangle bracelets and fashion jewelry bangle bracelets are offered by online retailers and in brick-and-mortar stores. Most of these bracelets share common design elements but are made from different materials. The chart below describes some of the materials frequently used in the production of bangles.
| | |
| --- | --- |
| Metals | Every metal used in the production of jewelry is used to make bangles. These bracelets can be made from gold, silver, copper, pewter, aluminum, titanium, and all metal alloys. Metal bangles make a distinct tinkling sound when worn together that many individuals automatically associate with this type of jewelry. |
| Wood | The majority of woods used in bangles are lightweight. The specific wood used will vary according to the area in which the bangle was made. Wood bangles may be polished, varnished, stained, or painted. Natural wood bangles are often sold in sets with metal bangles. |
| Plastics | In the 1950s and 1960s, bangles made from Lucite and Bakelite became extremely popular. Today, a variety of plastics are used to make bangles. Buyers who are interested in buying vintage bangles should carefully inspect these pieces for any signs of wear or cracking. |
| Gemstones | Bangle bracelets made from semi-precious and precious gemstones are now widely offered on the consumer market. Many of these pieces are strung on special elasticized beading wire. |
| Rhinestones | Rhinestones, or false gemstones made from glass and plastics, are also used for bangles. These stones may be set into metal bands to add a bit of sparkle or may be strung onto elastic wire. |
| Crystal | Sparkling crystals are used on bangles designed for dressy occasions. These bangles feature both simple strands of crystals and complex designs with many crystals set into a metal, wood, or plastic band. |
| Pearls | Simple strands of pearls that have no clasp are often referred to as pearl bangles. These bracelets may be composed of one or several strands of pearls. They often feature charms and other decorations. |
| Beads | Beads of all shapes and sizes are used to make bangle bracelets. Small glass beads are particularly popular for this style of jewelry. |
| Leather | Many ethnic and regional bangle styles make use of leather. Leather bands may be braided, painted, or decorated with traditional leatherworking techniques. These bracelets are ideal for individuals who have sensitive skin and cannot wear metals. |
| Textiles | Woven thread bangles are also found among ethnic and regional jewelry offerings. The majority of these bangles can also be described as friendship bracelets. |
When shopping for bangle bracelets, buyers should be aware that true bangles form a complete circle. Bracelets that clamp over the wrist and have an opening in the back are not bangles but cuffs. In addition, most bangles do not have clasps. They can simply be slid onto the arm. Most buyers will benefit from buying sets of bangles that include pieces designed to be worn together.
Accessorizing with Beautiful Bangle Bracelets
Bangle bracelets are an invaluable accessory that any woman can use on a daily basis. Pulling off great looks with beautiful bangles is a simple matter of understanding the different outfits and occasions to which different types of bangles are suited. Of course, wearers should let their own fashion sense guide them when picking bangles to purchase and wear.
How to Wear Gold-Plated Bangle Bracelets
Many women enjoy wearing gold-plated bangle bracelets because they are striking and valuable pieces. Choose gold-plated bangles when attending a special event or when wearing vibrant, jewel-toned clothing. Gold-plated bangles can be matched with wood bangles for an elegant but earthy look.
How to Wear Sterling Silver Bangle Bracelets
Those individuals who want to wear high-quality bangles in silver should choose sterling silver bangle bracelets. These bangles feature bright, pure silver coloring. They are preferable to Tibetan silver bracelets, which are made from an inexpensive alloy that contains very little real silver. These bangles can be worn to almost any event. Sterling silver bangles look great when paired with beaded bracelets.
How to Wear Bronze Bangle Bracelets
Women who want to adopt an earthy, bohemian look should choose bronze bangle bracelets. These stunning bangles look good with almost any outfit. They are as beautiful as gold and silver bracelets but speak to a more carefree sense of style. Pair bronze bangles with outfits in deep jewel tones for a sophisticated look.
How to Wear Plastic Bangle Bracelets
Women, teens, and children can wear plastic bangle bracelets on a daily basis. Choose dressy, plastic bangles when headed to the office or a special event. The majority of dressy, plastic bangles will be found in antique and jewelry vintage sections. Choose simple, understated plastic bangles for casual wear or when headed to school.
How to Wear Gemstone Bangle Bracelets
Those individuals who are looking for the perfect accent for a dressy outfit are well suited by choosing gemstone bangle bracelets. These stunning bracelets can instantly turn a simple business suit into an elegant evening suit. They are ideal for young women who are headed to parties and school dances. Match gemstones with outfits according to their color.
How to Wear Wood Bangle Bracelets
Wood bangle bracelets can be worn on their own for a casual look or can be matched with other bangles for a more upscale look. While wood bangles can be appropriate for office wear, women should avoid using these bangles when attending formal events.
How to Wear Leather Bangle Bracelets
Add an instant bohemian accent to any outfit by wearing leather bangle bracelets. These bangles are perfect for school or a weekend in the outdoors. They can be matched with beaded bangles or gold-plated bangles for a funky, uptown look. Pair bangles displaying intricate leatherwork with simple metal bangles for the best results.
How to Wear Vintage and Antique Bangle Bracelets
Those individuals who would like to wear vintage and antique bangle bracelets should choose bracelets according to their materials. Remember that metals and rhinestones tend to be more dressy than plastic, wood, and leather. Women should use caution when wearing vintage pieces as they can be fragile. Avoid wearing antique bangles for active outings as they may break.
How to Wear Ethnic, Regional, and Tribal Bangle Bracelets
A unique touch can be added to any outfit with ethnic, regional, and tribal bangle bracelets. Pair bracelets displaying intricate designs with simple, straightforward outfits. Pair bracelets that feature simple styling with bold patterns to create a polished but funky look.
How to Choose the Right Bangle Bracelet for Every Occasion
Bangle bracelets are affordable, meaning that many women can create a collection of such bracelets at very little cost. Remember to keep the occasion for which a bangle will be worn in mind when choosing a piece to accessorize an outfit. The chart below provides suggestions regarding the types of bangles that are best suited to given situations.
| | |
| --- | --- |
| School | Choose plastic, wood, and metal bangles to add a sweet accent to any school outfit. |
| The Office | Gold-plated and sterling silver bangle bracelets are the best bet for the office. Vintage and antique bracelets are also a great choice for the workday. |
| Dates | Choose funky, bold bangles for a date. Many women prefer to wear bangles made from Bakelite, Lucite, and rhinestones for dates. |
| Casual Get-Togethers | Wood, leather, and beaded bangles are perfect for casual get-togethers. They add a touch of elegance without being intrusive. |
| Dressy Events | Gemstone, rhinestone, crystal, and pearl bangles are ideal for dressy events. Match vibrant bangles with simple metal bracelets for a polished look. |
How to Buy Bangle Bracelets on eBay
A stunning variety of bangle bracelets can be found in the Jewelry & Watches category on eBay. From the main category page, shoppers can decide whether they would like to search for fine jewelry, fashion jewelry, ethnic jewelry, or antique and vintage jewelry bangles. On each individual jewelry page, searches can be narrowed down according to item type, materials, price, condition, and buying format. Those individuals who are looking for a very specific type of bangle may wish to enter search terms into the search bar at the top of the main Jewelry & Watches page. Fashionistas who are looking for a bargain should pay particular attention to any lots of bangles listed as they tend to offer significant cost savings.
Conclusion
Bangle bracelets can be used to accessorize almost any outfit. Available in a stunning variety of colors and styles, bangles are the perfect choice for the busy woman who wants to look great but doesn't have a lot of time to spend accessorizing. These great pieces are quite affordable and can be found both at online retailer sites and in brick-and-mortar stores.