As an eBay Education Specialist, I have been asked to train some of my students in the use of Turbo Lister. (I use Blackthorne Pro to manage my eBay business.) I have prepared the following info to train my Tucson classes:
GET STARTED
! - Download Turbo Lister from pages.eBay.com/turbo_lister.
2 - Install Turbo Lister onto your computer (setupUS.exe is the file name - double-click it to begin installation.
3 - When you first launch/open Turbo Lister, it will take a couple minutes to set "up Turbo Lister for first use".
4 - Choose the first option to Set up a new Turbo Lister file, then click the Next> button.
5. You will be prompted to enter your eBay ID and password
6. Click Next> when you've done this, then you'll be asked if you with to import your eBay Listings.
7. If you have no current or recent eBay listings to import, choose to Create a new item. If you do have items, import active and/or all ended. On a cable internet connection, this takes about 1 second per item to import to your computer.
When the import is done, the Turbo Lister Tip window pops up. You may uncheck the button on that window if you don't want to see tips every time you start up Turbo Lister.
YOUR INITIAL SET UP IS COMPLETE!
You'll now see something like this:
TURBO LISTER WINDOW
This section will describe how various features in the Turbo Lister window work. If you want to get started without exploring this section until later, skip to CREATE NEW ITEM.
An explanation of some of the menu items is below each following image:
INVENTORY WINDOW - This is Turbo Lister's main window.
File>New>Create item from template (This expands to show all templates you have. See Create New Item From Template below.)
File>New>Create multiple items (This allows you to create many items at once with pre-filled information. For example, you may have several DVDs to enter. You'll choose DVD as the product type, then search for each item via its UPC, title or director. When you have that info entered, Turbo Lister will connect to eBay to return choices which meet your criteria. When you then choose the appropriate item, Turbo Lister will import some info needed for that item record.)
File>New>Create a new template. (A template holds some defaults for your records to speed up entry.)
File>New>Create a new User File. (You can set up a new Turbo Lister account for another eBay ID; select a previously-set-up user; or open a sample [blank] Turbo Lister file.
File>Change User>View item records of another user's ID in your Turbo Lister. You may use Turbo Lister to list on eBay by changing the user for up to 5 different eBay IDs.
File>Close - Keeps Turbo Lister open, but no user selected
File>Import Items>From eBay - Choose from active or completed for 24 hours to all, which is appx. 60 days
File>Backup Database - To set the schedule for Turbo Lister to remind you to do backups. You may also force a backup when you wish.
Edit>Duplicate - Duplicate the item record you're on.
View>Users - If you have more than one user in Turbo Lister, you can view/go to each from here.
Tools>Relist Items From eBay - This opens your browser to your My eBay to relist items.
Tools>Options - Set your eBay preferences & item record defaults here.
INVENTORY WINDOW - TEMPLATES FOLDER - This folder holds templates which you create to use as defaults for item record creation. The templates may not be submitted to eBay.
INVENTORY - ALL ITEMS FOLDER - This is the main folder which will hold all item records you've imported into and created in Turbo Lister.
WAITING TO UPLOAD - This will show a list of all item records you've not yet submitted to eBay. If all of your items have been uploaded to eBay, the grid will be blank.
ACTIVITY LOG - Any errors which occur in Turbo Lister should be noted here. (Note: The warning shown on the below records is a known bug and should not occur. Should you receive an error or warning in Turbo Lister, you should first go to the Turbo Lister discussion board (http://forums.ebay.com/db1/forum.jspa?forumID=34) and search for any discussions on that issue - it may not affect any listings or the use of the program - however, it may be a serious issue you should understand.
CREATE NEW ITEM
When you first start using Turbo Lister, you will not yet have a template created from which to create a new item record. To create a new item, Click on the New starburst icon>Create New Item or go File>New>Item or type Ctrl+N.
This opens a Create New Item window.
Enter your title. (You may also pick a previous title from the arrow to the right of the title field.)
If you use a sub-title, enter that. Then choose a category by clicking on the Select button to the right of the category field. (You will click on the + to open sub-categories to go to the one you want.)
Note the image above shows the chosen category uses Item Specifics (IS). Click Next to enter the Item Specifics or click Done if your chosen category doesn't use IS.
If you want to use a second category, follow the above procedure.
If you have an eBay store, select the appropriate store category(ies) just below the category fields.
PHOTOS
To the right of "Pictures and Description" is a link, "Customize". Click the tiny button to its left to open the Customize window as shown below. You will select either eBay Picture Service or Self-hosted Pictures, depending on which you use.
If using eBay Picture Services, you will click on the picture well (Click to insert a picture) to select the appropriate picture on your computer.
When you select your picture, you can crop it by dragging the corner handles. You can also rotate the image by clicking on the circle/rotate icon as seen to top/right of image. Click Insert when you have chosen (and cropped & rotated) your picture. (Note - if you use the gallery upgrade, this first image will be your gallery image.)
If you self-host your pictures, you will enter the url of each image into the picture fields.
DESCRIPTION
You can enter your description directly into the Description field, or preferably, click on the icon to open the Description Builder, which will allow you to format your description: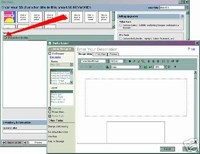 Enter your description text into section as below: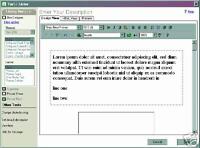 If you want to change the font of your entire description, select/hightlight it all then choose the font desired (Arial, Times New Roman or Verdana) from the font field:
You can apply additional formatting to all or parts of your description using the formatting tools.
LISTING DESIGNER
On the left side of the description editor, you can choose to use the Listing Designer. (10¢ per item). You will select a theme, such as Special Events, then choose one of the borders which will go around your description, such as Wedding Cake. You may set the layout of your photos.
INVENTORY INFORMATION
The Custom Label field may be used for your internal part number, SKU or other information you may want to keep in this item record.
SELLING FORMAT
In this section, selct the format - auction, fixed price, ad format, store inventory or Best Offer only. Set your start, reserve & Buy It Now prices, set your quantity. (If you have 2 separate items to sell, the quantity is 2. If you are selling 2 items together, the quantity is 1.) Set your duration. Note whether a private listing and, if you're registered to sell items for a charity on eBay, complete the Donation section.
LISTING UPGRADES
Select the upgrades you want to use for the item record you're on.
SHIPPING OPTIONS
Set your shipping, insurance and sales tax options for flat rate shipping.
Set your shipping weight, shipping methods, handling fee, insurance and sales tax options for calculated shipping.
(Package Sizes are described at http://pages.ebay.com/help/sell/ship-calc-package.html.)
PAYMENT METHODS
Choose payment methods you accept & enter your PayPal email address, if PayPal is chosen.
INSTRUCTIONS & POLICIES
Edit your additonal instructions, return policy & buyer requirements to be posted on your listing.
PREVIEW
Click Preview button as shown below to see what your listing will look like. Above the preview is a section which shows the category(ies), duration, quantity, price(s), format, upgrade(s), shipping costs and instructions you've set for this item.
CREATE NEW ITEM FROM TEMPLATE
If you've created templates, which hold the defaults for your items, you may create a new item from the Templates folder by clicking on the Create Item From Template button as shown:
SAVE AS TEMPLATE
If you've created an item which you will want to use as the base for future items, you may want to save a particular item record as a template. From the edit window, click on the Save As Template button. This will place the record into your Templates folder.
READY TO UPLOAD TO eBay
When your item record is ready to go, click on the "Add to Upload" link above the grid, then click on the Go Upload button at the bottom of the pop-up window.
You may want to check your listing fees prior to uploading. To do this, click on the Calculate fees link above the grid. After Turbo Lister connects to eBay to do this & to check for program upgrades, you may hold your mouse over the fees column in each row to see a mini-pop-up window which shows your fees for each item.
When ready to upload, click on the arrow next to Upload All above the grid to upload all items in the grid, just the selected or to Selling Manager. If you upload to Selling Manager, all records in the grid will be moved to Selling Manager/Inventory.
CUSTOMIZE & ORGANIZE YOUR TURBO LISTER
FOLDERS
All items you've created and imported appear in the All Items folder on the left sidebar of the Turbo Lister window. Imported items will appear in sub-folders. You may create any folders you want for organization by right-clicking on the All Items folder. Name it as you wish. To place an item record into another folder (though it will remain also in All Items), click on the blank cell to the left of the item record & drag it to the appropriate folder as indicated by dots below:
You can resize the Turbo Lister window by placing your cursor along an edge or corner, which changes the cursor to a double arrow <-->. Hold your mouse left button and drag to size desired. You may also drag the divider between the sidebar & grid and may also adjust the width of the grid column titles.
COLUMNS
Right-click on column headers to Customize Columns. You can check, uncheck & move items up or down for grid appearance and placement. You can right-click on a column header to sort that column.
(Due to eBay Guide limitations, all the screen shots I have to illustrate this info would be too small and too many. Contact me thru eBay if you'd like to see the images that go with this tutorial.)