If you have an older TV, the Xbox 360 may not work on it. In this guide, I'll explain more as to why and how you can tell if this will be a problem for you. Few things are more disappointing than getting or giving a video game system that the recipient can not hook up to their TV.
Many of the older TVs use something called Radio Frequency (abbreviated RF), and/or antennas. While this may be adequate for usage with a Nintendo or Atari, which only had simple graphics to display, it is not for your Xbox 360.
If you look on the TV you plan on hooking up the Xbox 360 to and only see a RF Jack (pictured below to the left) and/or antenna connectors (pictured below to the right) then the best thing you could do is just get a new TV if at all possible. (If you have other places to hook up things on your TV you're probably ok.) Apart of the joy in playing video games is seeing graphics that look great, which is anything but what they will look like on RF, or antennas.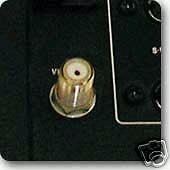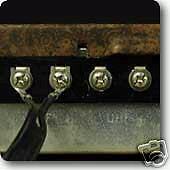 Should you ignore conventional wisdom, you will need to buy a generic RF, or antenna modulator in order to play your Xbox 360 on a TV that only has those options for hook-ups. The reason it would need to be generic, aside from the fact that the Xbox 360 does not ship with a RF adapter in its package, is because at this time at least, there is not a Xbox 360 specific RF modulator. So what you will need is a generic RF modulator that will convert S-Video or Composite to RF. The benefit in buying generic is that you can reuse the same RF modulator for your other systems as needed rather than a Xbox 360 specific modulator (if there was one), and have it only work on the Xbox 360.
A RF modulator should cost you about $20 to $30. However, its possible to find a TV that will accept S-Video or Composite feeds for about as much if you shop around, and would likely be a better investment than a RF modulator. (Note: RF is preferable over using antenna connectors). Below is a picture of what one RF modulator looks like.