THERE ARE MANY FAKE TAGS CIRCULATING, THIS IS ONLY AN EXAMPLE OF THE MORE POPULAR FAKE TAGS OUT THERE. EMAIL ME FOR MORE INFO OR USE THE "DISCUSSION BOARDS" UNDER PURSES FOR MORE EXPERT ADVICE.
5) FAKE LABELS: SEE PHOTOS BELOW


FAKE ON THE LEFT (S IS TOO CLOSE TO THE P). RIGHT IS AUTHENTIC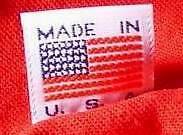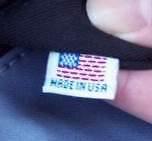 FAKE "MADE IN USA" LABELS (FIRST 2 PICS). PHOTO ON THE RIGHT IS AUTHENTIC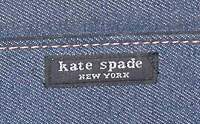 HARD TO TELL. BUT THERE IS EXCESS FABRIC ON THE RIGHT SIDE OF THE LABEL.
SHOULD BE A EVEN ON BOTH SIDES.

FAKE LABEL ON LEFT. THE "A" HAS A WEIRD CURVE ON THE TOP PART. COMPARE TO THE AUTHENTIC LABEL ON THE RIGHT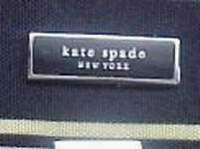 FAKE METAL TAG. YES, IT'S FANCY AND LOOKS ELEGANT...DON'T BE FOOLED!
THIS IS ONLY A SMALL SAMPLING OF THE FAKE TAGS THAT ARE OUT THERE. EVERY YEAR THE IMITATORS ARE GETTING BETTER! ALWAYS LOOK FOR SUBTLE DIFFERENCES LIKE THE ONES ABOVE...AN "OFF" LETTER, AN IMPERFECT LABEL. YOU WILL BECOME A PRO AT SPOTTING KNOCK OFFS IN NO TIME!
MISC. TIPS BELOW
5) Kate Spade does not make patchwork purses, backpacks or purses with two small pockets on the front. Although patchwork purses are popular right now, the company hasn't made this product in years

6) Look out for "wild style" bags. Faces, awkward stripes, French toile, patchwork(mentioned before), camouflage, tattoo style or anything of this nature on the purse are all signs of a FAKE!

7) Big metal studs or metal feet on the bottom of the bag are signs of a FAKE!