The social networking tool, Pinterest is a great place to shop for eBay products. The Pinterest site features millions of amazing photographs that link directly back to the item page on eBay. Statistics show that more people are buying products by clicking through links on Pinterest than any other social networking site including Facebook and Twitter. This is because it is a really fun shopping experience. This guide will give you some tips on how to get started. Please refer to my first guide "
How to find eBay products on Pinterest"
for instructions on how to search for eBay products on Pinterest
.
Here are my tips on how to use Pinterest for shopping on eBay.
Shopping tips
– Follow the steps below to understand how the search feature enables you to find interesting eBay products, as individual pins or eBay store boards, as well as pinners.
Search and View eBay Product Pages.
Log on to Pinterest. Enter #ebay in the search field at the top left of the home page.
Use the default setting to search pins. You can set the search to view Pins, Boards or Pinners. View the search results for #ebay pins. Notice the pins "from eBay" with the eBay logo. All of these pins have been pinned directly from an eBay listing page making it very easy to find the item for sale.
Click a pin. When you preview a pin, notice these features:
You can click the image to go directly to the product page. Or, you can click "See this on eBay"
You can see the item price below the pin.
You can view the bottom right section that includes other pins from "ebay.com"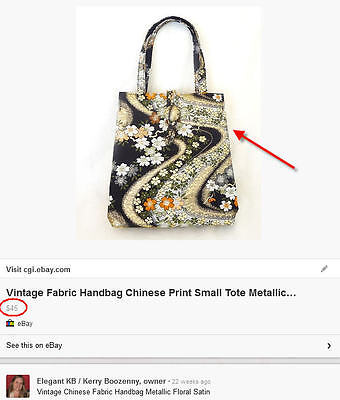 Additional Tips for Finding and Purchasing eBay Products.
When you click on a pin and the item is no longer available, be sure to check the images on the eBay page under the heading "More chances to get what you want". This is where eBay show similar items for you to purchase.
Sellers may not have a chance to update their Pinterest links for items with expired listings. Here are a few suggestions for when you really want to buy the item - but the link shows it is sold.
You can contact the seller on eBay. Click the seller name and then the Contact link.
From Pinterest, check the sellers profile for a link to their eBay items for sale or their store. The item may be re-listed, or another version may be available.
From Pinterest, you can leave a comment in the comments below the pin using the @ symbol before the Pinners name. The @ symbol will notify the pinner about your comment.
Thanks for reading my guide on how to shop for eBay products on Pinterest. I've been a Pinterest user for a good year, since the summer of 2012. I love finding products and shopping for gifts on the site. I am really excited that Pinterest makes it easy to purchase eBay products.
Please rate my guide. I hope you found the information useful and easy to follow. Thanks! Kerry