After months of buying and selling golf clubs on eBay (and making a few mistakes along the way), I think I finally have it down! I've discovered that the selling price of a club has a great deal to do with the care I take in preparing my listing. If you'll follow my common sense and simple method, you will maximize your chances of getting the best price possible for your golf clubs.
CATEGORY
Sporting Goods would be the most obvious and best category choice for your listing. In my experience, there is no need to use anything else.
TITLE AND DESCRIPTION
The Item Title is very important. Make sure you give the most complete description possible in the 55 characters allotted.
Good item title: Cleveland Launcher 3 Wood 13* Fuji graph reg flex shaft
Not so good item title: Cleveland Launcher fairway wood
As you can see, with easy-to-understand abbreviations, it is possible to get quite a bit of information in a short space. If more space is needed, the Subtitle Section can be used as well. Be sure to include all pertinent details.
Important note: The Item Title may default to a more generic one once you've moved to the next page. Be sure to check the title as it appears just above Pricing and Duration. If it is not what you typed in, you'll need to reenter your more detailed description in the box.
The Item Title section is the place to carefully select the appearance of your text. There are a variety of font types, sizes and colors from which to choose. My preference is the Times New Roman size 18 in blue. I think a smaller size is too small to read easily and the larger size seems to shout at the reader. I chose blue as it is easy on the eye and it conveys a calming, trustworthy appeal.
Use positive wording in your description to give an honest assessment of the used club:
"Club is in good condition with minor brush marks on face and sole plate. The top of the head is in excellent condition."
The prospective buyer should not need to ask questions if your description is complete. Include the brand name and condition of all parts of the club:
Grip - "Golf Pride Standard Taper Sofftie Grip - in near new condition"
Shaft - "Fujikura Launcher Gold Still Flex - no marks on shaft"
Head - "Milled Titanium Composite Top 9.0* - small marks on sole of club"
Head cover - "Original with club - in excellent condition"
It's a good idea to mention the reason you are selling the club:
"I'm quitting this game!"
PICTURES AND DETAILS
In the Pricing and Duration section, eBay provides helpful pricing data. The average starting price and average sold price are given. Be sure to check the complete items. Here you will find the price for which similar items have sold and are still for sale, which will help you to determine the price you'd like to get for your club. You may prefer to use a Buy It Now price or set a reserve price. It is best to plan to have the auction end during the evening, after most people have come home from work and have had dinner. Many people choose this time of day to sit down at their computer and look for eBay bargains.
Enhance your chances for getting the best possible price for your clubs by adding pictures. The importance of good, clear photos of sparkling clean golf clubs cannot be over-emphasized. A lesson I learned early was that taking the time to thoroughly clean the clubs before taking a picture of them pays off nicely in your selling price. Notice the difference in the pictures of the club below. Which one would you be most likely to stop, look at, and possibly purchase?
Before:
After: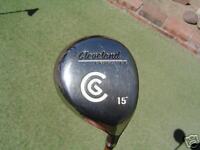 Two or three picture are usually sufficient. Be sure to show the top, bottom and face of the club. If the club has a special shaft, an additional picture would be helpful. Unless it is a special grip, it is not necessary to show the grip in the picture. It can be included in the description of the club. Position the club on a good background, preferably grass.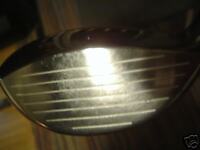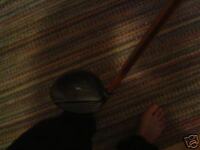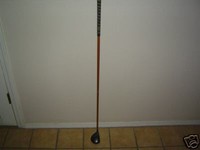 The above pictures show how a poor quality photo gives very little information about the club, while the photos below show important details and present the club in an attractive way.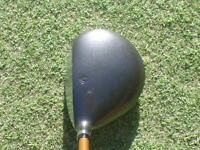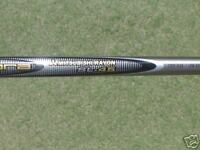 Accessories such as head covers should also be shown in the photos if they are included with the club.
Be sure to check out the variety of enhancements that are offered by eBay to increase your item's visibility. I strongly recommend using the Gallery Picture as an attention grabber and prefer using first picture rather than stock picture to give an accurate impression of the item.
PAYMENT AND SHIPPING
PayPal is the method of payment preferred by most buyers. In the Payment Instructions section, you can give options for payment, ie.: "PayPal preferred", "Will accept money orders", and "Please pay within five days. After five days, the item will be relisted."
Several methods of shipping are offered...UPS, Fed Ex, and USPS are the most commonly used. I prefer USPS priority mail, which takes two to three business days. Also, your mail carrier will deliver free priority boxes needed to ship the clubs and will pick the box up at your home or office on the next mail delivery day. By using this method, you avoid the hassle of waiting in line at the post office to pay for postage and send your package. As for the cost of shipping, the options are flat rate or calculated. I use the flat rate for priority mail. The USPS website offers a calculator to determine the cost of shipping to and from various zip codes. The difference between the cost of parcel post and priority is usually small. I have found that customers are very happy to receive their clubs promptly. PayPal and USPS have made the whole process of shipping very convenient by making it possible to print a prepaid postage shipping label from your computer. You can spend all the time you save shining up your next club to list on eBay! Then sit back and watch those bids go up, up, up!