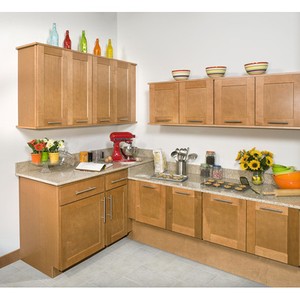 Selecting new kitchen cabinets as part of a remodeling project or to replace cabinets that are worn beyond repair can seem like a daunting task. There is a wide variety of styles and materials from which to choose, including several different types of wood and metal. The cabinets can be stock or custom-made. The cabinet finishes can be natural or painted.
Watch this video for more tips and tricks on selecting kitchen cabinets:

Determine a Budget
The first step in any remodeling project is establishing a realistic budget. In addition to the cost of the cabinets, the budget should include an amount for any damages, additional work, or changes that may be required. Failure to establish and maintain a budget can cause the cost of the project to spiral out of control. An excellent way to determine how much money should be budgeted and to stay within that budget is to search the available options on eBay.
Type of Construction
Cabinets are available in stock, semi-custom, and custom construction. Stock cabinets are those that are available at a local home improvement warehouse. They come in a variety of materials, sizes, styles, and finishes. The available selection makes it possible to achieve the desired look in the kitchen. Although they are the least expensive option, it does not mean that they are cheaply made. If cabinets are needed quickly, these ready-to-assemble cabinets are the best choice. The one drawback is that they're not made for a particular kitchen. As a result, cabinet installers will have to add filler strips to hide the spaces between the cabinets and kitchen walls.
Semi-custom cabinets are built after an individual places an order. Because they are made to order, more options are available than with stock cabinets. In addition to the wide array of finishes and material, purchasers can order odd sizes, drawers with slide-outs, and pantry cabinets. These cabinets will cost more than their stock counterparts will. Because they are not true custom cabinets, some options may still not be available.
Custom cabinets are the most expensive option. A custom cabinet manufacturer or a skilled wood shop will make them. Because they are to an exact specification, the cabinets can be produced from almost any material with an almost limitless number of finishes. They can be designed to mimic furniture, produced in larger sizes, or sculpted to fit an off-size location.
Cabinet Styles
Before deciding on one particular style, it is helpful to go through kitchen design and home improvement magazines to view photos of various options. Another option for developing ideas is to browse the selection of cabinets that are available for sale on eBay. Mark the cabinets that stand out. Evaluate the selected photographs to determine if a particular style appears several times. If so, this style of cabinet will most likely fit the design and storage requirements of the remodeling plan. This will help narrow down the search criteria.
Cabinets are classified according to the design style of the door. A single, smooth panel that covers the entire front portion of the cabinet characterizes the slab door style. It has a clean, uncluttered appearance best suited for kitchens with a simple design. Another style is the raised panel door. There is a wood frame glued over the top face of the door to create the raised look. The doorframe may or may not have a decorative, routed edge. The style fits well in a formal, elegant kitchen design as well as a casual décor. For kitchens with a country décor, the recessed panel door is the best option. This style is created by fitting a panel behind the doorframe. Dividing the front panel into sections can produce a Mission-style rather than a country design. Doors are also available with curved or cathedral style arch.
Materials
Cabinets are made from wood, metal, or laminate. Wood comes in a variety of colors and finishes. These durable cabinets can be painted or stained in variety of colors. Wood cabinets will expand and contract based on the humidity level of the kitchen and may warp over time. High humidity levels may cause cabinets that use wooden slides to open and close drawers to stick due to the swelling of the wood. This shortcoming can be overcome by selecting drawers that use either track-and-roller slides or ball-bearing slides.
Metal cabinets are usually manufactured from stainless steel and look best in modern, contemporary style kitchens. Stainless steel is very durable and easy to clean. They do, however, show fingerprints and scratches more easily. Stainless steel cabinets are more expensive than wood. One option to achieve the look of stainless steel at a reduced price is to select cabinets that have wood frames, metal doors, and drawer fronts.
The least expensive material is laminate. Multiple thin layers of wood are pressed together and then covered with a decorative panel. These cabinets are available in a wide variety of style and colors. Because the color is only one layer deep, the cabinets may be impossible to repair if they are chipped and damaged.
Types of Wood
If wood cabinets are the desired look, it is also necessary to select the type of wood that was used to make the cabinet. Each type produces a different tone, style, and look.
Oak is the traditional choice for cabinets. This durable wood does not expand as much as other wood in high humidity. The coarse grain can be softened with a light stain or accentuated with a dark one. Pine is an inexpensive choice, and it accepts stain well. Because it may contain knots, it is best suited for less formal kitchens. Birch, because it is the least expensive option, is typically the wood of choice used in stock cabinets. The texture of the wood is very porous. Although birch readily accepts stain, the finish may not be uniform in appearance. A recent type of wood to be used in cabinet making is alder. It is a very pale wood that has little grain. It accepts stain easily.
Popular hardwoods from which to make cabinets include cherry, ebony, hickory, mahogany, maple, and walnut. Cherry has been the choice for upscale kitchens for many years. It has a smooth, uniform grain and is very elegant in appearance. Although it can be stained in many shades, the most common is a deep brown-red. Ebony is an exotic, expensive wood that is dark, almost black, in appearance. It has a noticeable grain. An option for a country kitchen is the straight grain of hickory. This very hard wood is durable, so it holds up well. Mahogany is gaining in popularity for use in formal kitchens. It is a dark wood with a straight grain. Maple is a versatile wood that fits well with any kitchen décor. It has a smooth, fine grain and accepts color well. As a result, it is currently one of the most popular choices for many remodeling projects.
Finishes
Once the material has been chosen, the next decision is the finish. If a laminate cabinet is selected, all that is required is to pick the color that best matches the kitchen décor and won't go out of style in a couple of years. Stainless steel cabinets come in an all-metal design or a mixture of metal and wood. The metal and wood combination is softer and makes a kitchen appear more contemporary and less industrial looking.
Wood cabinets can be left natural looking, stained, or painted. For a natural appearance, the cabinets will receive a coat of clear varnish. Staining the wood will bring out the grain while adding color. Paint adds color but obscures the grain. Expensive wood with pronounced grains are best left natural or stained.
The final touch is adding the right cabinet hardware. The hinges, door, and drawer pulls should complement the overall décor of the kitchen and enhance the look of the cabinets.
Finding Cabinets on eBay
There is a wide selection of cabinets in various styles available for purchase on eBay. People who want quality cabinets at affordable prices can search the broad selection of color, style, and materials listed for sale. The selection may include styles and colors that are not available in the local retail market.
Begin the search by logging on to eBay and find the exact match for that new interior design. Move the mouse pointer and select All Categories. In the next series of drop down menus, purchasers should select the Home & Garden, Home Improvement, Building & Hardware, and then the Cabinet & Cabinet Hardware tabs. It is also possible to find particular items by typing the name or a brief, detailed description of a specific selection in the search box. Once the items for sale pages are displayed, search the offerings for the cabinets that best match the available budget and interior design plan.
Conclusion
Selecting new cabinets for a new or existing kitchen is not an easy task. The wide selection of available choices in style, materials, and finish can seem almost endless. Prior research of the available options helps to ensure that, ultimately, the right cabinets will be selected.