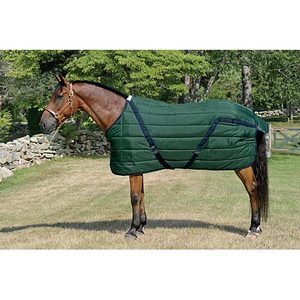 A
horse blanket
, or horse rug, is material fastened to a horse to keep it warm and protected from the elements. Rain, snow, sleet, or sunburn can be just as harmful to horses as humans. The blanket also protects the animal from flies or mosquitoes that spread diseases like equine encephalitis. Additionally, blankets are used to prevent chills after exercise. Older horses, as well as horses that have difficulty maintaining body weight, may need a blanket for warmth. Blankets in a variety of shapes, shades, and sizes can be found at tack shops that specialize in riding equipment. A wealth of horse blankets can also be found in online stores.
Which Horse Blanket is Best for Your Horse?
The blanket's intended purpose, and the weather conditions at the time of use will dictate which type of horse blanket is needed. A lighter blanket should be used to keep a horse warm during spring or autumn, while a heavier blanket should be used in winter.
Horse Blankets
Horse blankets are also known as horse rugs, stable blankets, or stable rugs. These types of blankets are meant to be used indoors to keep horses warm and clean. Horse rugs also help slow the growth of a horse's winter coat, especially when the hair has been clipped. Horse blankets are usually quilted, but not waterproof, and therefore should not be used outside. Blankets come in light, medium, and heavy weights.
Turnout Blankets
A turnout blanket, also called a turnout rug, is used outside to keep horses warm and clean while they are roaming the fields. This type of blanket is especially useful in the colder winter season. Turnout blankets come in a variety of weights: light weight, medium weight, and heavy weight. The weight determines the horse's level of protection, and the thicker the blanket, the more thorough the protection. Turnout blankets are often waterproof to protect the horse from rain or sleet. As a guideline, lightweight blankets should be used in temperatures between 40 and 55 degrees Fahrenheit. Medium weight, or lightweight blankets with a liner should be used in weather ranging from 30 to 40 degrees. Heavyweight, or medium weight blankets with a liner are best used in colder temperatures between 20 and 30 degrees. When the temperature drops below 20 degrees, a heavyweight blanket should be combined with a stable blanket to keep the horse warm. Each horse's individual needs should be considered when deciding on the appropriate blankets, but typically, when temperatures are above 60 degrees, horses will not need a blanket at all.
Combo Blankets
Combo blankets or combo rugs are designed to combine different weights of liners, sheets, and blankets to keep horses as warm as they need to be. This offers a customized level of protection. Combo blankets are especially user-friendly in areas with big fluctuations in temperature.
Liners
Liners are used for layering beneath blankets and sheets. They provide extra warmth while drawing moisture away from the horse's skin. Liners are typically rather thin, and need not be bulky to accomplish their job. When layering liners beneath a blanket, make sure the blanket covers the liner completely. A wet liner will counteract the benefits of the blanket.
Horse Sheets
Horse sheets, also known as stable sheets, are lightweight covers used indoors, often as an alternative to a blanket in milder weather. Additionally, sheets can be layered over expensive blankets to protect them and keep them clean. They are also used to preserve the horse's body heat after exercise. A dress sheet is used to keep dust and dirt off the horse's coat during shows and events. These sheets are more ornate than everyday sheets, and come in a range of colors. Some are decorated with fancy braiding, trims, embroidery, and monogramming.
Cooler Blankets
A cooler blanket, or anti-sweat blanket, is used to keep a horse from breaking out in a sweat and getting chills after exercise and running. Additionally, it protects the horse from flies and other irritating insects. These blankets can also be used for extra warmth after a bath, but must be worn under supervision. They do not have the same fasteners as turnout blankets, and may chafe or slip off of the horse.
Fly Sheets
A fly sheet, fly rug, or fly blanket is a lightweight cover used to protect a horse from flies, mosquitoes, and other disease-bearing insects. These sheets offer the horse extra protection from the sun's harmful UV rays, protecting it against skin damage and a sun-bleached coat. A fly sheet keeps the horse cool in winter by keeping the sun off its skin. It also creates cool air flow in the space between the blanket and the horse's coat.
Rain Sheets
Rain sheets are used like rain coats, protecting horses from rain. They do not have the same fasteners as turnout coats and should be used under supervision. If left on the horse, they may slip off or chafe.
Quarter Sheets
Quarter sheets are a cross between a horse blanket and a saddle blanket. Used under the saddle when riding, these sheets protect the horse's hindquarters and vital organs. They wick away sweat and moisture in colder weather. Tear-away quarter sheets are designed to be removed once the horse is warmed up. The section behind the saddle is detachable, leaving a section to act as a saddle blanket.
Foal Blankets
Foal blankets provide the same protection and benefits as blankets and sheets made for adult horses, but come in smaller sizes.
Accessories
Horse blankets and sheets can be enhanced with accessories to add to the horse's comfort. A fly mask will protect the horse's face and eyes from insects. Travel boots protect horses' lower legs and hooves during transit. A hood offers added protection from the elements. A tail cover and a mane stay keep a horse's tail and mane looking freshly groomed, simplifying grooming before events.

Materials Used in Horse Blankets
When choosing a horse blanket, the denier denotes the blanket's weight and strength. The higher the denier, the stronger the blanket. A blanket's exterior layer is generally made from synthetic materials chosen for their durability and breathability. Nylon is the strongest, most durable material used. It is resistant to mold, bacteria, and rot, and it's also easy to clean. Ripstop prevents small rips from getting bigger, while ballistic nylon is strong and abrasion-resistant. Polypropylene is less durable than nylon, but stronger than polyester and cotton. It also breathes better than cotton. Polyester is lightweight, but weaker than nylon and polypropylene.
Blankets are usually filled with a synthetic like polyfill. Synthetics stay warm even when they are wet. Insulation is measured in grams per square meter, and the higher the weight, the warmer the blanket. For example, a 200 gram blanket is considered medium weight.
Linings are made from synthetic and natural fibers, as well as blends. Some synthetic materials provide better thermal regulation, working sweat away from the body and shedding moisture. Pure cotton is seldom used in lining as it does not dry quickly, nor does it breathe well. Cotton is also harder to clean. However, poly/cotton is absorbent, with the wicking properties of a synthetic. Nylon is breathable and does not snag the horse's coat, while mesh allows extra air flow, providing excellent moisture management. Waterproof and breathable blankets keep the horse dry, but allow sweat to evaporate.

Measuring a Horse for a Horse Blanket
A bad fit may lead to chafing or cutting, and the horse should be checked daily for broken hair. Make sure the blanket is big enough for the horse, with fasteners that are long and strong enough. A horse should be measured from the middle of its chest, across the point of the shoulder, and along the body to the edge of the tail in a straight line. This measurement determines the size of the blanket needed. Blankets are measured in inches, with sizes in two-inch increments. For example, if the horse measures 72", it needs a 72" blanket, but a horse that measures 73" will need to bump up to a 74" blanket.
Using a hood to cover the horse's head adds extra protection. To fit the hood, use the following guidelines:

| Blanket size | Hood size |
| --- | --- |
| 52" to 62" | Extra small |
| 64" to 68" | Small |
| 70" to 76" | Medium |
| 78" to 82" | Large |
| 84" to 90" | Extra large |

The length of the horse's body is proportional to the size of its head. As a result, the size of the blanket is proportional to the size of the hood.



Things to Remember When Buying a Horse Blanket
It is important to buy a blanket that will not rip easily as horses can become entangled in ripped blankets. The risk of entanglement also applies to loose belly or leg straps, so the blanket's fasteners must be appropriate to its function. As mentioned previously, some blankets should not be worn without supervision due to the fasteners usually found on the blankets. Blankets should also be changed to match the weather. The horse must stay comfortable, without being too warm or too cold. It is a good idea to buy more than one blanket in order to keep extra on hand. Wet blankets should be changed so as not to expose the horse to chills or bacteria. Shoppers should also note that some horses destroy blankets, ripping either their own or their paddock-mates' blankets with their teeth. To avoid this, consider using a bitter spray on blankets. Sprays are specifically designed to discourage biting.

Finding Horse Blankets on eBay
Once a buyer has decided on the right blanket or sheet for his or her horse, finding it on eBay is simple. Visit the eBay Sporting Goods shop, select Outdoor Sports, and then click on Equestrian. Look under Stable, Care & Grooming to find Horse Blankets & Sheets. Buyers should not forget to visit the eBay Stores section to check the equestrian equipment available. If the items buyers are interested in are not listed, they can let sellers know what they are looking for by creating posts in the Want it Now section. Alternatively, a buyer will be informed when the item becomes available by saving a search in My eBay.
When buying horse tack on eBay, savvy buyers make sure to check the seller's feedback carefully, taking into account how many transactions have been completed, as well as what other buyers are saying about a particular seller. Shoppers should also pay close attention to the seller's terms and conditions, specifically the return policy and money-back guarantee offered by some sellers. Transactions should never be moved off eBay, and payments should never be made using instant transfer methods such as Western Union or MoneyGram. eBay and PayPal work together closely to provide shoppers and sellers with a safe and secure shopping environment. Buyers should familiarize themselves with the processes in place to ensure their protection. Although a rare occurrence, items that fail to arrive or are not as described will be covered by eBay Buyer Protection. The buyer's purchase price and shipping costs are refunded in this case.
Buyers must add the shipping fees to the purchase price when determining the total cost of an item ordered. They must check the description and the seller's photos carefully to make sure the item is exactly what they want. Doing research about the product will give the buyer a good idea of a fair asking price. Buyers who have questions about an item's features and condition, or a seller's terms and conditions, can use the "Ask a Question" link to ask the seller a question.

Conclusion
Aside from being an investment, most horses are loved by their owners, trainers, and riders. Owners want to take care of their horses to the best of their abilities. Keeping them protected from the environment is an important part of their care and, with eBay's user-friendly shopping system, it is easy to provide the right horse blanket for the right season.

We did not produce the videos in this guide. Please exercise caution and common sense when using the videos. It is your responsibility to evaluate the accuracy or usefulness of the videos. We are not affiliated with the producers of these videos and do not warrant and are not responsible for the accuracy or reliability of any statement made or implied in the videos. Under no circumstances will we be liable for any loss or damage caused by your reliance on any video. Any references to a specific individual, commercial product or brand do not constitute or imply endorsement or sponsorship of eBay by that individual or brand or their affiliation with eBay.