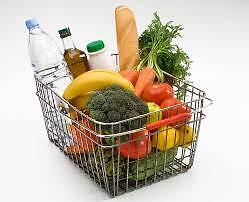 5 Sure-Fire Ways to Save at the Grocery Store



Everyone loves to save money....here are 5 simple steps you can take to save cash while feeding your stomach.
1. Choose the Right Store...
One of the best ways to lower grocery costs is to shop at stores that have the lowest prices on the things you buy. It might seem time-consuming to run this experiment yourself. But you only have to do it once -- and the savings could be substantial.
2. Stock Up on Sales....
Don't think of a sale as a one-time opportunity to get a single helping of your favorite food for less. If the item has a long shelf life (or if you have room to freeze it), buy several and score big savings. You can cut your grocery bill in half by stocking up on discounted items. The trick is planning your weekly meals around what you already have plus perishable items on sale, rather than buying only what you need for a week's worth of meals
3. Find alternatives
The next time you go to the grocery store, hang on to your receipt and circle the most expensive items. Then, consider lower-cost alternatives for those items to rack up real savings on future shopping trips. Examples of budget-busters are organic items and pricey cheeses. You can lower the cost of these items if you comparison shop, opt for generic brands, buy produce only when it's in season and become more selective about the items you put in your cart
4. Skip Prepared Meals
Don't pay extra for the grocery store to do your kitchen chores for you. Buy vegetables in their natural form -- rather than washed, cut and packaged in sealed bags -- because they're cheaper that way. Stay away from the prepared food section because you pay a premium for salads and other dishes already made for you. Also avoid prepackaged meals, such as Lunchables ($3 to $4 each), because it's cheaper to buy bread, cheese and deli meat, and assemble sandwiches on your own.
5. Check Unit Prices
Make sure you're really getting the most bang for your buck by checking items' unit price, which most stores display. This price typically shows how much you're paying per ounce and can point you to the better deal. For some items, though, you'll get a better deal buying several smaller packages rather than one large package. That's why you should always look at unit price


* Stick with these tips and watch the savings pile up!*