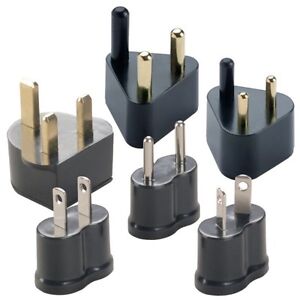 Electric plugs literally allow us to "plug in" to the electric power that runs our world. Without these plugs, we would have no access to the electricity that we rely on to power our business and personal lives. Ensuring that electrical plugs are in good condition and operational is critical. If a plug becomes defective or wears out, replace it immediately. These types of defective plugs create a serious safety hazard.
With the knowledge of how to do so and ownership of the proper tools, replacing an electric plug is relatively simple. For plugs with fuses, the solution might not even require the replacement of the entire plug, just the fuse. As with anything that deals with electricity, always make sure to disconnect the plug from the electric source before working on it. If unsure about how to proceed with replacing an electric plug, consult with an electrician to get more information. Before buying any parts and beginning the plug replacement process, get information about the variety of plugs available, find out how to replace a fuse if a plug has one, and learn how to properly replace a defective or worn-out electric plug.
Types of Electric Plugs
Electric plugs, depending on the country, come in different configurations. Referred to as plug types, they run the gamut from two pronged to having two blades and a ground post. The table below lists plug types common to countries around the world, as well as their voltage, frequency, and configuration.
| Country/Region | Voltage | Frequency | Plug Type | Configuration |
| --- | --- | --- | --- | --- |
| Australia | 240 V | 50 Hz | I | Outlets usually controlled by adjacent switch |
| Canada | 120 V | 60 Hz | A and B | - |
| China | 220 V | 50 Hz | A, I, and G | Official plug is like a type A, but slightly shorter without holes in the plug blades |
| France | 230 V | 50 Hz | E | Type C plugs found on some appliances; will fit the Type E outlets |
| Japan | 100 V | 50/60 Hz | A and B | Eastern Japan 50 Hz; Western Japan 60 Hz |
| Mexico | 127 V | 60 Hz | A and B | - |
| South Africa | 220/230 V | 50 Hz | M | Types C and G can be found in some areas |
| South America | 220 V | 60 Hz | A, B, and C | Outlets typically a combination of A and C type plugs and can accept either |
| U.K. | 230 V | 50 Hz | G | Outlets usually controlled by adjacent switch |
When traveling abroad, check ahead and see what plug type and configurations that particular country utilizes.
Plug Adapters
For shoppers planning on traveling abroad, consider buying a plug adapter for that specific country. This could require more than one adapter, as some countries utilize multiple plug types. The sections below provide several areas shoppers should consider before purchasing an electrical plug adapter.
Device Power Label
By looking at the power supply information, usually on a label attached to the cord or affixed directly to the back of the plug, shoppers can determine if they need a voltage converter or transformer, or none at all. The voltage and requirements for that voltage breakdown according to the following information:
120 V: Single voltage items, such as blenders and coffee makers, that travelers typically do not take with them when they travel.
110 V/220 V: Most commonly found on hair dryers, this type of voltage allows users to switch the device between the two different voltages.
100 V-240 V: Commonly found on battery chargers and AC transformer plugs and used to power devices such as laptops.
Destination Country Power Supply
Determine the voltages and frequencies offered in the country being travelled to. Shoppers need to know these two factors so that they can buy adapters that can convert the power in the destination countries.
Plug Types Used in the Destination Country
Also, try to find out the plug type used in the country being travelled to. Remember, some countries use a variety of different plug types, and travelers should research the exact type used in the section of the country they plan on travelling to. Better yet, consider getting adapters for all plug types used in a specific country to cover all of the bases. And for those who travel frequently, these plugs will come in handy later.
Power Summary Chart
The table below includes information about whether a device needs a converter or transformer. Devices originating in one country need plug adapters when traveling to another country that utilize different plug types.
| Voltage Input for Device | Power Supply at Destination | Converter/Transformer Needed | Adapter Plug Needed |
| --- | --- | --- | --- |
| Single | 110 | No | Yes |
| Single | 220, 230, 240 V | Yes | Yes |
| Dual | 110, 220, 230, 240 V | No | Yes |
| Multi | 110, 220, 230, 240 V | No | Yes |
If unsure about what kind of adapter to use, shoppers can inquire online or ask a travel agent for more information on plug requirements when traveling abroad.
How to Replace an Electric Plug
Sometimes, a plug becomes damaged or is defective to begin with. When this happens, replace the faulty plug immediately by either replacing it yourself or hiring an electrician. The following sections detail the plug replacement process, which requires the following tools: electrician's multi-tool, needle-nose pliers, screwdriver, and a non-contact voltage meter. The most important thing to remember when working with electricity is that the device must be unplugged and the power turned off.
| Steps | Description |
| --- | --- |
| Step 1 | Cut the old plug off about one inch from the plug using an electrician's multitool. |
| Step 2 | Using the wire stripper option on the electrician's multi-tool, strip off three inches of the outer insulation on the end of the cord. |
| Step 3 | Next, strip off a half-inch of the final layer of insulation, exposing the bare wire. |
| Step 4 | Tie an underwriter's knot close to the section of wire just stripped. This helps to ensure that the wire stays secure when tugged. |
| Step 5 | Form the ends of both wire strands into hooks. This can be done by twisting them tightly with needle-nose pliers. |
| Step 6 | Hook the wires to the screw shafts located within the new plug. Attach the black wire to the brass colored screw. 240-volt plugs have a ground wire that attaches to the silver screw. Tighten the screws with a screwdriver. |
| Step 7 | Tuck all of the wiring inside of the new plug. If there is a clamp, make sure to secure it as well. |
| Step 8 | Replace the cardboard cover on the plug. |
If unsure how to properly replace a specific type of plug, consult an electrician or look online for more information.
Replacing Fuses in Plugs
Sometimes a plug has a fuse as part of its inner workings. The fuse keeps the device attached to it from getting damaged when a power surge occurs. The table below gives instructions for changing the fuse within a plug. This step requires a screwdriver.
| Step | Description |
| --- | --- |
| Step 1 | To access the fuse, first remove the plug cover by unscrewing the large screw in the center of the plug. Or, for more modern plugs, access the fuse through a small removable flap. |
| Step 2 | After accessing the fuse, remove it by pulling it out. This should be a fuse of the same rating as the one removed. |
| Step 3 | After securing the new fuse, replace the cover, making sure that all wires are in place, and then screw the cover back into place. |
When replacing a fuse, use the same type that is currently in the plug. Using a higher-rated model could damage the circuit and the household wiring.
Find Electrical Plugs on eBay
If you want to purchase your electrical plugs online, visit the eBay marketplace for a variety of product options, including electrical plugs. To do a search of the marketplace, enter keywords into the Search box on any eBay page, such as "industrial plugs" or "male electrical plugs," for example.
After viewing the list of results, narrow down the choices by clicking on the Categories options to display only the listings that are in the connector or plug departments, for example. To learn more about searching on eBay using keywords, visit the Search Tips page. Also check out eBay Stores, which provide even more product options.
Buy Electrical Plugs Online With Confidence
eBay allows you to quickly and easily find the perfect product for your needs. Begin by looking through applicable product listings, and read the details about item quality, product cost, sizes, colors, and any other terms of sale. And before buying, ask the seller any other remaining questions by clicking the Ask a Question link on the seller's profile page. Do not forget to check the seller's feedback rating to make sure you are happy with his or her past sales performance as rated by other shoppers.
Conclusion
Electrical devices can have a long lifespan when cared for properly. Even when it seems like they might be broken, a faulty plug or fuse within the plug could be to blame. So, instead of throwing out a device, first try and see if it might simply be a matter of replacing a plug or fuse.
If necessary, consult with an electrician to check if a plug is faulty; the electrician can test the device to determine if replacement is necessary. If faulty, device owners can determine if they want to attempt to fix the device themselves or have an electrician fix it for them. When fixing electronic devices themselves, owners must first make sure that the device is disconnected from any power sources. Otherwise, electric shock can occur, which can cause injury or even death.