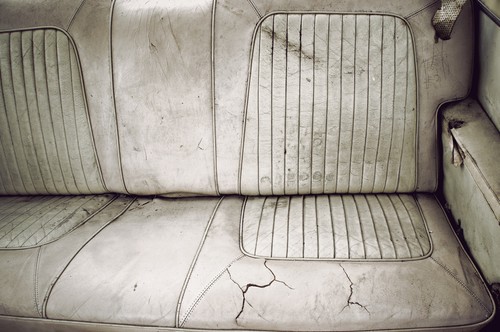 Fixing a burn hole in a car seat can seem like a daunting task, as there are many fabric repair kits available both in the marketplace and for sale on eBay from which to choose, and it is important to match the type of kit to the type of fabric that needs repaired. For example, a leather repair kit does not help with the process of fixing a burn hole in a fabric car seat. In addition, it may be a good idea to consult a professional in some cases.
There are also a few popular repair techniques that do not require the use of a repair kit, and these techniques may be less expensive than purchasing anupholstery repair kit is, so it is important to consider all of the options before making a decision about the best way to repair a burn hole in a car seat.
Reweaving the Fabric
For some types of fabric, reweaving is a viable option. Especially useful for repairing antique fabric in classic cars, this technique allows a car's owner to maintain the original upholstery without having to replace an entire section of the fabric. Plain tweeds and fabrics with loosely woven threads are the best candidates for this procedure. Owners can trim away melted edges with sharp, small scissors. Using matching thread, they should then start about a half-inch from one edge of the hole by weaving the needle through the cross threads and skipping over the surface of the hole. They should be sure to knot the thread on both ends and then repeat the process, using the intact threads around the hole as a guide until the hole is covered.
Gluing the Fabric
For a perfectly matched repair, this technique uses surrounding fabric to camouflage the burn hole and is a good option for soft fabrics like velour. To utilize it, owners should scrape a section of the car seat that is not noticeable with a razor blade so that it releases a pea-sized amount of fuzz. They should then squeeze one drop of superglue directly into the burn hole. Using the tip of a pencil, owners can then gently press the fuzz into the glue, continuing to move the fuzz around the inside of the hole until the glue solidifies. To finalize the process, they can use more fuzz if necessary until the hole is invisible.
Repair the Fabric with a Kit
Fabric repair kits are available at many price points for a variety of different kinds of upholstery. Owners must make sure to read the label carefully in order to determine for which application the repair kit is designed. For instance, burn holes located on the seat of a car require a more durable repair solution than holes located in a place that undergoes less stress do. Details about some of these types of repair kits are listed in the chart below.
Fabric Repair Kit

Notable Features

Includes 7 cups fabric repair compound

Available in assorted colors

Includes 2 cups of fabric air dry adhesive

Suggested for automotive fabric upholstery and carpet repair

Matches all popular fabric colors and grains

Includes seven intermixable fabric color fibers

Recommended for fixing tears, burns, rips, and punctures in a wide variety of fabrics.

LM-8001 Velour/Microfiber Repair Kit

Repaired area remains soft and flexible, creating a better match

High-grade adhesive permanently bonds to fabric

Recommended for repairs to velour, microfiber, and cloth upholstery
How to Buy Tools and Fabric Repair Kits on eBay
Many of the tools and kits required to fix a burn hole in a car seat are available for sale on eBay, where top sellers often offer bundled deals or free shipping. When shopping for fabric repair kits on eBay, be sure to read the listings carefully to make sure that a kit is appropriate for the type of repair you need and to ensure that the color is an exact match. You can also examine sellers' feedback ratings and comments from previous customers to determine the type of service they are likely to provide. For the best results when repairing a burn hole in a car seat, it is important to consider the type of fabric, budget, and time before deciding which method best suits your particular project.