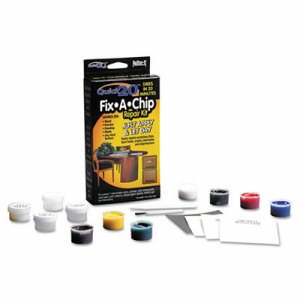 Nothing can quite compare to the feel of well-crafted leather clothing or furniture, which is why leather items tend to be expensive. For this reason, many owners of leather products strive to keep their items in the best shape possible. However, rips, tears, and holes can happen, both through accidents and through normal wear and tear. It is important for cost-conscious leather owners to know how to repair leather themselves, as repairs at an upholstery shop can be quite expensive. Leather-repair products can be purchased at brick-and-mortar stores as well as online marketplaces like eBay.
General Leather Care Tips
When properly cared for, leather products can last centuries. The most important leather-care tip is simply to not let the item get soiled, waterlogged, or dried out. In addition, properly storing, cleaning, and conditioning leather will keep it looking like new, regardless of its age.
Proper Leather Storage
Properly storing leather can significantly extend the lifetime of the item. Taking care to clean and condition the piece before long periods of storage will help keep the item looking like new. Leather must be stored in a cool, dry place away from sunlight and heat in order to avoid mold and drying, two of leather's biggest enemies. In addition, stuffing the arms and legs of leather clothing with acid - free paper will help the piece keep its shape and ward off dampness.
Proper Leather Cleaning and Conditioning
Cleaning and conditioning leather only takes a few minutes, but it can make a huge difference in the appearance of the item. The most basic rule of leather cleaning is to remember that leather was originally skin and needs to be cared for in much the same way as the owner's skin. For basic cleaning, a simple damp cloth or store-bought leather cleaner is enough. For more substantial cleaning, making a lather from a gentle soap like baby shampoo or unscented soap flakes should do the trick. After soaping, wipe away the lather with a clean cloth, and then rinse the leather under running water or with a damp cloth before toweling away excess moisture and letting it air dry.
After cleaning leather, take the time to condition it in order to replace the tanning oils that naturally wear away over time through wear. There are hundreds of different kinds of leather conditioners on the market, so buyers need to be sure that their conditioner is specific to their product. It is important to avoid conditioners that include wax or silicone, as these products do not allow the leather to breathe. When applying conditioner, always apply it to a damp, lint-free cloth, never directly to the leather. Several lighter applications are recommended over one or two heavy applications of conditioner.
Basic Leather Repairs
There are several different qualities of leather, some of which can be repaired by consumers and some which must be repaired by a professional. Most leather furniture is made from top-grain or corrected-grain leather and can be repaired at home, but some high-quality furniture is made of full-grain leather, which requires a professional's touch. If the leather can be repaired by the consumer, a simple leather repair kit usually will do the trick.
Several common problems with leather can be repaired at home. Leather furniture and car seat cushions often crack from repeated use, while leather furniture and clothing tend to develop tears if not properly cared for. Fortunately, the necessary repairs are simple and require only a few easily acquired items.
Repairing a Cracked Leather Cushion
The cushions on leather furniture, including leather car seats, can take a beating through repeated use. It is best to repair a crack as soon as it is noticed, as untreated cracks can quickly turn into tears, which are more difficult to fix. Before doing anything else, gently clean the area around the crack with a damp cloth and a mild soap, and then dry it thoroughly. After the cushion is dry, clean the area around the crack with denatured alcohol, wiping it off before it has a chance to dry.
After the area has been thoroughly cleaned, dip a piece of fine-grade sandpaper (at least 240-grit is recommended) in the soapy water and lightly sand the cracked area. The dye on the leather will begin to lift away from the leather, so work it into the crack as filler until the area begins to look smooth. Wipe the cushion dry with a lint-free towel, and dry it using a hair dryer on the lowest setting.
After the cushion is completely dry, apply a thin layer of leather prep to the seat, following the instructions on the label. Then use a paper towel to apply a layer of sealant to the damaged area, allowing it to dry completely before continuing. Then, apply a thin layer of leather dye to the damaged area, using the blow dryer to dry it completely before applying another layer or two, depending on the severity of the crack. Once the cracks are completely dry, apply a thin layer to the rest of the visible surface of the cushion in order to ensure a color match. Allow the cushion to dry for several hours out of direct sunlight and away from heat sources before replacing it.
Repairing Tears in Leather Furniture
If a crack is left untreated, it could develop into a tear. Tears can also happen through accidents, especially if the furniture's owner also owns an animal. As the fabric has actually separated, repairing a tear requires more delicate work than simply filling in a crack. As usual, before anything else, the surface needs to be wiped clean with water and alcohol and left to dry completely. Once dry, lay a thin sheet of paper over the tear and trace the outline of the tear onto the paper. Then, draw a circle around the tracing, adding at least an inch to all sides of the tear. After cutting this circle out of the paper, lay it over a piece of piece of leather that matches the color of the furniture, using it as a guide to cut out a patch of leather.
Lay the patch over the tear, making sure that it covers the tear completely. Then, apply glue to the underside of the patch. Make sure to use a glue that works with leather, like Gorilla Glue.. After the patch is glued to the furniture, place a heavy book on the patch and leave it for several hours (overnight is best, if possible). After the patch is thoroughly bonded, remove the book and moisten a soft, lint-free cloth in water, using it to apply leather dye to the patch and surrounding area, paying special attention to the edges of the patch to ensure a good blend. Let it dry overnight, and then apply it again the next day. It may take up to three or four applications until the patch is not noticeable.
Repairing a Tear in Leather Clothing
Leather clothing presents its own set of challenges for the amateur leather repairer. Leather clothing experiences significantly more wear than leather furniture, and tears can be difficult to repair. However, the same basic principles apply to repairing clothing as they do to repairing tears in furniture.
Before anything else, clean the affected area and let it dry. Then, take a pair of sharp scissors and carefully cut out a circular patch of scrap fabric just big enough to clear the edges of the tear. Avoid making the circle any larger than absolutely necessary. Lay this circle of fabric on a piece of paper and trace around it to create a template that will be used as a guide to cut a patch from a matching piece of leather. For a smaller tear, the patch piece can be cut from a pocket or inside lining. For a larger tear, it may be necessary to visit a fabric or upholstery store to get the right kind of leather.
After the patch is cut, lay it face down on a smooth, hard surface and gently pound it flat using a round-headed hammer. Then cut a patch of linen approximately one inch larger than the leather patch and use garment glue to adhere the leather patch to the center of the linen one. Then, use garment glue to attach the patch to the back of the ripped piece of clothing, centering it so that the patch fits exactly. Then, place the repaired article of clothing under a heavy weight, like a phone book, for several hours to ensure a strong bond.
For a clean-edged cut or tear, it may be possible to repair the cut with stitching. Fold the smooth edges together and sew them together with a slanting stitch on the back side of the fabric. Be sure to use a heavy - duty needle and strong thread made of polyester or silk,, as cotton thread is too weak for leather. Also, leave a good amount of space between stitches, as heavy stitching can weaken leather. In areas that receive a lot of wear, such as elbows or armpits, fix tears with a combination of stitching and a patch.
Purchasing Leather-Repair Supplies on eBay
The rise of online marketplaces like eBay have given amateur leather repairers access to a far wider assortment of goods and supplies than before, allowing them to purchase supplies from around the world to match any color or type of leather they possess. As there are thousands of items for buyers to peruse, eBay has provided several tools for shoppers to narrow their search in order to find the best product for their needs.
Finding Leather Repair Supplies
The easiest way to search for leather repair and leatherworking supplies on eBay is to simply type in the desired product in the site's Search bar. If a buyer wants to conduct a more specific search, eBay provides an Advanced Search option that lets shoppers search by keyword, category, price, and sale format, among other options.
On the left side of every search results page, eBay provides shoppers with Categories and Refine Search options in order to allow buyers to find exactly what they are looking for. In the unlikely event that a product is not available on eBay, buyers can shop eBay Stores,, tell the eBay Community what they want through a post on Want It Now,, or save a search in My eBay,, which sends an email when the chosen product becomes available.
Buying With Confidence on eBay
Before making any purchase on eBay, buyers must make sure they know exactly what they are buying, conduct research on the seller, and understand how eBay and PayPal can protect them.
Knowing the Purchase
Buyers should take the time to carefully read the details in item listings. Figure delivery costs and insurance into the final price, especially if the item is a big-ticket purchase. If a buyer needs more information, he or she can contact the seller directly by clicking the "Ask a question&" link at the bottom of the listing page.
Buyers should always ensure they complete their eBay transaction with a bid, Buy It Now, or Best Offer. Transaction conducted outside of eBay are not covered by eBay protection programs. In addition, never pay for an eBay item using instant cash wire transfer services through Western Union or MoneyGram. These payments methods are not secure when paying an unknown party.
Researching the Seller
eBay shoppers should always research their seller in order to feel positive and secure about every transaction. Take note of the seller's feedback rating, paying special attention to the number of completed transactions and percentage of positive responses. Also, look at what other buyers have posted in the seller's feedback, looking for any praise.
Additionally, many top eBay sellers work like retail stores, offering return policies and money-back guarantees. Take the time to look over the terms and conditions of the sale, as well as the return policy to ensure that it is acceptable.
Protecting the Buyer
In the unlikely event that a buyer fails to receive an item or it is not as described, eBay Buyer Protection may be able to refund the original purchase price plus original shipping.It is important to note, however, that Buyer Protection is not insurance and neither provides coverage against buyer's remorse or substitutes for due diligence on the part of the purchaser.
Conclusion
Many owners of leather products feel the need to protect their investment through personal care and repair of their clothing and furniture. Though slightly more difficult than other types of fabric repair, leather repair provides a measure of insurance and protection in the event that something should happen to an item. eBay provides amateur leather repairers with a wide variety of products to fix many types of cracks, rips, and tears.