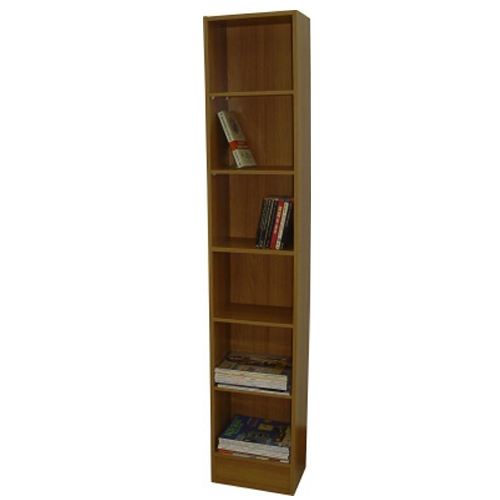 Refurbishing furniture is a great way to breathe new life into tired, old pieces. While some people work on these projects to save money when changing up their home's interior, others refurbish furniture because they find it creatively fulfilling. Those so inclined can refurbish a bookcase with just a few simple steps. Whether this bookcase is an inexpensive find on eBay or an old one found in the attic, there are many ways to fix it up and make look brand new. To make your bookcase look amazing, however, you need to know the materials and steps necessary to refurbish your furniture to perfection.
Tools and Materials for Bookcase Refurbishment
To properly refurbish a bookcase, a person requires several tools, as well as a little creativity. While some bookcase owners are happy with just a paint job, others take it a step further by using unexpected and interesting materials. However, the easiest way to uncover a diamond in the rough is simply by giving it a fresh coat of paint. Useful materials for refurbishing a bookcase include anorbital sander, sandpaper, paint, a screwdriver, apaintbrush,primer, rubber gloves, safety goggles, and a respirator mask.
Steps to Refurbish a Bookcase
Before getting started on the refurbishment, evaluate the bookcase. You must know its material in order to conceive of a plan for its refurbishment. Different materials call for different types of treatment, especially if the refurbisher intends to prolong the life of the bookcase. The good news is that whether the bookcase is made of plastic, wood, or metal, you can spruce it up and make it look brand new.
1. Prepare the Work Area
Create a workspace for the project, especially if the plan is to paint the bookcase. Ideally, find an outdoor area with good ventilation. If this is not possible, make sure to remove furniture and other items from the area to protect those items. Place newspapers or drop cloths on the floor to protect it from paint stains. If near a wall, consider using paint tape to prevent damage.
2. Repair the Bookcase
Look for damaged shelves, loose nails, and other problem areas. Before even touching the bookcase with paint, make the necessary repairs. Look for dents, divots, and deep scratches, using wood filler to smooth them out if the bookcase is made of wood. For a metal bookcase, try to bang out dents with a hammer, if possible.
3. Remove the Paint
For bookcases with old paint, apply a heavy coat of paint stripper using a wide-bristled paintbrush. Leave it for about 30 minutes or follow the manufacturer's instructions. Wearing rubber gloves, gently remove the paint residue using a scraper. Go at it slowly and remove the residue as thoroughly as possible. You must pull the scraper toward the self to keep it from damaging the wood. If needed, apply the paint stripper again and repeat the process.
4. Sand the Bookcase
If you intend to give the bookcase a fresh coat of paint, the next step is to sand the bookcase to remove the existing paint, veneer, finish, and other types of coating. Sanding makes it easier for the material to absorb the paint and gives you a smooth base on which to work your magic. Sanding can be done using an orbital sander power tool or by hand through old-fashioned 100-grit to 400-grit sandpaper. When sanding, take care to go against the wood grain to avoid scratches. Make sure to also wear a respirator mask and safety goggles if using an electric sander. For hard-to-reach areas like carved insets and rounded areas, use steel wool to go through every nook and cranny. Smooth surfaces keep bubbles from appearing when it is painted.
5. Clean the Bookcase
Vacuum the inside of the bookcase, playing close attention to all the corners where dust can hide. Rub the bookcase with a moist cloth to remove more dust and other debris from the sanding process. Generally, you should then wait a day before priming and painting the bookcase.
6. Prime the Bookcase
When priming the bookcase, keep the type of paint in mind; you must use the right primer for your paint. For instance, you must use oil-based primers for oil-based paints. Generally, you should wait seven days for the primer to dry, but some manufacturers give the go signal to paint after 10 hours.
7. Paint the Bookcase
Apply your chosen paint using a small roller-brush or paintbrush, depending on the type of bookcase. Use even strokes with back-and-forth motions. Let the first coat dry for 24 hours. For the second coat, those who wish to give their bookcases more flair can also paint with stencil designs. Apply varnish for added protection after the paint is sufficiently dry.
How to Buy a Bookcase on eBay
You can buy a bookcase or materials to refurbish one on eBay. Whether you need a vintage bookcase or quality veneer, simply enter a description of the type of item you want in the main search field on the eBay homepage. You can pare the search results down to the products relevant to your needs by filtering based on category, price, condition, location, and more. Along with evaluating the product, make sure to evaluate the seller and buy from ones with a proven track record as an eBay Top-Rated Seller. For any questions, click on the "Ask a Question" link at the bottom of the product listing. Start shopping on eBay today and have a beautiful, refurbished bookcase in no time at all.