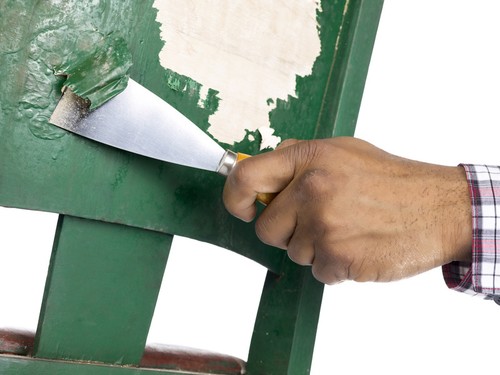 To refurbish dining room chairs, the repairer needs a chemical stripper, sandpaper, and paint or stain. He or she might also need grain filler, depending on the type of wood they are refinishing. For safety reasons, it is important to have eye protection and rubber gloves, in addition to working in a well-ventilated area. The first step is removing the old finish, followed by sanding the chair and applying a new finish. New seat cushions are an optional accessory that helps to coordinate newly refurbished furniture with the surrounding decor. Refurbishing furniture can be time consuming, but it is not necessary to complete all steps in one afternoon.
The required tools are common and relatively inexpensive. They are available in local home improvement and hardware stores and in online marketplaces like eBay.

Remove Old Varnishes with Strippers or Sandpaper
Before a dining room chair adopts a new look, it must become a blank slate. To remove varnish or other finishes, the refurbisher can apply a chemical stripper or stain remover. Chemical strippers are usually in paste or liquid form. A paste chemical stripper is ideal for horizontal surfaces because it is easily applicable with a putty knife. Use a liquid chemical stripper for vertical surfaces, like the seat of a chair, but it is most convenient to go with a paste in this case.
Old finishes are also removable by simply sanding them away. This method requires considerably more time; however, it may be easiest for people who are working with limited supplies.

Smoothing the Surface with Grain Filler
Grain fillers or wood fillers are primarily for woods with open grain structures like mahogany and oak. Using grain filler smoothes the surface, preparing the dining room chair for stain. This is a homeowner's chance to emphasize or de-emphasize the wood grain of his or her chair. Grain fillers come in pigmented pastes, and using a paste that matches the final stain helps to make the grain less obvious. Choosing a paste that contrasts with the final stain darkens the grain, drawing attention to it. Some people opt out of using grain filler because they prefer a rougher texture to their refurbished furniture.
Before applying a grain filler, the refurbisher should sand the entire dining room chair. Next, he or she should apply the grain filler using a cloth or stiff brush while following the manufacturer's directions.

Priming the Wood with Sanding Sealer
Sanding sealer is optional, but it acts much like a paint primer to walls. The sealer prevents porous wood from absorbing as much varnish as it normally would. Instead of using three to four coats of varnish, the homeowner might only need one or two coats. However, it is counterproductive to use sanding sealer for a natural, porous appearance.

Applying Stain to Dining Room Chairs
Choosing a wood stain is entirely up to the homeowner's preference. Likely, he or she may want to purchase a stain similar to the one on their dining room table, so the dining set matches. To apply stain, the refurbisher must paint it on with a brush while following the wood's natural grain. It is important to read the manufacturer's directions. Most stains continue to darken the wood as they sit, so removing the excess product after a few minutes prevents the chairs from becoming too dark. The refurbisher may need several coats of stain, lightly sanding the wood between each coat.

Refurbishing Dining Room Chairs: Checklist
It is sometimes possible to minimize refurbishing costs by purchasing all the supplies at once, and it is certainly possible to save time. Before sprucing up their dining room set, homeowners should take a moment to create a shopping list and assess the materials they already have.

| Refurbishing Product | Use | Estimated Price |
| --- | --- | --- |
| Sanding paper | Sanding old finishes and sanding between new coats of stain | $ |
| Chemical stripper | Removing old finish | $$ |
| Grain filler | Smoothing porous wood | $$ |
| Brushes | Applying grain filler and stain | $ - $$ |
| Putty knives | Applying grain/wood filler | $ |
| Stain | Staining the prepared chair | $ - $$ |

Individual refinishing tools can be quite inexpensive, but the price varies depending on the brand, type, and quantity. Even so, the entire project should cost far less than having a professional complete it instead. Not only that, but the homeowner's next refinishing project may cost even less because he or she has some of the tools already.

How to Buy Refinishing Tools
To buy refinishing tools on eBay, have a list of required tools by your side while browsing the website. If you are new to refinishing furniture, you may need quite a few products to get started. Sandpaper, wood stripper, and putty knives are just a few things to search for on eBay. Some eBay shops specialize in certain products, so you might be able to find a home improvement store that sells every item on your list. Ordering from one store can save money by shipping everything at once.
Refurbishing is a process with multiple stages. Take the time to do it right, preventing cracks or uneven finishes. Remember to practice safety and always work in a well-ventilated area with rubber gloves and safety goggles, if necessary.