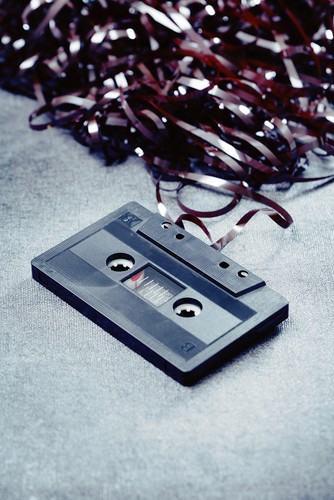 Music lovers once popped a cassette tape into their player, pushed down the "play" button and rocked out to the Carpenters or Bruce Springsteen. Technology has speedily replaced flimsy cassettes but many folks have boxes of their beloved audio cassette tapes stored. Whether for the sake of recycling or for the sake of restoring memories, audio cassettes are finding their way back to a new life.
Recycling Audio Cassette Tapes
Cassette players , such as the once-popular Sony Walkman, are no longer in production. While audio cassette tape devotees can find cassette players on sites such as eBay and continue to use their tapes for musical purposes, most cassette owners eagerly seek ways to recycle their old tapes in new ways. Environmentally-conscious tape owners find that the cassettes themselves do not contain enough valuable components to make them recyclable and yet hesitate to toss them into heavily-loaded landfills. The following suggestions present some clever and fun ways to resurrect the once-musical magnetic media:
Donations
Before repurposing cassette tapes into other uses, owners might consider donating audio tapes to local libraries who may accept them as well as antique music shops. Often, homeless shelters and halfway houses accept donations for their users as well. Most thrift stores accept cassette tapes as well.
Wallets and Purses
Wallets are popular recycling use for tapes because they are so quick and easy to make. Take apart the cassette. Lay the sides of the cassette on a fabric lining and cut around the edges. Using ahot glue gun, attach one side of an open zipper to the cassette. Tack the zipper at the end of the cassette and cut remainder away. Attach the other side of the zipper to the other side of the cassette. Glue the lining inside the zippered tapes. Zip and go.
Create a cassette purse by gluing tapes together to create a front, back, bottom, and sides. Cut fabric lining and glue the lining to the inside of the tapes. Attach a strap to the sides of the bag using an old belt, webbing, or ribbon.
Office Supplies
Cassette tapes make handy tape dispensers. Simply unscrew the cassette, attach a roll of tape, and pull it out the bottom. Snip a sharp cutting piece from an empty box of foil or plastic wrap and glue it to the edge of the tape for a cutter.
Glue four cassettes together to create a handy holder for pens and pencils or art brushes. Eight cassettes glued together can create a unique file holder. Glue four cassettes together for the back, two for the front, and two for the bottom. Attach all pieces together.
In the Garden
Thrifty and creative gardeners use the Mylar ribbon from cassette tapes as weatherproof twine to tie up flowers, tomatoes, green beans, and more. A scarecrow can be enhanced by using the Mylar tape as hair. Its shiny, fluttering streamers effectively keep birds and pests away. Some gardeners directly attach the tapes to fences or posts in the garden.
Furniture
Cassette tapes can renew old chair frames whose seats and backs need replacing. Weave the cassettes together using plastic cable ties to create a snug seat and back. Lace seat and back panels to the frame with the cable ties. Make small indoor or outdoor side tables using the same method.
Cassette lamps are quite popular and colorful. Using the same joining technique as the chair seats, create cubes of tapes, leaving the bottom open. Secure the cube to the finial of the lamp, or place on a light base. Cassette chandeliers are quite stunning. Begin by securing four cassette tapes together in a box-shape with epoxy. Then build layers of cassettes, increasing the number of tapes used for each tow. Lash the cassette layers together with fishing line or thin wire. Connect to hanging pendant light fixture.
Boxes
Resourceful artisans create all sorts of boxes from cassettes including purely functional open crates and closed boxes with hinged lids and sturdy handles to plush-lined, padded jewelry boxes.
Current Technology Protection
Cassette tapes stand alongside iPhone 4 and 4S when repurposed as covers. The plastic cassette cases, flipped open, make handy stands for the iPhones, too.
How to Buy Items to Recycle Audio Cassette Tapes
While audio cassette tapes have gone the way of the VHS and eight-track tapes of yesteryear's technology, crafters repurpose these tapes in new ways to create interesting and unique pieces and preserve favorite memories. Use tapes from well-loved artists to create items for the home and office or as handbags and wallets. Inspired do-it-yourselfers find materials for their creative projects on eBay where there is no limit to times and trends. Find audio cassette tapes and other materials used to create these crafty projects by typing keywords into the search field. Narrow selections according to a variety of categories offered such as brands, colors, prices, and types. Check eBay's Daily Deals for specials on a variety of products.