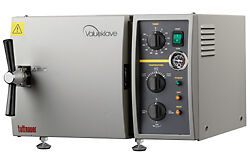 The importance of sterile medical equipment and a clean medical environment has been understood since the late 1860s, when Dr. Joseph Lister's pioneering research with carbolic acid is credited with beginning modern antiseptic practice. During previous years, doctors had used various antiseptics and disinfectants during their practices but in ways that might be considered to border on the magical. A latrine might be sprayed with a disinfectant to prevent the spread of its malodorous "miasm," with no idea that harmful bacteria were also being contained.
The rapid transition from independent to hospital-based medical practices has put a great deal of used medical equipment on the market, much of it recently purchased and in excellent condition. Still, anyone purchasing previously used equipment will make a top priority of their own patients' safety by ensuring that any equipment has been properly disinfected or sterilized before use in their own practice. This guide reviews which medical equipment must be sterilized and which only disinfected; and then discusses standard practices for sterilization of medical equipment. A brief discussion of endoscopes in particular follows. Finally, the purchase of used medical equipment and sterilizers on eBay rounds out the review.
Which Used Medical Equipment Must Be Sterilized
The U.S. Centers for Disease Control categorize the requirements for sterilization of medical equipment according to the kinds of human tissue it contacts and the level of risk it therefore engenders for microbial contamination and disease transmission. A number of key kinds of medical instruments are listed below according to how the CDC categorizes the need for sterilization:
| Category | Tissue Contact | Kind of Instrument | Cleaning Requirement |
| --- | --- | --- | --- |
| Critical | Sterile tissue; vascular system | Surgical instruments; cardiac and urinary catheters; implants; ultrasound probes; some endoscopes | Sterilize |
| Semi-critical | Mucous membranes; non-intact skin | Respiratory therapy equipment; anesthesia equipment; some endoscopes; laryngoscope blades; esophageal manometry probes; anorectal manometry catheters | High-level disinfection |
| Non-critical | Intact skin | Bedpans; blood pressure cuffs; crutches; bed rails; linens; patient furniture; floors | Low-level disinfection |
Ensuring that instruments are properly cleaned is key to protecting patients against infection. Even an instrument like an endoscope, which requires simply high-level disinfection, must be properly cleaned. One study found that because of improper cleaning, endoscopes accounted for more patient infections than any other medical device.
Methods of Sterilization
How to sterilize a piece of medical equipment depends in large part on the materials from which the equipment is made. If the item is not heat sensitive, then steam sterilization is the standard approach. This may use an autoclave or similar device. If the item is heat sensitive because of its construction from a material that would be damaged at the temperatures in an autoclave, then a typical treatment will be with an ethylene oxide or hydrogen peroxide gas plasma, or with another gas plasma that has an even lower temperature.
Before an item is sterilized, it should be cleaned to remove any debris. Those cleaning used medical instruments should wear heavy duty gloves for their own protection. Soaking in water or a solution of disinfectant or detergent can facilitate this process. Various enzymatic and non-enzymatic solutions have been developed to assist in instrument cleaning. Ultrasonic cleaning machines and cassettes to enclose the instruments will reduce the need to directly handle instruments that may be contaminated.
Steam Sterilization in an Autoclave
Autoclaves typically use pressurized steam to destroy microorganisms. Items to be sterilized in an autoclave are placed in one of several kinds of containers, which offers the advantage of limiting the handling of items after sterilization is complete.
Polypropylene bags, which may have an indicator line printed on them to show that processing is complete
Polypropylene containers and pans
Stainless steel containers and pans
Whatever container is used, it is important to remember that steam is the sterilizing agent and the container must allow steam to reach the items being sterilized.
Plasma Sterilization
Gas plasma sterilization is typically used as a pre-operative measure to sterilize implants and stents. At one time, it was used to clean catheters for reuse, but today single-use catheters are most common in the hospital setting. Ethylene oxide and hydrogen peroxide gases may be used where the product can take some heat but not as much as an autoclave produces. For lower heat plasma sterilization, oxygen, hydrogen, and argon are common.
Dry Heat Sterilization
Dry heat sterilization relies on bringing the temperature of the entire object up to the temperature required for sterilization. It takes longer than steam sterilization. Instruments must remain at 320 degrees Fahrenheit for two hours or 340 degrees for one hour to be sterilized.
Instrument Soaking Trays
It should be understood that trays of solution for soaking instruments are not used for sterilization, but,as noted in the table above, for disinfection. These are appropriately used in salons and spas to disinfect combs and clippers, and may be used as a means to reassure patients that a doctor's equipment is sterile, but are not appropriate for the sterilization of dental tools, surgical tools, or other equipment that may contact sterile tissue. The American Dental Association urges sterilization of dental tools used for tooth cleaning, even though they may fall technically into the CDC's "semi-critical" category of items that only require high-level disinfection.
Properly Cleaning Endoscopes
Because endoscopes result in more patient infections than any other single piece of medical equipment, specific guidelines for their cleaning are given below.
Leak test the device to confirm that it is still sound. If not, discard.
Internal channels and external surfaces should be cleaned by brushing and flushed with water and an enzymatic cleaner.
The endoscope should be immersed in a chemical sterilizing agent or high-level disinfectant. Pump the disinfecting or sterilizing agent into the endoscope to make sure no air pockets are left inside and it contacts all internal surfaces. Leave the endoscope in contact with the agent for the time recommended for that product.
Rinse the endoscope inside and out with water. Sterile water, filtered water, or tap water may be used.
Dry the endoscope. Use alcohol and forced air to dry the insertion tube and inner channels.
Store endoscopes in a way that promotes drying and prevents recontamination. Vertical hanging is recommended.
Selecting a Medical Equipment Sterilizer
A medical equipment sterilizer must be sized to the equipment used in a practice, designed to cycle at a speed appropriate to that practice's turnover, and able to function within the practice's operations. A practice with limited need to sterilize equipment will be more satisfied with a dry sterilizer than one that sterilizes a great deal of equipment frequently, simply because of the relatively slower speed of dry sterilization. Small, portable sterilizers can be used in any examination room of a dental practice, whereas a large autoclave must be attended in a central location.
Finding the Right Sterilizer on eBay
On eBay, a wide range of sterilizing equipment is offered. New, used, and reconditioned units are available. Some may have warranties, which will be detailed on the product description page. A buyer may select among various sizes, some appropriate to the small sets of tools used in a dentist's office or tattoo parlor; others full-sized autoclaves appropriate to a surgical suite. Finding the right sterilizer is easiest if you start in the Healthcare, Lab & Life Science category on eBay, where medical equipment is generally found. Other kinds of sterilizers, such as the UV sterilizers used in preparing aquarium water, may be suggested, but it is important to select those sterilizers recommended by medical sources for cleaning medical equipment.
Comparing Sterilizers for Sale on eBay
You are likely to find more than one sterilizer you want to consider in eBay's marketplace. The easiest way to compare them is to log in and create a Watch List. As you see an item you want to consider purchasing, add it to your Watch List. You will then be able to review all the items you want to compare by clicking the link Watch Listing and Other Lists in the Buy link at the left side of the page. This will allow you to best see variations in the products and prices and select the item best for your practice.
Conclusion
Maintenance of a sterile medical environment is a relatively new practice. Until people really understood germs, they weren't in a position to protect against them. Today, those that practice every kind of health care understand that the equipment used must be both clean and sanitary to protect their patients from dangerous infections.
The US Centers for Disease Control, along with professional associations for each kind of health provider, have established standards for which kinds of medical equipment may simply be disinfected and which require sterilization. Proper sterilization requires specific equipment to provide pressurized steam (steam sterilization), a high temperature over an extended period (dry sterilization), heated gas plasmas (gas plasma sterilization), or lower temperature gases (oxygen and hydrogen plasma sterilization).
When purchasing used medical equipment, following the correct protocols for cleaning and then disinfecting or sterilizing the equipment is essential to ensure the safety of patients. Although all medical equipment must be sold with a certification that it has been cleaned, it still must be sterilized or disinfected before use to be certain that any potential transfer during transit is removed before the item is used in patient care.