How to Price and Sell Your Boy Scout Postcard
Part 1 of this guide
discussed how to identify your postcard, reach potential bidders, and give them enough information to maximize the bids you receive. This part will give you an idea of just how much they are likely to bid.
What You Can Expect Collectors to Bid


The following prices are based on cards in
very good
to
excellent
condition as described in
Part 1 of this guide
. The prices are based on what I have paid in the past, what other collectors have paid - both in on-line auctions and at hundreds of postcard shows, what I would expect to have to pay in the future for cards I do not already have, prices I have received for postcards, and what other postcard dealers report. As with many other collectibles, the main factor in determining price is condition. Cards that are only in
good
condition, as described in part 1, lose as much as 50% of their value. Collectors often only buy cards that are in
fair
to
poor
condition as "space fillers" to be kept until better specimens are found. When that is the case, they may expect to pay only 10% to 25% of the listed prices. Cards that are
near mint
, even better than
excellent
, command a premium of up to 50%. The more accurately you can describe the condition of an item, the closer you can come to obtaining its full value.
Official Boy Scouts of America Cards
The BSA Scout Law Series of 1913

Blue circle copyright: $12 - $18

Straight line copyright $15 - $25

Scout Oath / Scout Law Summary $18 - $30

The BSA First Activity Cards, 1913 - 1916 $18 - $22
BSA Christmas Postcards copyright 1914 $15 - $25
Boy's Life Advertising Cards (1915 - 1919) $25 - $35
The BSA Second Activity Cards, 1917 $18 - $22
BSA Ryte-Me Calendar copyright 1917

Individual postcards $25 - $35

Complete calendar (with leather tie) $150 - $200

Third Liberty Loan Drive

Original postcards of 1918 $50 - $100

BSA reprints from the 1960's $4 - $8

National Archives reprint $3 - $6
Continental size reprints (4" x 6") $1 - $3

1937 National Jamboree linen postcard designed by Howard Chandler Christy.

In 1995 this card was selling in the range $40 - $50. Since that time, so many copies have entered the market that it now sells in the range $12 - $18 and sometimes lower.

BSA Generic Camp cards of 1947 $7 - $12
BSA Generic Camp cards of 1956 $8 - $15
BSA Generic Camp cards of 1958 $8 - $15
1950 National Jamboree Postcards $5 - $15
1957 National Jamboree Postcards $6 - $12
Scouts of the World - 1964

Individual postcards $1 - $5
Boxed set of 68 postcards $40 - $60

New York World's Fair 1964/64 $3 - $6
Scouts of the World - 1968

Individual postcards $1 - $5
Boxed set of 111 postcards $40 - $60

Privately Issued Sets and Series
The Scout Gum Company cards of 1914 $15 - $22

The past ten years has seen these cards drop in price from about $35 each.

Inter-Art Patriotic cards c. 1914 signed Fred Spurgin $8 - $16
Commercial Colortype Co. cards $8 - $12
Gartner and Bender $12 - $24
Series #265 - Boy Scout & Campfire Girl $18 - $30

One card with the Scout holding a Kodak often brings 50% more.

Scoutoons (but less for Camptoons) $10 - $16

Local Council and Boy Scout Camp Postcards
Extra demand for postcards from camps with loyal alumni groups or historical museums increases the prices. With over 3500 Boy Scout camps, it is imposible to give prices for each individual camp.
Add 10% to 25% for postcards that show close-ups of individuals engaged in activities. Subtract 10% to 25% for views that show only senic panoramas, exteriors of buildings, and distant views of lake fronts and docks. Add 100% to 150% for postcards postmarked at post offices that have the same name as the camp.

Dexter Press marked on the spine "Silvertone" black and white camp postcards. $8 - $12
ArtVue black and white postcards. $6 - $10
Dexter Press and other full color "chrome" postcards, including those marked National Supply Division, or National Supply Service and those postcards with a Boy Scout emblem on the spine. $3 - $8
Real photo camp cards with multiple scenes on the front. $15 - $20
Other real photo camp postcards with the camp identified. $12 - $18

Other Local Postcards Showing Boy Scouts
Same as camp postcards, but check whether the demand for the particular town or city cards exceeds the demand for Boy Scout postcards. In general small towns have greater demand than larger cities.

Real Photo Postcards Showing Boy Scouts
Portraits of boys in uniform.

Unidentified $3 - $6
Identified by name and location $5 - $12
Unusual rank badge or uniform part (without magnifying glass) $10 - $20
Eagle badge is evident (without magnifying glass) $30 - $75 (or more)

Troop photos, bands, drum corps, and other groups

Unidentified $5 - $8
Identified (but specific location may increase demand) $10 - $15

Camps (see local and council cards - above.)
Snapshots (not professionally taken or published) $3 - $6
Ernest Thompson Seton (real photo close-up only) $60 - $100
Dan Beard (real photo only) $60 - $100
James West (real photo only) $75 - $150
Baden-Powell (mostly at International Jamborees) $15 - $40

Postcards from countries other than the United States.

With important exceptions, there is very little demand for such cards in the United States and the author's experience with them is limited. EBay, however, provides a global market place and pricing trends should become evident. Some of the exceptions include:
Tuck's

Our Scouts

a beautifully drawn set of six fantasy postcards showing Boy Scouts with animal totem heads. each: $250 - $400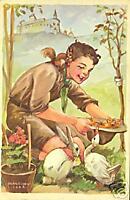 Artist signed "Marton" postcards from Hungary. These cards sold for $20 to $30 several years ago, but with the break-up of the Soviet Union they have become more plentiful and the price has been dropping.
Czech postcards drawn by an unidentified artist with titles in French or in Czech and broken English. They sell in the range of $20 to $30.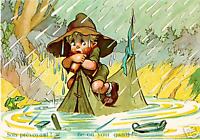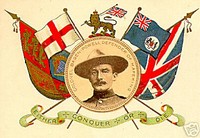 Baden-Powell postcards pre 1907 showing him uniformed as a Lt. Colonel or General . Primarily British, these cards often bring from $25 to $75.
Other Organizations

Lone Scouts of America. Comic postcards issued before the organization merged into the BSA when properly identified and described, have occasionally attracted bids from $50 to $150.
American Boy Scouts - real photo cards - when the Scout is clearly identifiable as an American Boy Scout (an early rival organization) and not from the BSA often bring $20 to $35.
I hope you have found this guide useful. I plan to update the pricing information at least once or twice a year. If I can share any other information, please contact eBay member: stanl-lym.
Stan Lipson