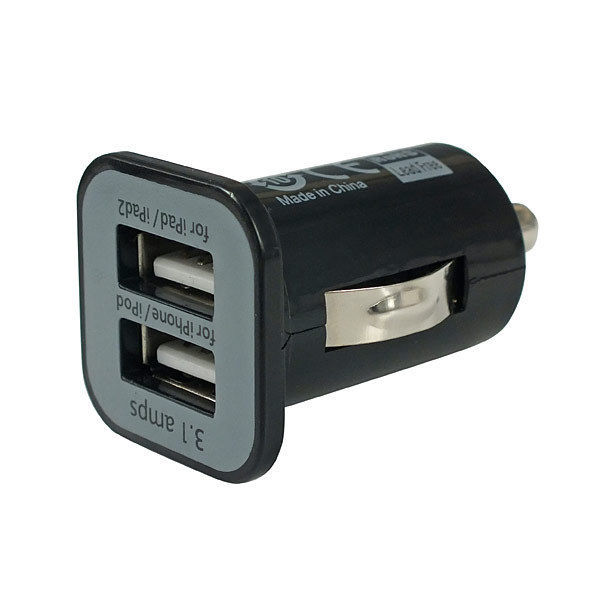 These days, many people own more than one mobile device. iPhone users who travel in cars regularly can benefit enormously from investing in dual-USB iPhone car chargers. These types of chargers have two USB slots instead of one, and they're often designed to quickly charge iPhones, iPods, iPads, and other devices. In many cases, they can be used to charge devices from other manufacturers as well.
Reasons to Buy Dual-USB iPhone Car Chargers
One of the best reasons to buy a dual-USB iPhone car charger is because it is simpler. Instead of using separate chargers for separate devices, a single charger can be used to keep more than one device powered up at a time. Some models offer dual power options as well, with one USB slot rated at 1.0 amps for iPhones and one rated at 2.1 amps for tablets.
iPhone Cables and Dual-USB Car Chargers
Some dual-USB car chargers for iPhone don't include cables, so it may be necessary to purchase one separately if an extra one isn't handy. However, many chargers come with cables. Before purchasing one, confirm whether a 30-pin connector or Lightning connector is required. Up until the iPhone 5, all Apple devices used 30-pin connectors. For iPhone 5 and later, the Lightning connector, or 8-pin connector, is needed.
Features to Consider when Shopping for Dual-USB iPhone Car Chargers
| | |
| --- | --- |
| Size | Even with the addition of an extra USB slot, dual-USB iPhone car chargers are very compact. Some models are designed to be especially small, and they are typically called micro iPhone car chargers. They are ideal for situations in which there is very little extra space on or near the dashboard. |
| Color | While the color of an iPhone car charger won't affect its performance, most people like to buy models that match their iPhones and that look nice in their vehicles. Black dual-USB chargers and white ones are readily available. A few manufacturers may offer other color options as well. |
| Manufacturer | OEM iPhone car chargers are manufactured or officially licensed by Apple. There is some debate about whether or not they are better than their aftermarket counterparts, but they tend to cost more. There's a plethora of aftermarket dual-USB iPhone car chargers as well, and they tend to be the most competitively priced. |
| Cable | Unlike regular iPhone car chargers, dual-USB models don't usually have attached cables. This also sometimes means that the cable isn't included at all. If it is, make sure it is compatible. All detachable cables have USB connectors at one end. The other end will either be an old-style 30-pin connector or a newer Lightning connector. |
| Charging Speed | Charging speeds don't tend to vary a lot between iPhone car charger models. However, some are specifically designed to rapidly charge iPhones, and it may be worth the extra money for those who only tend to be in their cars for limited periods of time. |
| Status Light | Without a decent status light, or indicator light, the only way to tell if an iPhone car charger is working is by looking at the iPhone screen. This is inconvenient and potentially dangerous while in a car, so look for a charger that has an easy-to-read indicator light. The best ones change colors to indicate when an iPhone has been fully charged. |
| Compatibility | Compatibility isn't a concern when it comes to dual-USB iPhone car chargers that don't include cables. Models that include cables should be investigated carefully to ensure that they will work with a given device. If necessary, a 30-pin-to-Lightning adapter may be used to ensure compatibility. |
| Protection | The most well-designed car chargers for iPhones have smart chips that detect when devices are fully charged. Charging is then slowed to a trickle to prevent overcharging, which can damage the device. |
| Power Rating | Some dual-USB car chargers for iPhone offer a single power option. Many others, though, have a 1.0-amp USB port for iPhones and a 2.1-amp USB port for iPads and other tablets. |
Finding Dual-USB iPhone Car Chargers on eBay
To find dual-USB iPhone car chargers on eBay, begin in the Electronics section, and then continue to theCell Phones & Accessories category. From there, click on theiPhone subcategory, and then select the Chargers & Cradles section. On the menu at the left, select "Car Charger" from the "Type" category.
Conclusion
Dual-USB car chargers for iPhones are very convenient. By selecting one with the right features, iPhone users can keep all of their devices plugging along no matter where they go.