How to Make a Magnetic Hematite Bead Wrap Instructions
Magnetic wraps are a very popular, fun, and relatively easy to make piece of jewelry. They are actually made by just stringing one long (30"+) strand of beads and the only really tricky parts are finishing the ends securely and making sure that the strongly magnetic beads are evenly spaced so that the piece will stay together properly.
These sell extremely well at craft fairs, flea markets, and fund raisers. They are easy to wear and fun. Older people like them because they are easy to put on and because many people believe in the healing and pain-relieving properties of magnets. Younger people like them because they are cool and come in a lot of eye-catching designs.
On average, I have seen them sell for anywhere between $15 and $25 at craft fairs, etc. In addition to making your own, we sell many of them ready made at very reasonable prices in our store as well as wholesale assorted lots of 10 and 100. Our wraps are located here:
Magnetic Wraps
Feel free to use any of our designs for inspiration when making your own wraps.
A magnetic wrap can be worn as a bracelet, an anklet, a necklace, a choker, a lariat, or, if you make one big enough, even a belt. See below for further instructions: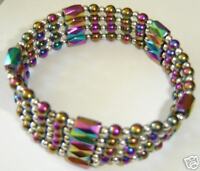 The materials I like to use for these are tiger tail beading wire (I usually use clear stainless steel or black), crimp tubes, and both magnetic and non-magnetic beads. Here are links to the items you will need in my store:
Tiger Tail Beading Wire
Crimp Tubes
STRONG (faceted) Magnetic Beads
Cat's Eye Beads (optional)
Crimp Bead Covers (optional)
Silver Colored Spacer Beads (optional)
General Tips:
1. The number of magnetic beads varies depending on your design and the length of the wrap (which can be worn as a bracelet, anklet, necklace, etc). In general it is best to have about one third of the beads be magnetic because anything less will not hold as well. The average length of these is 30 - 36". For a 36" wrap, I would normally use about 20 - 30 of the faceted magnetic beads (colored or non-colored). It is important to make sure you use strongly magnetic beads for this project.
(Note: All my faceted beads are strongly magnetic (both the colored and non-colored). My round beads, twist beads, and rice shaped beads are of regular magnetic strength so while they could be used as part of the pattern, you would need some of the faceted ones there as well.)
2. It is important that your pattern is regular in the sense that the same amount of space should be between each magnetic bead. So, for example, if you have one magnetic bead and then three 4mm beads, another magnetic bead and then three 4mm beads, etc, that would be fine, but if you had one magnetic bead and then three 4mm beads, another magnetic bead and then 4 4mm beads, it would be a problem because the bracelet would not hang together properly. If you experiment with it a bit, you'll see what I mean. (I found this rule out the hard way.)
The Ends of the Wrap:
Since these are held in place by the magnets and so they don't require clasps, making them really only involves making the ends secure. You need a length of beading wire that is the length of the bracelet plus at least 4 inches. I have seen this type of wrap ended in two different ways. The first is the way I usually do them:
a) Ending with a crimp bead: The end of the beading wire goes through a crimp bead and then is looped back through the same crimp bead, leaving a 2" tail. I use a stray piece of tiger tail or a pin to go through the loop temporarily to keep it open and then I use my pliers to pull the tail as tight as possible and I crimp the crimp bead flat. This leaves you with a length of tiger tail crimped at the end with a very small loop. Then I add a magnetic bead (through both the beading wire and the little tail) and I start my pattern. I end with a magnetic bead and then feed the wire through a crimp bead and then loop it back through using a pin or a stray bit of tiger tail again to keep the loop open. I pull it back through a few of the beads. It is a challenge to get it nice and tight so that there is not too big a gap. It needs a small gap to be flexible, but I try to keep the gap less than a half inch or so.
Variation: Some people make a slightly bigger loop at the end and make a small dangle (using a headpin) to go through the loop.
b) Ending with a bead: This is similar, but instead of having the crimp bead at the end, the beading wire is first fed through the crimp bead, then the magnetic bead, and then a small end bead. Once it goes through the end bead, it is fed back into the magnetic bead and back through the crimp bead and then the crimp bead is crimped. This has the advantage of being a little more secure than the other method, but I find it does not look quite as nice (in my opinion). The first method is quite secure. Particularly, I find that the beading wire and crimp tubes I sell hold very well. I used to use sterling silver crimp tubes and accuflex beading wire, both of which are more expensive, but I found they did not hold as well.
Copyright 2008 by Rachelle Ditzian. All Rights Reserved.
Rachelle's Beads & Jewelry -- Our Ebay Store