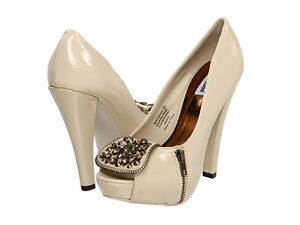 Shoes are an item of clothing that each person wears every day, for any number of different reasons. Women wear shoes for style, comfort, or practicality. A woman's wardrobe is generally filled with a range of shoes designed for different uses, including sports and physical activity; they are for work, casual comfort, or for dressing up and going out. Shoes tend to be quite expensive, and any woman wants her shoes to offer maximum comfort and last a long time. In order to get the most wear out of a good quality pair of shoes, there are a few things a woman can do to make her shoes last longer.
Starting with a good quality pair of shoes and understanding how to use, clean, treat, and protect them will keep them looking good and feeling great for years to come. Shoes and shoe care products can be purchased from a number of locations, including specialty shoe stores, department stores, and some leather goods stores. Buyers can also utilize the Internet for buying shoe products, including eBay, where a wide selection of shoes and shoe care products are listed for sale from sellers all over the world.

Start with Good Quality Shoes
The first step to having shoes that will last a long time is to purchase good quality shoes. A pair of good quality shoes will fit properly, offer comfort and support, promote healthy foot care, will look stylish, and will not fall apart like less expensive shoes tend to do. Shoes made from natural materials, such as leather and suede, are more durable and breathable, and last longer than shoes made from synthetic materials. Leather shoes tend to be the most expensive. It is also recommended to have several pairs of good quality shoes so that they can be worn alternately. Having at least two or three different pairs of work shoes is helpful, so that they can be worn for one day, and then rested. This ensures one pair of shoes doesn't get worn out too quickly, or become damaged from bad odors.

Different Types of Women's Shoes
There is a wide range of different types of women's shoes available, and each is designed for a different purpose, level of comfort, style, and practicality. The following table provides a list of the most common types of women's shoes available, and a description of each.

| Shoe Type | Shoe Description |
| --- | --- |
| | The heel is raised, usually two inches or more off the ground; usually worn for evening, formal, or social occasions; expensive high heels tend to offer the most comfort |
| | Referred to as athletic shoes; feature flexible, cushioned rubber soles, and leather or canvas uppers |
| | Long shoes, extend above the ankle, up to or above the knee; often made of leather; may have high heel or flat sole |
| | Usually worn for social occasions; shoe is secured with a strap that sits behind the heel, usually exposing the top of the foot |
| | A slip-on dress shoe with a high heel; doesn't tend to have any straps |
| | A flat soled shoe, designed as a summer shoe; usually exposes much of the top and instep of the foot |
| | Shoes that expose the back of the heel; foot slips into the front of the shoe; slippers are commonly of this style |
| | Open shoes, designed for summer wear; feature a sole and various types of strapping; much of the foot is exposed |
| | Summer shoes, expose virtually the entire foot; feature a sole with two straps originating from between the big toe out to each side of the foot |

The type of shoes a woman chooses to buy will depend on personal style preference, the weather, as well as how and where she plans to wear them. No matter what style of shoe, it is important to care for them properly in order to get the most wear out of them.

Protect the Soles
Naturally, the sole of the shoe is often the first part of the shoe to wear out. Leather soled, or thinly soled shoes will wear out very quickly. Therefore, it is ideal to get a thicker rubber sole put onto the shoes before wearing them. This will greatly increase the life of any pair of shoes.

Treat Odors Properly
Shoes can quickly get smelly and sweaty. Good quality leather shoes are less likely to trap odors in as they are much more breathable than synthetic shoes. Rotating shoes so that they are not worn over consecutive days will help to reduce shoe odors. Placing a teaspoon of baking soda or a drop of tea tree oil into each shoe will help to neutralize and rid the materials of odors and keep them smelling fresh and clean.

Protect, Clean, Dry, and Condition Shoes
One of the best ways to make shoes last longer is to ensure they are properly protected, cleaned, dried, and conditioned. There is a wide range of shoe care products available for any type and style of shoes.
Protect Shoes
A spray-on protector is ideal for shoe care. It protects the shoes from water staining and damage from dirt and soil. Protector should be reapplied regularly, every six to 12 months in order to protect the materials. Protector is designed for use on leather shoes, especially suede, which can become stained from water. Saddle soap can be used to waterproof shoes.
Clean Shoes
Shoes should be cleaned by hand, never soaked in water or put into a washing machine. Use a soft cloth and an appropriate shoe cleaner and gently rub away any stains or dirt marks. Cleaning away large amounts dirt should be done with a bristle brush once the dirt has dried. Some people use vinegar on a soft cloth to clean their shoes.
Dry Shoes
If shoes get wet, they should be dried naturally at room temperature. Make sure they are completely dry before wearing them again. Excessive amounts of water can warp shoes, especially leather shoes. For shoes that are very wet, some scrunched up newspaper stuffed inside the shoes will help to dry them out and keep the shoes from losing their shape.
Condition Shoes
Leather shoes should be regularly conditioned after they have been cleaned or suffered water damage. Leather that is not regularly conditioned can dry out and crack. There are numerous leather shoe conditioners available, designed for use on any style of shoe. Traditional shoe polish is a great conditioning treatment and also helps to keep the natural color and shine of the leather.

Store Shoes Properly
Shoes should never be stored away when they are wet or damp. Shoes that have soft material should be stuffed in order to keep their shape. Those who own long boots should use boot shapers, which are inserts that go into each boot to help them keep their shape. Shoes should be allowed to sit flat, and should not be stored one pair on top of the other.

Use Shoes Properly
How a woman uses her shoes can greatly affect how long they will last. Scuffing shoes as one walks will wear out soles very quickly and can damage the toe of the shoe. Shoes that have laces or buckles should be put on and taken off correctly. Never try to pull shoes on or pull them off the foot without first loosening any laces, straps, or buckles. Incorrectly putting on and removing shoes can damage them and cause the upper material to pull away from the soles. If this happens, shoes will need to be replaced.

Buying Shoes on eBay
eBay offers a wide selection of shoes and shoe care products for sale. Buyers are able to search for their desired shoes at the most competitive prices from worldwide sellers. eBay makes buying any product as simple as possible, with a wide range of features designed to provide the most comprehensive and enjoyable buying experience for any user.
eBay's Simple Search Methods
For any woman looking to purchase any type of shoes on eBay, she simply needs to type "women's shoes" into the search bar on the home page and thousands of choices will be presented. Alternatively, users can navigate to the appropriate section by selecting the Fashion portal, and then selecting the Women's Shoes category. From here, buyers can easily refine their search by selecting from the available search limiters, such as searching by style of shoe, size of shoe, heel height, or brand.
Those New to eBay
For those new to eBay, the site offers a comprehensive Learning Center. Here, buyers can find a wide range of useful information, including Buying Basics, All about Bidding, and Resolving Buying Problems.

Conclusion
Every woman has a favorite pair of shoes, or several favorite pairs. Whether they are a sparkly, stylish pair for a girls night out, a relaxed pair of flats ideal for work, or a comfortable pair of sneakers for the gym, all shoes should be properly cared for in order to make them last longer. Shoes can be very expensive, and understanding how to properly care of them will help save money in the long run.
Making shoes last longer involves starting with a good quality pair, and is followed by protecting the soles, treating odors, cleaning, drying, and conditioning them, as well as storing and using them correctly. There are many different styles of shoe, and each needs to be properly cared for in order to make it last as long as possible. eBay offers buyers a great way to purchase any type of shoes or shoe care products from the comfort of their own home. eBay offers products from sellers from around the world, and buyers are able to easily search for their desired shoes at the most competitive price.