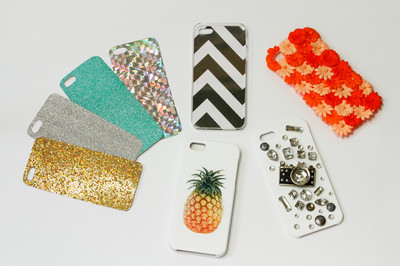 One of the hottest trends today is to accessorize your phone. No matter what you wear, a custom-made, personalized case will make a unique statement when you're out and about! There are hundreds of premade designs out there, but fashion is all about expressing yourself. I'm not a fan of spending money to buy a premade case when you can easily customize your own for less! Read on to learn how.
Once you have your case, check the fit and then wash it in warm soapy water to remove any oils or dirt. Now let's get started!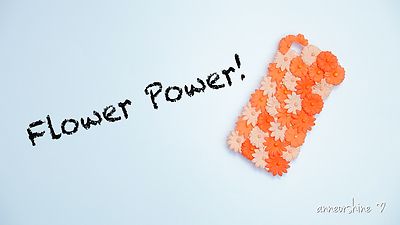 Design #1: Flower Power
Our first design is a cute flowerbed—simple, colorful, and perfect with any fun, casual outfit. Dab the backs of your
fabric flowers
with
craft glue
and apply to a bright-color case in straight lines (or not!). Trim the flower pieces to fit around the camera lens and let the glue dry. I love this design. It's sweet and girly, and the flowers have a fun texture when you're holding your phone.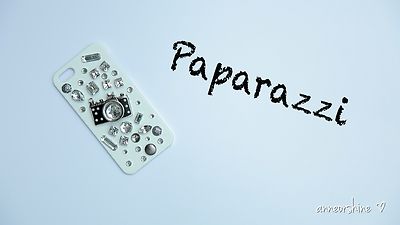 Design #2: Paparazzi Glam
Now, let's create a flashy paparazzi look. A cute
camera pendant
is a perfect phone embellishment for an Instagram addict, like me. Place the
pendant
and a handful of
rhinestones
on a clean, dark-color case, and move them around to play with the layout until you get the look you want. Then use your
craft glue
to set them in place. I recommend using rhinestones of all different shapes, sizes, and colors to give your design extra dimension. This is a glam case that'll work well for evenings out!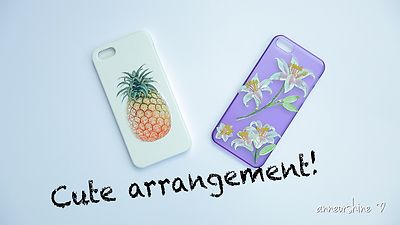 Design #3: Picture Perfect
Have a photo you love or a cute cutout from a magazine? I found this adorable picture of a pineapple online, and used my
laser printer
to print it. Then I cut out the image, carefully trimming the excess with an
EXacto knife
. Next, I smoothed
craft glue
onto the back of the image and stuck it onto a solid white phone case. Once the glue dried, I applied a layer of
gloss paint
over the entire case to seal in the image and protect it. Be sure to give the gloss time to dry—it can take up to a day.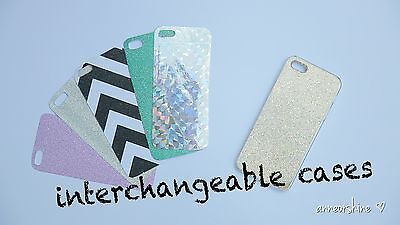 Design #4: Prints Charming
Finally, lets get creative with a
clear case
! Clear (and transparent color) cases are fun because you can easily change up the look with decorative paper over and over again. First, take the paper template usually included inside newly purchased cases, and trace the shape onto the back of some pretty, patterned
scrapbook paper
. Then cut it out, trimming the holes for the camera and speakers with an
EXacto knife
. Place the paper inside your clear case with the design side facing out, then put your phone in the case! No glue necessary-the phone will keep the design in place. To change the look, change the paper! It's so easy you can even do it daily to match your outfit.
So, you see, there's only one rule when working with phone cases: be as creative as you want! Use my ideas as a starting point and get crafty! Your cases should reflect your own personal style. For more great ideas, be sure to watch my YouTube video tutorial!
For other great quick and easy crafty DIY's, go to my Youtube channel at
http://www.youtube.com/user/anneorshine
or follow me on Instagram at @lifeannstyle.