Since I'm selling product keys to Microsoft Office Professional Plus 2010, I decided to write a guide detailing how to go about installing the program with no issues. If you have a CD, then this guide is irrelevant for you. If you do not have a CD and need to download the program, then this is for you.
The first step is to always remember to physically write your code down just in case anything happens to your computer. The product keys are always sent through messages and backed up on my computer (attached to the username of the buyer) in case someone ever has an issue where their messages have been deleted and they're installing this software on their computer again. (Do not be confused, these keys can only be used on 1 computer but can be used at least 50 times on the same computer. This would happen if you were upgrading operating systems (Windows XP -> Windows 7) and needed to reinstall the program on the same computer after the upgrade.)
Now that you've read the first step (right?), you'll want to visit Microsoft's website. I'll make that easy, just follow the link below.
http://office.microsoft.com/en-us/professional-plus/
You'll want to click on the big green button that says, "Try for Free."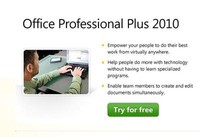 From there, you'll want to scroll all the way to the bottom and press "Get Started Now."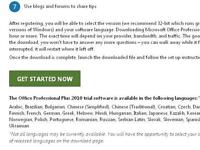 At this point you'll be asked to sign into a Windows Live ID. This is any email address ending in "@hotmail.com" or "@live.com"
If you do not have one of these email addresses, now would be a great time to sign up. It's quick, easy and free. Not to mention, Microsoft owned, so you know it's a good email address to have and trust.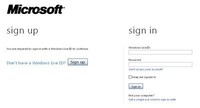 Signing in is your last step towards getting your 60-day free trial and your download link. You'll have the choice of 32-bit or 64-bit (most users will choose 32-bit; you'd know if you wanted 64-bit.) You'll want to choose a language and press, "Download Now."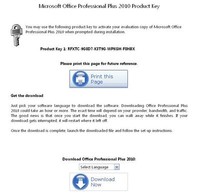 After not too long, your download should start and you should be on your way. Expect the download to take anywhere from 10-20 minutes.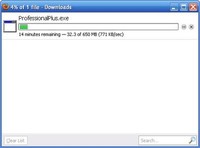 Once you've finished downloading, run the installer and it should look like this: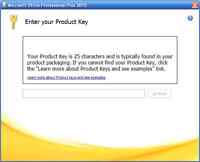 At this point, you'll enter the product key that I gave you.
Note that some times because you downloaded the trial, you'll have to use your trial product key first, then after the installation is over, you can change your product key to the one I sent. This is a very common issue I've seen among some of my buyers and it worked fine afterwards. However, I also provide an alternative download for users who would rather it work the first time.