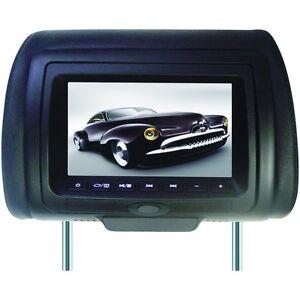 Installing monitors and DVD players in a vehicle is an excellent way to provide entertainment options for passengers. Smartphones and tablets such as the iPhone, the iPad, and the Kindle Fire also make it easy for individuals to carry their movies, TV shows, music, and other media with them wherever they go. However, it is convenient to have a monitor in the car in case the passengers forget to bring their personal device or in case the device's battery runs down. Consumers may be unsure about how to proceed with the installation of car monitors with built - in players in their vehicle. However, with some careful research and planning, they should be able to complete the process with very few issues. This guide will explain the necessary steps for installing car monitors with built-in players into a vehicle.
Components and Supplies
Car owners will need a number of components and supplies within easy reach during the installation process, including a DVD receiver, a couple of external car monitors, and a number of additional tools. If they plan to complete the job over a number of days, they will also need a work area that is protected from the elements. If they want to finish the whole process in a single day, a parking lot or a driveway will suffice, provided that the weather is good.
DVD Receiver
A DVD receiver has both the car monitor and the DVD player included in one unit, which is installed toward the front of the vehicle. DVD receivers can be hooked up to the external monitors in the back of the vehicle so that video can be run to those screens while the car is in motion. When the car is parked, the DVDs can also be watched on the main monitor that is built into the receiver unit.
Drivers should never allow themselves to be distracted by videos while they are operating a vehicle. Only when the car is safely parked in a lot or a driveway is it acceptable for drivers to watch videos on their car monitor. To prevent drivers from being tempted to watch a DVD, most in - dash monitors and DVD receivers include a special safety feature. When the vehicle is in motion, the video will not appear the picture on the front monitor. Only when the vehicle is stopped and the emergency brake is on will the image will show on the screen. Car owners should check the regulations in their state before installing any kind of player and monitor combination in their car. Some states have outlawed the operation of screens within viewing range of the driver. The only exception to such a regulation would be screens that are used for navigation only, such as those in a GPS unit.
DVD receivers can also be installed behind the front seats rather than in the dashboard in order to eliminate any chance of distraction or any possible violation of a state regulation. Many DVD receivers enable dual-zone functionality, which means that passengers can listen to one audio source while the driver listens to another.
Monitors
The DVD receiver includes its own monitor, but most car owners will also want one or two additional external monitors. In a car with more than one video monitor, the external monitors are usually mounted in the back of the seat headrests. Some external headrest monitors have headphone jacks so that an individual can take advantage of multi-channel sound capabilities and watch their own DVDs without disturbing the driver or the other passengers.
Other Items
Car owners will need several other tools and items to complete the installation process. They will need a wire stripper or crimper, a socket wrench set, pliers, a drill, and a tool for removing panels. They will also want to have a flathead screwdriver, a Phillips screwdriver, and a knife on hand.
Types of Installations
Depending on the type of installation that buyers choose, they may need to have panels custom-made to enable their new monitors to work in their car. Some typical types of installations for DVD receivers and monitors include overhead installations, headrest installations, dashboard installations, center console installations, and all-in-one units.
Overhead Installations
Overhead DVD receivers that include both a monitor and a player can replace the dome light in a car. Since wiring is already present for the light, this will simplify the installation process. Car owners will need to ensure that the car has enough support for the weight of the monitor in that area of the roof. They can check for this support by sliding one hand along the headliner (the fabric lining of the car's roof) to feel for a corrugated metal strip.
Car owners will need a screwdriver or a panel remover to take off the dome light cover. Once the cover is off and the bulb has been removed, they can pry the rest of the light off the car's ceiling so that the wiring is visible.
At this point, car owners should be able to see a support bracket through the opening where the dome light was located. Cars with sunroofs typically include a dedicated support bracket for the sunroof as well, making monitor installation easier and more secure. Owners should mount the bracket for the overhead monitor using this support structure and a number of screws. For the most secure installation, the headliner should be cut to fit precisely around the mounted monitor.
Before owners drill the holes for the brackets, they should be sure that they are not drilling through wiring or through other lines that are essential to the car's function. Holes should be places in clear spaces where they will not impede the function of any other systems. The drill bit and screws should also be short so that owners do not risk doing damage to the roof of their car.
Next, owners will need to complete any of the wiring that is necessary for mounting the monitor. If owners do not have extensive experience with wiring, they may need the help of an experienced friend or neighbor for this phase. Once the wiring is complete, the monitor can be turned on. Overhead monitors are sometimes designed to flip up or flip down so that they can be conveniently folded away when not in use.
Headrest Installations
For headrest monitors, car owners have a couple of different choices. As one option, they can cut into the original headrest, install a frame, and set the monitor into it. Usually the supplies for such an endeavor can be purchased separately or as part of a special monitor mounting kit. Sometimes the wires that connect the monitor to the DVD receiver can be run through the metal bars of the headrest, then through the seat, and then finally, down to the vehicle's floor. The flap at the bottom of the seat will allow access to the seat's interior and to the necessary wires.
Instead of cutting into their headrests, car owners could simply purchase new headrests that include the monitors already built in. In this case, they would simply remove the original headrests and set the new ones in place. Headrests with integrated monitors are designed to allow all of the video cables passing through the hollow posts that attach the headrest to the seat. Buyers should be able to find a set of headrest monitors that match or coordinate with the material and the color of their car's interior.
Some headrest monitors do not need to be set into the headrest, but can instead be attached or mounted with specially designed mounting brackets. These monitors provide a less invasive solution but do not offer the time-saving convenience and portability of replacement headrests with monitors.
Center Console Installations
If the DVD receiver (car monitor and player combo) comes in console form, car owners will likely need to remove their car's current console, or at least part of it. This type of installation can be very complex, so car owners may want to ask for the assistance of a knowledgeable friend or family member to complete it. They will also want to have their car's user manual handy for reference. This type of installation is advantageous for families since it makes use of the space between the front seats rather than taking up any more floor space in the car. It also keeps the DVD receiver out of the driver's viewing range while still allowing easy access for seated passengers in the back seat.
Dashboard Installations
A dashboard installation is somewhat invasive, but it is also convenient in terms of the available wiring and power sources. As with other types of installations, car owners will need their vehicle's manual to ensure that they are familiar with the layout. As they remove panels and begin the process of creating a space for their new DVD receiver, they should be careful not to clip or pinch any wires or cables within the dashboard except for the ones that they will use to hook up their monitor and player. This type of installation may require a custom panel for a smooth, finished look.
All-in-One Installations
For ultimate portability, buyers could invest in an all-in-one car monitor/player combination. These units are small and simple. They are not permanently installed in the car, but instead draw power from the cigarette lighter or power outlet in the dashboard. They can be strapped to a center console or to the back of a seat for convenient enjoyment of movies and TV shows. If buyers decide to try one of these compact systems, they should ensure that it is securely stationed in the car so that it will not slide or shift during travel.
Buying Car Monitors with Built-In Players on eBay
Many brick and mortar stores that sell car accessories and modification components will have car monitors and players available for purchase. You can also visit a website or an online auction site like eBay to view a wide range of choices.
You can start your search by entering a term such as "DVD receiver" or "car monitors" into eBay's search bar to return a number of applicable results. Remember to save any searches if you would like eBay to notify you of new listings as they are posted. Another way to find car monitors and similar products is to search by category. Start on eBay's main page and click the Electronics category, and then click Car Audio, Video & GPS. Next, click Car Video, and then click Car Monitors w / Built - In Players.
Be sure to read each listing thoroughly. If you have any questions, ask eBay sellers by clicking the Ask a Question link within the listing or by visiting their profile and clicking Contact Member. You will probably want to buy from sellers that have a Top Rated seller seal. Sellers with that seal have received positive feedback from their previous customers and will likely provide you with a good product. Look for Top Rated sellers that offer free shipping and return policies as well.
Conclusion
Car monitors and built-in DVD players can make road trips much more enjoyable. Parents will be glad to have the means to amuse their children during long trips to visit relatives. Friends can share laughs over a TV show as they travel across the country visiting popular tourist attractions. College students can relax with their favorite entertainment as they carpool back home together after a long semester at school. Once buyers have carefully considered the structure of their car as well as the viewing preferences of their passengers, they should be able to select the right monitor and player combo as well as a mounting style that will meet their needs.