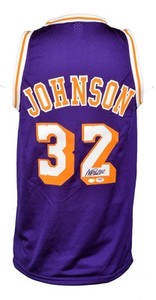 Pieces of autographed sports merchandise are highly sought after by fans and are some of the most collectible memorabilia items available. Sports jerseys are especially popular, and autographs from famous athletes can sell for hundreds, sometimes thousands of dollars. Determining the value of autographed sports jerseys is not always easy, however, and there are numerous factors involved in the market price of an item.
Influences on a Jersey's Value
The value of a signed jersey is rarely static, but will increase or decrease over time. A jersey's worth is also subjective, and buyers and sellers often disagree about selling prices. Here are some things to keep in mind while estimating the worth of an autographed jersey.
Athlete
The first thing to consider when estimating the value of a signed jersey is the athlete who signed it. For example, a signed Alex Rodriguez jersey will sell for much more than one signed by a reserve player. Also, autographs will be more valuable after a player is deceased, as no new autographs can be obtained from the person. Look online to get an estimate of how much a particular athlete's signature is valued at. In some cases, lists can be found for the worth of an athlete's signature on different items.
Age
As time passes, the availability of autographs by an individual becomes more scarce. Autographed items become damaged, lost, or destroyed, and consequently, fewer items are available for sale on the market. This causes the price of an item to increase. Also, some collectors enjoy vintage memorabilia, and will pay more for older items.
Game-Worn Jerseys
Jerseys that have been worn in a game are valued much more highly than store-bought jerseys. They are also much harder to come by. Game-worn jerseys have high appeal because they are authentic items produced specifically for a player and are directly linked to a game. Jerseys worn during momentous games such as championships can be especially valuable.
Condition
The physical condition of a signed jersey will greatly affect its value. Those that are carefully stored and kept in like-new condition will sell for much more than ones that are stained, torn, faded, or otherwise damaged. Keep in mind that the signatures themselves are also subject to evaluation. Signatures that are smeared, faded, or marred in any way will be less valuable than ones that are clear and legible.
Public Interest
Strong interest in an athlete will increase the value of a signed jersey. This can be affected by events such as a championship win, an induction into a league's hall of fame, or a television biography produced on the player's life. Although a special event will raise the value of an autograph in the short term, interest will usually diminish over time and the potential price of an item will drop again.
Appearance Fees
Modern athletes charge a fee to make public appearances and sign autographs. For sponsored events, this can be several thousand dollars, and the price is partly covered by sales for admission to the event. Because entry to these events is expensive, autographs obtained at them will be sold for high prices, as well. In other settings, athletes will charge a fixed rate for signing autographs. If an athlete asks $200 for a signature, the immediate market value of the signature will be $200, plus the cost of the jersey it is on.
Authentic Versus Counterfeit
Due to the high potential value of autographed jerseys, there are many counterfeit products and autographs on the market. Authentic jerseys are valued more highly than counterfeits, and of course, an authentic signature is much more valuable than a forged one. Distinguishing between authentic and counterfeits is not always easy, however, so do some research to be sure an item is what you expect it to be.
Identifying Authentic Jerseys
Authentic jerseys are produced in the same materials and style as those worn by the players, and by the same company. For each playing season, a company is given a contract to produce jerseys for the players during games. The same company will produce jerseys for retail, as well. Ones that are made to the same specifications as the ones worn by the pros are considered true authentics. These jerseys cost hundreds of dollars when they are new. Keep in mind that the contracted companies may also produce jerseys designed to look like authentics, but are made of less expensive material. These items are still considered genuine, licensed pieces of merchandise, though they are not technically authentic.
Counterfeit jerseys, on the other hand, are produced by manufacturers who do not have the contract to produce official merchandise. In many cases, these items are designed to look as much like the authentic jerseys as possible, right down to the tags and holograms. These jerseys are made from a less expensive material than authentics and are typically sold for much less money. Although some fans do not mind fake or counterfeit jerseys, production and sale of these items is illegal. In addition, counterfeit jerseys will not be as valuable as authentics, even if the signature is valid.
Recognizing Counterfeit Jerseys
The first thing to do to differentiate between authentic and fake jerseys is to find out which company currently produces the jerseys for a specific league, or which company had the contract during the year the jersey was made. Contracts change over time, so just because Reebok produced authentic jerseys in the past does not mean that is still the case.
The next step is to be familiar with the design of the jersey worn by a team on the field. Note where the league logos, team names, player numbers, and other elements are located, and check for inconsistencies on a product being sold. Also, read the tags for spelling errors. Many counterfeits are produced outside the United States, and spelling errors are not uncommon.
Some counterfeit items may be very close to the original and may even mimic the tags and logos with a fair amount of precision. Research the details of league-specific jerseys and their counterfeits online before purchasing. Videos and articles are available with detailed information on the subject, and many include side-by-side visual comparisons.
To diminish the chances of purchasing a fake jersey, purchase directly from league retail stores and authorized dealers. These stores can be found online as well as in stadiums.
Authenticated Autographs
To avoid spending big money on a fake autograph, always look for a certificate of authenticity (COA) or letter of authenticity (LOA) from an independent authentication service. These companies, such as Professional Sports Authenticator (PSA/DNA) and Global Authentics, closely examine an autograph to determine its authenticity. Copies of actual signatures from players are used for comparison, and evaluators may draw upon their professional experience and knowledge to determine the validity of an item.
If a signature is deemed to be legitimate, a certification number is produced. This number is entered into the company's database and printed on the COA or LOA. Potential buyers of the item can use this number to check with the authentication service and verify that an item has been evaluated.
Buying and Selling Autographed Jerseys
Keep in mind that the worth of a jersey is ultimately determined by an agreement between buyer and seller. As such, one of the best ways to determine the potential value of an autographed jersey is to find online listings for the same or a very similar item. For example, if you have a John Elway signature on an authentic NFL jersey and online sales for autographed John Elway jerseys sell for around $400, then you can judge the value of your jersey to be about the same.
One way to sell an autographed jersey is through online auctions like eBay. Determine a rough estimate for an item's worth and set the starting bid a little below that. This way, you are assured of getting a reasonable price for it if it sells, and there is the opportunity for bidding to drive the price up.
Find Autographed Jerseys on eBay
To shop for autographed jerseys, head to the eBay homepage. Begin by opening the All Categories tab and choosing the link for Sports Mem, Cards, & Fan Shop. From there, choose the option for Autographs - Original. You will then have the option to browse by sport and league, such as Football - NFL, Baseball - MLB, or Basketball - WNBA, among others. In most cases, a link for jerseys will be available for each league. If no link exists, simply type "jersey" into the search field at the top of the page and click on the Search button.
Key words can also be used to find specific items. For example, to search all of eBay for a signed Joe Montana jersey, set the menu option next to the search bar to All Categories and type "joe montana autographed jersey" to see all items tagged with those keywords.
Use eBay's Customer Support pages for more information on searching for items. If you've found search listings that you would like to view again at a later time, save a search. It is also possible to create a post on Want It Now for items that are currently unavailable. Sellers will be able to view this post, and eBay will notify you when a match becomes available.
Buy Autographed Jerseys with Confidence
Read item listings for autographed jerseys carefully before making a purchase. Check the price of the item and include shipping in the final cost. Examine all photos for signs of wear or damage to the item, and if you have any questions, contact the seller.
Pay for all purchases through approved methods to qualify for eBay's Buyer Protection policy. This helps buyers and sellers reach a resolution in the event that an item is never received or is significantly different than described.
Research Seller
Examine a seller's profile before purchasing an autographed jersey. Check the number of completed transactions and the seller's positive feedback rating. Once you have received your shipment, leave feedback for the seller. If you are dissatisfied with an autographed jersey, contact the seller to see if a resolution can be reached
Conclusion
Autographed jerseys are excellent collectors' items and can be unique pieces of historic memorabilia. Research individual items and sellers to feel confident in a purchase, and always look for a COA or LOA before committing to a purchase. With patience and careful shopping, authentic autographed jerseys can be obtained of your favorite players.