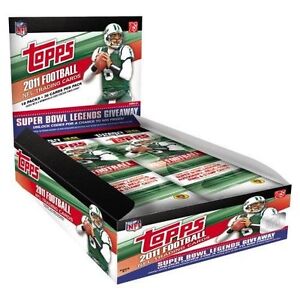 Baseball has long been the king of American sports, but in recent years football has been vying for that title. The sport's popularity in both the college and professional ranks has skyrocketed, with the National Football League currently experiencing remarkable success. As the NFL's popularity has boomed, so has the football trading card industry's along with it. Hobbyists have been collecting football cards for years, but the industry has only really taken off in the past 20 years as the NFL has flourished.
For many football card collectors, the hobby reflects their passion for the sport, its teams, and its players. Football cards help them recall moments and extended periods of joy that the sport has afforded them. Not only do many collectors have a passion for simply the sport, but one for the hobby as well. They may favor certain cards because of their aesthetics or because of their rarity. In fact, there are numerous aspects involved with collecting football cards and this guide will cover the most important among them, helping both those new to collecting and those wishing to expand their collections to become more successful football card collectors.



History of Football Cards
The history of football cards is nearly as old as the sport of football. Knowing this gives a collector a better idea of what to look for when building a collection, a deeper understanding of the market, and a greater appreciation for the hobby.
Tobacco producers Goodwin & Company released the first set of football cards in 1888 that featured stars of college football since there was still no organized professional league for the sport. The set included 50 cards, which were distributed in cigarette packages. Mayo's Cut Plug produced the next set of tobacco football cards in 1894, depicting 35 college players from Ivy League schools Harvard, Yale, and Princeton.
Following the trend in the baseball card industry, candy companies took over football card production in the interwar years. Goudy printed a set of cards in 1933 and the National Chicle Gum Company produced its own 36-card set in 1935,, which includes a rare Bronco Nagurski print that represents the industry's most valuable card.
The modern era of football card manufacturing began in 1948.. Bowman and the Leaf Candy Company both produced sets of football cards that year, with Topps entering the field in 1951.. Topps came to dominate the football card industry, much as it did with baseball cards, and remained peerless until Score produced its first football card set in 1989.. The entry of a slew of new football card makers into the industry in the early 1990s followed Score's initial success and the market quickly became flooded with manufacturers. As the industry became home to more and more card producers, a trend emerged whereby manufacturers stopped printing fuller sets of the league's players and focused on only the most prominent ones, making it more difficult to collect cards of less popular players.
Buoyed by the success of the NFL, numerous manufacturers still operate in the football card industry today. They offer collectors a wide array of aesthetics to choose from, with some brands producing cards for certain players that other brands do not. These aspects make collecting football cards today more exciting than it has ever been.
Approaches to Collecting Football Cards
Because there are so many different manufacturers operating in the football card industry and because people have different tastes, there are multifarious approaches to collecting football cards. Some collectors favor certain brands, while others collect cards based on their favorite teams. As with other sports card industries, rookie cards are among the hottest items. More serious collectors often make completing sets their primary collection goal. Many collectors also try to collect as many of their favorite players' cards as possible. A more recent trend has seen some collectors favoring cards with the player's signature printed on it.
However collectors choose to build their collections, one important factor they must keep in mind is the condition of cards being considered for purchase. Sports cards all follow a standardized grading system for condition, with a print in better condition being more valuable than the same print in worse condition. The table below shows the grading system:
| | |
| --- | --- |
| 10 | Gem-Mint |
| 9 | Mint |
| 8 | Near-Mint |
| 7 | Excellent-Mint |
| 6 | Excellent |
| 5 | Very Good-Excellent |
| 4 | Very Good |
| 3 | Good |
| 2 | Fair |
| 1 | Poor |
Factors such as glossiness and the absence of imperfections like rounded corners, creases, and stains can affect a football card's condition grade.
A guidebook is an excellent resource that explains more about card conditions and how they affect card values. Collectors of nearly any experience level can benefit from using a guidebook as they build their collections.
Brands
Due to the variety of manufacturers that have produced or currently produce football cards, it is important to become familiar with a few brands before building a football card collection. Many collectors favor certain brands and choose to build their collections around just that brand. Topps, Upper Deck, Bowman, and Donruss/Panini are among the all-time leading producers of football cards. Other prominent names not discussed in greater detail below include Fleer,, Playoff,, Press Pass,, and Score..
Topps
Topps has produced the most football cards over the history of the industry, and has done so over the most years. It is one of the most recognizable names in the sports card industry as a whole. Topps has been manufacturing football cards since 1951 and was basically the only brand producing them for a long time.
Due to its extensive history in manufacturing football cards, Topps is the favored brand for most vintage collectors. Some of the more popular years include 1965,, 1969,, 1971,, and 1972..
Upper Deck
Upper Deck became an instant collector favorite when it entered the football card market in 1991.. Collectors still enjoy their card designs and vivid imagery, and they generally hold the brand in high regard.
Completing Upper Deck sets from the 1990s can be challenging because the company tended to permutate their card packages so that collectors would need to buy more packages to complete the sets.
Bowman
Bowman inaugurated the modern football card industry in 1948 and continued to produce cards until 1955. It then ceased production until 1991.. At that time, Topps purchased the Bowman name and began to manufacture football cards under it, a practice that continues today. Bowman cards are known for their outstanding portrayals of rookies,, with the 1998 and 2001 sets garnering acclaim from collectors.
Panini/Donruss
Panini only became a major manufacturer of football cards since the company purchased Donruss in 2009 and took over Donruss's football card production. Collectors are generally fond of Donruss' football cards, especially the 1996 set. Panini has ramped up production since purchasing Donruss, with the Gold Standard set (issued in 2011) making a big splash among collectors.
Teams
Many football card collectors are passionate fans of the game and, as such, they are devoted to particular teams. Therefore, seeking cards for players on teams such as the Dallas Cowboys,, New York Giants,, or Minnesota Vikings is one popular way to build a football card collection.
Rookies
As with other sports card industries, rookie cards are among the most valuable football cards. Many rookies enter the NFL, but few remain long enough to have successful careers, and even fewer go on to stardom. There is thus something special about owning a player's card that was produced when no one knew if that player would become a star.
Sets
Many of the more serious football card collectors enjoy the challenge of completing sets.. They often follow the football card industry closely and have a discerning eye for the aesthetics of particular card sets. Such collectors often see the manufacturers as artists and wish to own every piece of art the artist produced during certain years.
Favorite Players
A lot of football fans become attached to particular players and therefore aim to collect as many cards depicting that player as they can. Fans simply admire the way a particular player plays the game and collecting cards is an expression of that admiration. Past greats such as Johnny Unitas,, Walter Payton,, and Barry Sanders still have many fans, while current stars like Tom Brady and Peyton Manning have large followings of their own.
Autographs
Collecting football cards that bear a player's autograph has become a popular trend in the past 20 years or so. Many collectors like how these cards bring card collecting and memorabilia together. One thing collectors of such cards should consider is whether the player himself has actually autographed the card personally or if the autograph is a print.
Building and Managing a Football Card Collection
Collectors just starting out will have to build their collection by buying cards. As they build their collections, they will also need to consider how to organize and preserve their cards. After building a substantial collection, many collectors begin to sell some of their cards in order to purchase others.
Buying Cards
Hobby shops, retail stores, card shows, and the Internet represent the four main places where collectors can find football cards.
Hobby Shops
There are hobby shops all around the country that specialize in sports cards. Owners of hobby shops usually have a wealth of knowledge about their cards, making them excellent resources for those new to collecting. On the other hand, card stocks are generally limited to what is in the shop or what is available within the dealer's network. Furthermore, many people do not live within driving distance of a good hobby shop.
Card Shows
Card shows bring together football card dealers and collectors from a broad geographical area. Shows benefit collectors because they pool together the collections of numerous dealers and collectors in one place, which greatly expands available options. Unfortunately, card shows are only occasionally accessible to most people, which limits the time during which many collectors can expand their collections.
The Internet
The Internet offers card collectors many opportunities to purchase football cards. The world's biggest card dealers have online businesses, making their huge stocks available 24/7. There are also sports card forums where collectors can buy and trade for cards. While the Internet makes more football cards available to collectors, shopping for them online requires collectors to have some knowledge about the cards they are shopping for.
Organizing Cards
Collectors generally keep their cards organized as they build their collections. This helps them easily access specific cards when they want to show them to friends or when they wish to sell those cards. Many card organizing supplies also serve the purpose of preserving the condition (and therefore the value) of the cards from when they were originally acquired. Such supplies are available from hobby shops, card shows, and the Internet.
Selling Cards
Collectors often start to sell some of their cards once they have built up a substantial collection, because selling cards helps them raise revenue to purchase other cards they may have targeted.
Collectors can sell football cards at hobby shops, but likely will not get the best price there because shop owners are trying to turn a profit themselves from the cards that they purchase. Dealing with other collectors at card shows and on the Internet offers the best opportunity to receive satisfactory prices.
Collecting Football Cards on eBay
eBay is a great marketplace for collecting football cards. You can buy hundreds of thousands of football cards there, as well as the supplies that you need to organize your growing collection. Once you have built your collection, you can also use eBay to sell some of your cards so that you can continue buying more.
Buying Cards
Not only does eBay's stock of football cards make it a strong resource for collecting, but it is easy to find the cards you are looking for there.You can search for cards by manufacturer, such as Topps,, Upper Deck,, or Bowman.. You can also organize your search by year, such as 1965 or 1996.. If your favorite team is the Chicago Bears,, you can look for Bears' player cards. If you are trying to find complete sets,, there are many for sale on eBay. It is also possible to search for rookie cards,, and you can find favorite players like Joe Montana by entering their name on the search bar on the main football card page..
It is also important to keep in mind the two methods by which you can buy football cards on eBay: auction and Buy It Now.. The latter means that the price for the item is fixed. If you like the price, you can purchase the item. If you do not, then you find something else. Auctions allow buyers to bid on an item's price. This could drive the price higher than what you would like to pay, or it could also make an item available for much less than you expect.
When buying football cards on eBay, you should be aware of eBay Buyer Protection,, a feature that helps prevent the sale of cards that are not as described in their listings.
Organizing Cards
As you purchase football cards on eBay, you will want to obtain storage supplies to organize and maintain your card collection. eBay has a large selection of storage items and card organizers,, including top loaders,, team bags,, boxes,, and card savers.. The site is thus not only a good resource for building a football card collection, but for maintaining one as well.
Selling Cards
While you might begin your football card collection by buying cards on eBay, you could quickly progress to the point where you want to start selling them there, too. eBay's process for sellers is simple. If you are new to selling on eBay, the site has a Quick Start Guide and a video tutorial.. You can also learn how to accept payments and how the shipping process works. Once you have registered an account with eBay, you can get started selling football cards there right away. It will be up to you whether you wish to list them as Buy It Now or auction items, but either way, you will find buyers as enthusiastic as you were when you first began collecting football cards.
Conclusion
Collecting football cards is an exciting hobby that provides a lifetime of enjoyment for many collectors. The industry has grown a great deal over the past 20 years, with new card producers entering the field and printing eye-catching cards. This growth has presented new avenues for collectors to explore and created popular trends that either turn out to be a flash in the pan or have durability. The football card market fluctuates with these trends, making some collectors as value-obsessed with their cards as day traders are with their stocks. Still, many others simply enjoy collecting mementoes of their favorite players and teams, or of bygone eras. In any case, collecting football cards is a lifetime passion for many.