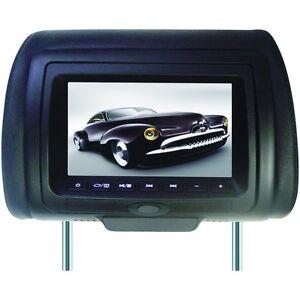 Car video monitors vary in size and function. Some video monitors are built into the dash or the roof above the rear seats, while others are movable objects that can tie to the back of the front seats or rest on one's lap. To add more functionality to car video monitors, the consumer can purchase a unit with built-in players. DVD players permit passengers to view a chosen movie rather than try to obtain a signal elsewhere.
Whether purchasing a car-video monitor from a big box retailer or an Internet auction website like eBay,, buyers should be informed about what to look for, what to steer away from, and how to buy a unit intelligently. This guide explores the various options available on the market and further explains why a feature is helpful. Further, it provides various questions that consumers can ask a seller in order to gain more clarity on a product.

Car Video Monitor Options
Car video monitors with built-in players are not as uncommon as they once were. With built-in navigation systems becoming more common in most luxury cars, automotive enthusiasts are finding that a video monitor is simply an adaptation. Most built-in navigation screens do not permit the viewing of videos, simply for the passengers' safety; however, the consumer has several other options to consider for car video monitors with built-in players.
Overhead DVD Players
Although some makes and models of luxury vehicles offer overhead DVD players that are installed straight from the manufacturer, consumers have the option of purchasing a unit of their choosing. Perhaps a consumer prefers a larger screen than the manufacturer provides, or he simply wants to exercise his power of choice, regardless, the unit needs to be installed. Hiring a professional to install the unit may cost the consumer a fee, or he can venture to install it himself. The consumer should consider the ease of installation when reviewing car video monitors.
The following table includes a handful of models along with a comparison of features available. While this list is not exhaustive, it does provide a profile of various options available to the consumer.

Brand and Model

Features

Price

10-inch LED-LCD monitor with DVD player
Remote control access
Supports SD cards up to 4 GB
16-channel FM modulator
USB port
A/V inputs and outputs

$$

11.2-inch LCD screen with DVD player
Supports DVD, DVD-R, MP3, and DivX formats
Headphone jack for private listening
One A/V output
Dual A/V-inputs

$$$

15.6-inch LCD screen
Supports Multi Media Cards (MMD)
Supports Secure Digital cards (SD)
USB input
DVD Video, MPEG-1, MPEG-2, MPEG-4, SVCD, Video CD
Auxiliary input
1280x800 resolution

$$$$$

With each relative price point, the features available on overhead car video monitors with built-in players expand.

Car DVD Monitors
Car DVD monitors can be defined as those that mount to a car's visor, or hook onto the back of the front seat. Again, there are dozens of brands and options from which to choose. The chart below compares several options of car DVD monitors.

Brand and Model

Features

Price

7-inch LCD widescreen
Four screen modes including full, cinema, wide, and zoom
Single video input
DC cable
Remote control access
Sized for a visor

$$

7-inch Active Matrix TFT LCD screen
Pedestal stand included
1152x234 maximum resolution
IR transmitter
PAL video system

$$

Car monitor DVD players encompass more than just visor and back-of-the-seat units. Nearly any kind of DVD player can be included in this category so long as it's not built-in. Thus, even handheld DVD units can be included in this category. The remainder of this guide includes more information on models that have dual-classification.

In-Dash DVD Players
As mentioned above, manufacturers tend not to permit DVDs to play in a navigation system. The way around this is by purchasing a unit outside of the manufacturer that permits movies to play on-screen. Below is a table that includes a few options of in - dash car video monitors available at varying price points. The most important detail to consider when purchasing an in-dash unit is the size of the screen and how it fits within the dashboard. Although adapters can make a larger space fit a smaller screen, the result is not always aesthetically pleasing.

Brand and Model

Features

Price

6.1-inch WVGA color touch-screen
50-watt satellite radio with DVD player
Supports Pandora media streaming
Rear-camera connectivity
USB port
Easy-EQ and 7-band graphic equalizer
Playback formats include DVD-R/RW, DivX, H.264, MP3, MWA, WAV, and AAC

$$$$

5.8-inch color touch-screen
50-watts through 4 channels
Apple iPod-ready
Playback formats include CD, CD-R, MP3, WMA, DVD, and DivX format
EQ presets for custom sound
Satellite-radio ready

$$$

7-inch color touch-screen
GPS antenna
Auxiliary input and output cable
USB port
50-watts through 4 channels
MP3 ready and iPod capable
Double DIN mounting
Subwoofer output

$$$$$

6.1-inch color touch-screen using MirrorLink Technology
Apple iPod ready
Bluetooth 2.1 technology
Satellite-radio ready
Playback formats include DVD, DVD-VR, CD-R/RW, MP3, MP4, WMA, and AAC
Rear-camera connectivity

$$$

With in-dash car video monitors with built-in DVD players, consumers may notice that there are more playback options. Since everything is wired into the vehicle, options can more easily be added without an incredibly high cost.

Headrest DVD Players
Headrest DVD players fit directly into the rear of the headrest and are intended for rear passengers rather than those in the front. While some auto manufacturers include video capabilities in the headrest, it is still a luxury for most vehicle owners. The table below provides several options for consumers to consider if the manufacturer's cost is too high.

Brand and Model

Features

Price

7-inch LED LCD screen
USB and SD inputs
Headphone jack
Audio inputs and outputs
Video inputs and outputs

$$

8.8-inch TFT widescreen
Four screen modes for wide, zoom, full, and cinema
RF transmitters for wireless headphones
Audio input and output
Video input and output
Remote control access

$$$

9-inch active matrix TFT LCD screen
Remote control access
800x480 maximum resolution
Not touchscreen
USB and headphone ports

$

Consumers may notice that features shift once again with headrest car video monitors. While there is no AM/FM tuning or satellite radio, the product still plays DVDs for passengers.

Questions to Ask Sellers
Regardless of how consumers go about researching and purchasing car video monitors with built-in players, there are certain questions that should be asked of the seller or salesman.
What is the power source?
If it is battery operated, how long between charges?
Is a navigation app accessible?
How accurate is the built-in navigation?
What is the maximum volume level and wattage output?
Can it be installed by the consumer, or how is it installed?
Are there any upgrades for the unit?
The questions above are only a handful of potential queries for a salesman; however, if a direct answer is not received it may be best to ask another seller or research online.

How to Buy on eBay
Buying car video monitors with built-in players on eBay can provide you with many more options than big box stores. Since eBay sells what individual sellers post, there is always an influx of new products, as well as a depletion. Many models of car video monitors are not available in stores and will need to be ordered online. Taking the time to research on eBay from the start, permits you to review a current inventory of products and have them sent to your home.
By typing in your query into the main search bar on eBay, you see several options of products. If your search is very detailed by brand and model you may not see many results if the model is not available. However, if your search terms are too general or just include the brand, you may obtain too many items to sift through. To filter your search, eBay provides several options to elect color, price, and even the condition of the product.
Removing the need to visit a store frees up time for you to interact with current buyers, sellers, and owners of various related products via forums. Further, if you have a question about a product not explicitly answered in the seller's post you can email the seller directly.

Conclusion
Whether purchasing a removable device that connects to a visor, or a unit that is built into a dashboard, researching various products is perhaps the most important part of the buying process. Asking yourself what you need the unit for is also important. If a car video monitor with built-in player is intended to placate children during long car rides, the device does not need navigation. If it's an in-dash unit that the driver will use for directions, satellite radio, and even connecting his media devices, then that option should be researched more thoroughly. The size of the screen, as well as the size of the whole unit, can also prove to be a selling point. For overhead car video monitors that are placed above the front-seat console, the monitor should be larger than if it is only a few inches away from the viewer.
By going to eBay for your search, you are able to research and find information on more products, and more considerations in one place. Interacting with buyers and sellers can also provide insight beyond what is provided by a user manual.