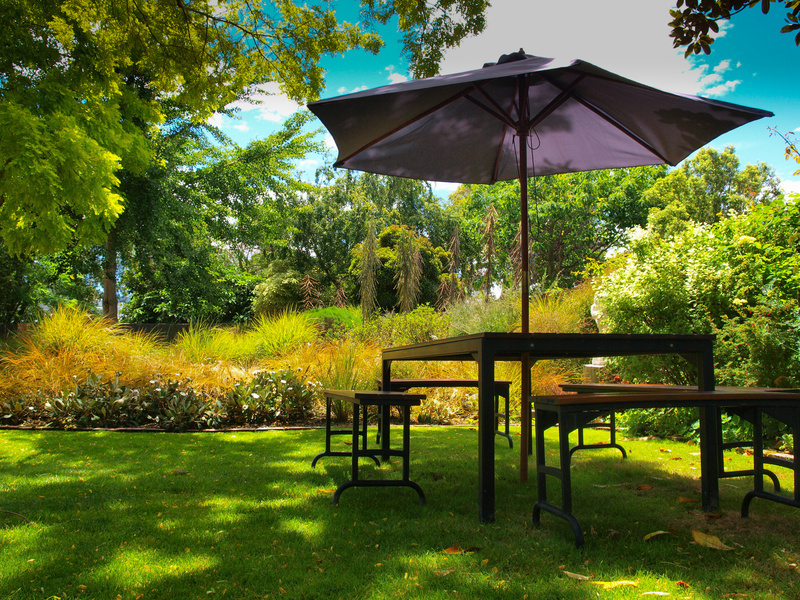 As warm spring sunshine gives way to the blazing rays of summer, the need for a good patio umbrella may grow downright pressing. For such a straightforward item, there is a variety of styles and features to consider. When shopping for a patio umbrella either in a brick-and-mortar store or from an online source such as eBay, a little forethought on matters such as ease of use, size, and aesthetic will have a shopper kicking back in the shade in no time.
Umbrella Styles
Patio umbrellas come in variety of different aesthetic and functional styles. Choosing between them can often be a matter of personal taste; there are also some practical details to bear in mind. The table below provides a quick rundown on the most common and popular styles.
| | |
| --- | --- |
| Style | Description |
| Garden | Table-centered pole, typically metal construction, typically crank operated, loose flaps hanging from edges of the umbrella canopy |
| | Table-centered pole, no loose flaps, typically wood or metal construction, crank or pulley operated |
| Thatch | Also known as tiki or island style, canopy comprised of grassy-looking material, typically bamboo, palm, or synthetic |
| Commercial | Advertorial printing on canopy featuring logos and/or words, table-centered pole, heavier-duty construction, larger size |
| Offset | Also known as cantilever, base is located apart from tables and chairs with over-arching pole |
In actual retail environments, the terminology is not universal; the term "patio umbrella" is often applied to any outdoor umbrella regardless of style. Nevertheless, the above distinctions in canopy and construction will have to be considered in the process of choosing the right umbrella. Certain umbrella styles are also more practical than others, depending on intended use and location.
Thatched umbrellas offer a unique aesthetic but may not hold up as well in heavy wind, for example. An offset umbrella, meanwhile, may be the only way to go for shading a Jacuzzi, or for frequent entertainers that cannot abide any disruption of meal spreads and centerpieces.
Umbrella Size
It is easy to fall into a trap of thinking "the bigger, the better" when it comes to choosing what size patio umbrella to buy. But before bringing home the biggest umbrella on the market, a shopper would be better served first determining how much room one has for the umbrella to spread out in, and then how much shaded area one really requires. The table below illustrates some common umbrella canopy sizes and the areas of shade they create.
Canopy Diameter

6 ft

7 ft

9 ft

11 ft

Shaded Area

30-40 inches

Good for cocktail or bistro set

36-42 inches

Good for bistro or 4-seat table

48-54 inches

Good for tables of 4-6 seats

Good for 60 inches round or

72-inch oval tables
There are sizes in between, and there are some larger and some smaller available on the market. The sizes above are the most commonly found and are suitable for most common applications. For shading areas larger than the above, shoppers should at some point consider a tent-style canopy or shade sail rather than an umbrella.
Functionality and Other Features
Once a shopper has determined what size and what style umbrella they want for their outdoor area, there remain a few advanced features to mull over. These contribute to a shade-seeker's convenience, the longevity of the umbrella, and the efficacy of its operation, although they do also drive up the price.
Crank vs. Pulley
Some patio umbrellas are opened by turning a crank located about half way down the pole, typically around a foot or two above where a tabletop might be. Depending on the size of the umbrella and the material construction of the crank, these can be either easier or more difficult to use than the alternative, which is a manually-operated wheel-pulley system. Seniors or people with back issues might prefer a crank-operated umbrella, whereas pulleys can be quicker or more convenient for people with the right leverage and flexibility.
Tilted Canopy
One desirable feature is the ability to tilt or angle the umbrella canopy on its pole. This greatly improves the area and direction of shade cast by an umbrella at different times of day.
Wind Resistance
Some umbrellas come with wind vents built into the fabric near the center of the canopy. This allows breezes to pass through without causing the umbrella to sway or fall over.
How to Buy a Patio Umbrella on eBay
Entering the terms "patio umbrella" into the search window on any eBay page is an excellent way to start. This initial search will yield abundant results in a variety of styles, sizes, and conditions. If you have already determined the size, style, color, features, or other details of the umbrella you desire, including those terms in the search will narrow the results significantly.
From there, be sure to review each item description carefully for included features, warranty information, and other details. Also, be sure to consider a seller's feedback rating before completing any transactions.