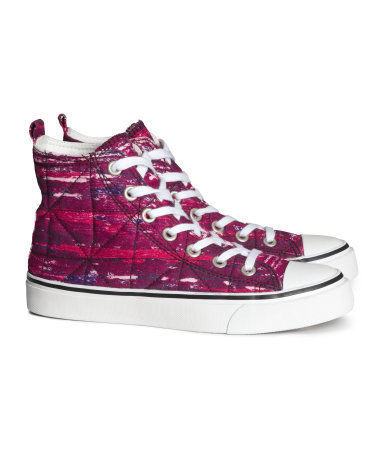 ow to Choose Isabel Marant Sneakers
Isabel Marant was founded in 1994 by the designer with the same name. In the first few years, this French house of fashion was only selling
jerseys and knitwear
. The brand has retailers in over 35 countries, including the United Kingdom, Spain, Japan, China, and France.
In 2013, Isabel Marant launched an exclusive collection of must-have pieces for H&M. Mixing boho elegance and urban attitude, this brand has created fabulous shoes and outfits that women want to wear in their everyday lives.
Isabel Marant sneakers
can accent almost any outfit. The
Isabel Marant
brand is synonymous with wedge sneakers. Launched in 2012, this common footwear can be worn at any time of the day and looks good dressed up or dressed down. Celebrities have been known to pair their Isabel Marant sneakers with jeans, long summer dresses, slouched sweatshirts, and other outfits.
How to Wear Wedge Sneakers
From Hollywood stars to fashionistas and college students, anyone can pull off this style. Isabel Marant wedge sneakers are a fashion statement. The wedge sneakers designed by Isabel Marant are comfortable, stylish, and versatile. They also slim out the legs and can spice up any outfit. These shoes look great with black stretch leggings, studded boyfriend jeans, skinny jeans, casual pants, ruffled skirts, and maxi dresses. Isabel Marant wedge sneakers can be paired with a knit sweater and printed skinny jeans for a casual look. They can also be worn with a T-shirt and boyfriend jeans for a day at school or running around town. Shoppers can wear them with an oversized tee, a cashmere sweater, and leggings for a day-to-night look.
How to Spot Fake Isabel Marant Sneakers
The shoes and clothes by Isabel Marant are available in hundreds of stores as well as online. Customers should be aware that not all items are authentic. Many shops sell fake Isabel Marant sneakers that are made of cheap materials. Buyers should pay attention to the authentic font of the brand's logo and check the shoe box. The outer and inner soles, the sticker on the shoe box, the shoe bag, and the sneakers' overall design often indicate whether the shoes are authentic or fake. Isabel Marant sneakers are often reproduced by counterfeiters. Buyers should be able to spot the difference between replicas and the real deal. Authentic Isabel Marant sneakers will be quite a bit more expensive than the fakes. The original shoes are made of quality calf velvet leather, have simple soles, and come in fabric bags featuring the company's logo. They are manufactured in Portugal.
Styles and Features
These sneakers come in all colors and styles. Most models boast a round toe, cushioned tongue, suede and leather trim, neutral sole, and a cushioned high-top collar. Isabel Marant sneakers feature a cleverly concealed wedge heel and a contemporary color palette that can complement any wardrobe. Some models have Velcro-fastening straps across the front, perforated detailing, and an oversized padded tongue. Others boast perforated panels, 3-D purple suede side panels, and denim details. Customers can choose from a wide range of materials such as calfskin velvet leather, lambskin leather, and suede. Isabel Marant sneakers are available in different colors and patterns, including red and white, grey, electric blue, beige, brown, pink, black, and olive. Many collections include wedge sneakers with bold details, animal prints, serrated trims, and leather overlay cutouts at the ankle. Isabel Marant shoes have a distinctive style that is effortless and urban. These pieces are a must-have for the ultimate downtown look.
Shopping for Isabel Marant Sneakers on eBay
A variety of Isabel Marant sneakers can be found on eBay. Thousands of retailers are selling this type of footwear at discount prices. Shopping for wedge sneakers on eBay is quick and easy. Customers should first go to the eBay homepage, click Shop by category, and then select See all categories. Pick Clothing, Shoes & Accessories from the list, choose Women's Shoes, and then start shopping for a new pair of sneakers.
Buyers can shop by type of shoe, size, color, brand, heel height, width, condition, material, price, and listing format. They can also choose to see only the products that are shipped for free. Customers looking for wedges on eBay can also type the product name in the search box located at the top of the page.
Conclusion
Comfortable yet stylish Isabel Marant sneakers are available on eBay. Many sellers offer discounts and promotions to help customers get a great deal on their favorite shoes.