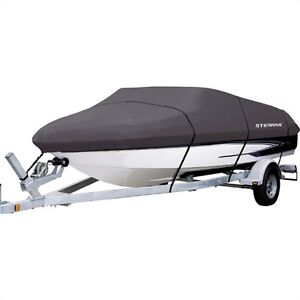 Calculating the cost of a boating season can help you stay afloat financially.
Boating Checks & Balances
You can go through an entire boating season, even an entire boating career, without simultaneously going broke - and you don't have to live like Ebenezer Scrooge. Just be dead honest with yourself about your finances so that you know how much a boating season will really cost and whether you can really afford it. If you can, great; if you can't, you can cut back on your boating lifestyle to bring it within your budget.
Your finances, of course, are nobodys business but yours, so stick to the task of honestly breaking down the cost of a boating season.
Calculate your boat payments
To go boating, you need a boat, the biggest expense of any boating season (until you pay it off). Even if you only use the boat a few months out of the year, you make payments every month.
A number of variables affect your monthly boat payment such as the final purchase price, your down payment, and the interest rate. Most lenders offer amortization calculators that help you get an idea of the monthly payments in advance. You can also find a number of these calculators online. A word of advice: Use a higher interest rate for your calculations than suggested. Its better to overestimate a cost than to underestimate it.
Add up yourboat ownership costs
Fixed monthly boat payments set the foundation for the overall cost of a boating season. Now you have to account for insurance premiums, fuel, dockage, winter storage, maintenance, and gear. Some of these costs, such as watersports equipment, are essentially one-time costs, but the others are ongoing and you must include them in your overall budget consideration.
On average, it costs about $1,800 annually to operate an 18-foot runabout, a figure that increases (of course) with the size of the boat. Costs may decrease a little in the Midwest and increase on the coasts, but that's a pretty good number to start. It can help your overall budget if you divvy that $1,800 annual cost into $150 monthly payments, but only if youre strict about putting that $150 aside every month, even during the winter when you may go a couple of months without even starting your boats motor.
There are too many different boats and too many different locales to try and give detailed information for all of them, so its best to speak in general terms about the breakdown of your annual boating costs. Use that same 18-foot runabout as a base, with the caveat that the expense increases almost exponentially with the size of the boat, especially when you get into the 30-foot and longer range.
Include boat insurance: Hull and liability insurance will run about $500 per year.
Total boat fuel: Fuel is a big cost, and its possibly the most difficult to figure. As a rule of thumb, for average use, figure youll use about a tank of fuel every two weeks during the boating season. So, if your boat's gas tank holds 50 gallons, and fuel costs $2 per gallon, youll spend about $200 per month on fuel during the season. This can vary, however. If you spend most of your time fishing, you may use much less fuel, while someone who does nothing but wakeboard may burn a lot more petrol. For the sake of generalization, though, go with $200 per month for fuel, and say the boating season lasts four months (again, your season may vary), for a total annual fuel cost of $800.
Calculate upkeep: Maintenance (oil changes and such) will cost about $300. You can also set aside about $200 for miscellaneous expenses such as replacing or adding watersports gear, adding new stereo speakers, and the like.
Remember boating extras: Entertainment can break the bank. You're out having fun on the water, your Visa close at hand, and next thing you know you've spent $250 on food and drinks in one day. Only you know how much you like to eat and drink, but it's fair to estimate that on an average day a family of four spends about $100 on food, drinks, ice, sunblock, etc. Four boating days per month during the season amounts to $400 in boating entertainment expenses, adding up to $1,600 for a four-month season.
Tallied up, you can estimate your annual boating costs at about $3,400 per year, not including the cost of the boat itself. If you want to make the math easy, round up to $3,600, divide by 12, and see that you need to fit an additional $300 per month (plus the cost of monthly boat payments) into your budget to cover your boating habit. Break it down even further, and it costs less than $10 a day to be a boater. Now thats a bargain in anybodys book.
Enjoy Boating on a Budget
You dont have to live a spartan existenceto stay within a modest budget. Here are five ways you can reduce your boating expenditures without having to reduce your level of boating pleasure.
Buy a used boat
Forget the old wives tale about buying a used boat meaning youre buying someone elses headaches. Manufacturers now offer lifetime, transferable warranties, eliminating the worry about buying a lemon. Spend a little of the money you save on the purchase on a pre-sale trip to a dealership to have the boat checked out from stem to stern.
Look into boat timeshares
Boat timeshares seem like a radical idea to many boaters, but a number of operators now offer "limited partnerships" in boats, similar to the partial ownerships that make private jets affordable for many CEOs. You essentially partner up with a few other people and reserve the boat for specified times. Boat timeshares aren't for everyone - you cant just head out to the lake whenever you want - but if you'll only be boating at certain times, such as vacations, a timeshare may be just what the accountant ordered.
Dry dock your boat
Your boat and trailer won't fit in your garage. Your homeowner's association won't let you park your rig in the driveway. You can't hack the cost of a slip at the local marina. Dry dock your boat. Many marinas offer dry storage at substantially lower rates than wet storage. You call in advance, and theyll splash the boat prior to your arrival. If youre a trailer type, many self-storage facilities offer secure boat/trailer storage at amazingly low rates. Some even offer indoor storage.
Maintain your boat
Avoid killer hidden costs through simple maintenance. Little boat repairs can nickel and dime you to death, so have your engines and drives serviced at least as frequently as the factory suggests and spend a few minutes before and after every on-water session checking for developing problems. For example, you can have a simple gel-coat nick repaired for next to nothing if you catch it early, but the cost of repairing a delaminated area can make you put a "For Sale" sign on your boat.
Buy boating supplies off-peak
Remember the law of supply and demand. Buy as much as you can during the off-season, away from the water, or mid-week. You can pay absolute top-dollar, for example, for a wakeboard at an on-water marina during the July 4th weekend, or you can pay probably half as much for the same wakeboard at an inland retailer on the second Tuesday of June. The rule holds true for gas, ice, and just about everything else involved with boating. Buy what you need as far from the water and the crowds as possible to reap massive savings.
Find Boats on eBay Motors
Once you know what boat make and model you want, go to eBay Motors, click theBoats link underOther Vehicles, and start shopping on eBay!
Categories: Select the type of boat you want from the list of Categories. You can choose from Fishing Boats, Powerboats & Motorboats, Sailboats, and more. Subsequent Categories lists on the left side of listings pages will help you narrow your options further.
Product Finder: Drop-down menus on the Power & Fishing Boats Finder and Sailboats Finder, found on the left navigation bar,allow you to narrow listings by boat type and length.
Search: Search eBay listing titles for specific words by entering keyword terms into eBay's Search boxoruse the Advanced Search feature on eBay Motors. The search itemsby eBay Motors Category option allows you to specify item location by distance in miles or ZIP code.
Compare: Mark the checkbox next to eachboat item listing that interests you. Click the Compare button to viewlisting and product details side-by-side.
If you can't find exactly what you want, try shopping eBay Stores, tell the eBay Community what you want by creating a post on Want It Now, or save a search on My eBay and eBay will email you when a match becomes available.
Buy Boats With Confidence
Hundreds of boats on eBay Motors will likely interest you. When trying to select the right boat, get to know exactly what you're buying, research the seller, and understand how eBay and PayPal protect you.
Know your purchase
Many sellers put a lot of time into creating their listings, making an effort to ensure they include all the information buyers need. Carefully read the details in listings for the boat(s) you consider buying and carefully review available photos. Before placing a bid or buying an item, be sure to:
Have all your questions answered. If you still have questions after reading the listing and reviewing the photos, contact the seller using the Ask seller a question link in the "Seller information" box in the top right corner of every boat listing. Also request additional photos if you want to see the boat from a particular angle that isnt shown in the photos included in the listing. If you have more questions than you can address in email, get the sellers phone number and give him/her a call. Some boat sellers even include their phone number so you can call them directly. Just remember that you need to actually bid and buy on eBay in order to be covered by eBay and PayPal protection programs (see "Buyer protection" below for more details).
Get delivery details. Calculate and include delivery costs into your final price. This may simply be the cost of driving across the city or state if the boat is close-by or it may mean working with a shipping company that can transport the boat from anywhere in the country. To learn more about shipping costs, ask the seller or contact DAS, an eBay Motors-approved vehicle shipping service.
Complete your transaction on eBay. Always complete your transaction on eBay (with a bid, Buy It Now, or Best Offer). Transactions conducted outside of eBay are not covered by eBay and PayPal protection programs (see "Buyer protection" below for more details).
Know your payment options. Never pay for your eBay item using instant cash wire transfer services such as Western Union or MoneyGram. These payment methods are unsafe when paying someone you do not know. Instead, pay with PayPal for amounts less than $2,000 (including deposits), a money order, or direct bank-to-bank fund transfer.
Track items with eBay Toolbar. Use the free eBay Toolbar to track items you bid on and watch. It includes Account Guard, a feature that indicates when you're visiting a verified eBay or PayPal website and warns you when you enter your eBay password into an unverified site, even if it looks like eBay or PayPal.
Know your seller
Just as important as researching your boat purchase is getting to know the seller. Take time to research the seller so that you can feel positive and secure about every transaction. Key things to look for when evaluating a seller are:
Positive Feedback. What is the seller's Feedback rating? How many transactions have they completed? What percentage of positive responses do they have? What do buyers and sellers say in their Feedback? Did the seller receive praise?
Sales history. Find out how long the seller has been a registered eBay user and look at the types of items a seller typically sells. Its okay to buy a boat from a seller who hasnt sold one before - many of the boat listings on eBay are from individuals selling their own boat. If the sellers feedback seems low, take the time to look at the Feedback details; sometimes a seller's Feedback looks low until you realize that theyre a boat dealer and their Feedback count comes entirely from boat sales.
Terms and conditions. What are the terms and conditions of the sale? Are the terms agreeable to you? Sellers typically set terms and conditions, but you should make sure you agree with them. If not, find another seller/boat or contact the seller to find out if he/she is open to your suggestions.
Good communication. Once youve initiated communications with the seller, how is he/she communicating with you? Is the seller courteous and professional? Is the seller responsive? Once you bid on a big-ticket item such as a boat, communicate with the seller through My Messages in My eBay. All legitimate Second Chance Offer messages will come through My Messages and not to your email address alone. Always contact the seller before accepting a Second Chance Offer, and never respond to any request to send money via Western Union or other instant cash transfer service.
eBay Vehicle Purchase Protection
Vehicles purchased through eBay may be covered against fraud and material misrepresentation with eBay Vehicle Purchase Protection. For more details, please check the terms and conditions here.