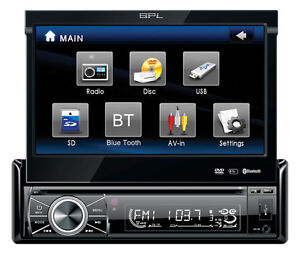 Although a car audio system is not a necessary part of an automobile's performance, in-dash systems, also called head systems, can greatly enhance driver satisfaction. In fact, some car owners find the sound system to be one of the most important factors in their on-the-road enjoyment. There are different reasons a music lover may be in the market for a new audio in-dash unit. Some standard units do not contain features that cater to the driver's favorite musical medium. Other units may not allow for tonal adjustments that correspond to an updated speaker system. A driver may want access to a subscription service that plays more musical genres than a standard AM/FM radio. Whatever the reason for swapping out the in-dash unit, it is important for a consumer to take a few factors into consideration.
Chief among these is the size of the unit. As head systems may vary in height and length, buyers must first measure their existing in-dash units. While the primary installation tools are standard from unit to unit, some devices do require additional gear; therefore, it is important to do one's homework to ensure a smoother installation.
Once a particular system has been selected, it can be purchased from a number of outlets, including specialized audio stores, big-box electronics stores, and Internet sites such as eBay..
Car Audio In-Dash Measurement
Measure, measure, and then measure again. Whereas all car stereos are seven inches wide, they come in two standard heights, single DIN (Deutsches Institut fur Normung) and double DIN:: Single DIN audio systems are two inches high, making double DIN units four inches high. Only in very rare cases do units come in DIN-and-a-half, or three inches in height. If the sizes are not in agreement, a mounting kit may allow for the installation of a single-DIN car audio system into a double-DIN slot.
| Measurement Type | Height | Width |
| --- | --- | --- |
| Single DIN | 2 inches | 7 inches |
| Double DIN | 4 inches | 7 inches |
| DIN-and-a-half | 3 inches | 7 inches |
The depth of the unit may vary, as well, making it doubly important for a buyer to measure his or her present stereo and in-dash capability before making a purchase. The replacement stereo should have an inch or two of clearance behind the unit, allowing space for cable connections and wiring.
Top Car Audio Upgrades
The first component one should evaluate when considering a new car audio system is the in-dash unit, especially if the current or factory model does not have the technological advances of more recent offerings. Although CD players are still standard in most models, just as important is some sort of auxiliary input, whether built-in or provided through an external jack. Of course, the higher the price of the in-dash unit, the greater is its quality and functionality. Car stereo enthusiasts may opt for units with such advanced features as a Bluetooth receiver, HD or satellite radio, remote control, touchscreen operation, LCD display, iPod docking, and more.
Amplifiers and Equalizers
Other necessary components of a car audio system are amplifiers and equalizers.. In general, although factory stereos do include an internal amplifier, the unit is too small to have any real effect on the sound. Custom-installed systems rely on quality amplifiers to deliver superior, high-fidelity sound. External amplifiers are especially important when adding a multicomponent car audio system, such as a head system, subwoofer, tweeters, and component speakers. Amplifiers come in a range of channels, based on how many stereo components there are. Gain is another consideration, as it measures the amplifier's ability to increase the output signal. It is important, however, to not set the gain too high because that may cause audio distortion to occur.
Speakers
Quality speakers are an essential part of any car stereo system. These days, speakers are composed of modern materials, including Mylar film, rubber, Kevlar, or polymer composites, making them more long lasting than their older, cone predecessors. If the car also has separate front-door tweeters, a composite speaker upgrade is in order. A heavier-gauge speaker wire will also extend speaker life, in addition to delivering a clearer, crisper sound. If going this route, it is important to spend the right amount of money to ensure the quality of the wires. A standalone external amplifier is not only easy to install, but eliminates the need for external converters; as an added plus, it requires less energy than conventional amps.
Many people underestimate the importance of good speakers, believing the in-dash unit to be the only factor in good sound. In fact, drivers may wish to replace their speakers every few years to ensure optimal sound quality. Another consideration outside of the in-dash unit is amplifiers, as the increased volume they provide will improve sound quality. Noise reducers in the form of vibration-damping materials control the noise levels inside the automobile, minimizing unwelcome vibrations or thumps as well as cutting down on the amount of road noise. And finally, subwoofers enhance sounds and emphasize the beat provided by prominent bass levels. They are mountable in the seats or the trunk; as such, it is important to get the right subwoofers for a particular vehicle make or model.
Tuning Levels
Easily overlooked is the importance of setting the right tunings and levels of the car stereo system. Simple things such as treble and bass, as well as more intricate settings for equalizer and output levels, can make a world of difference in the unit's overall sound. Unless a listener wants to create a bass-heavy sound, excessive boosts in bass and treble should be avoided; a higher volume generally takes care of any perceived bass or treble sound discrepancy. It should be noted that these settings will vary based on the type of music being played. Music style, too, is a factor in selecting the right audio system, as different sounds merit different audio settings. Some higher-quality units provide several preset settings for alternate musical genres.
Auxiliary Jacks
Many of today's car audio systems, including those straight from the factory, include an auxiliary jack.. Systems with built-in auxiliary functionality allow for the attachment of an external music player, which can be navigated through the stereo's in-dash display. While auxiliary jacks also connect external units directly to the system, they must be operated independently of the in-dash display. In these instances, a good first purchase is a 1/8-inch auxiliary input jack. This allows the driver to easily stream any auxiliary music source, including an MP3 player or smartphone, through the stereo's speakers.
How to Install an Car Audio In-Dash System
Although the necessary tools and particular steps may vary from system to system and car to car, basic installation is pretty much the same. In general, required tools include a socket wrench, a Phillips-head screwdriver, a flat-head screwdriver, and a wire crimper/stripper.
There are plenty of installation resources, including videos and illustrated instructions, available free of charge on the Internet. However, the basic steps are as follows.
Disconnecting the Old Unit
First, installers should disconnect the negative cable from the car ' s battery and put the parking brake on. Next, they will remove the old stereo. It is a good idea to note the mounting method and steps involved, as these steps will be repeated later, in reverse, upon the installation of the new unit. Car audio systems are connected via one of two means, spring clip mounting or bolts. A pair of DIN tools, so named because of their inventor, will be necessary to remove a stereo held in place by spring clip mounting. If the factory stereo has been bolted in place, generally by a set of four screws, the plastic trim may first need to be pried away from the dash before the bolts are revealed. The unit should also be unplugged from the car's electrical system; this may include both a wiring harness and an antenna.
Connecting the New Unit
Once the old unit is out, it is time to connect the new unit's wiring. Often, manufacturers will provide custom wiring harnesses, simplifying and speeding this process. If this is not the case, each existing stereo wire will need to be matched with its corresponding new stereo wire. (The Internet is a great place to find an illustration or video of this process.) Once the wires are matched, they will need to be connected either by crimping (easiest and fastest) or soldering (more permanent and professional). For best results, it is recommended that a heat gun and heat-shrink tubing be utilized to ensure the maximum transfer of current.
Stereo Harness vs. Switched/Constant Power
If individuals are not utilizing a stereo harness,, they should become familiar with switched and constant power. If the power is on only when the ignition is keyed, this is referred to as switched power; constant power, on the other hand, is on all the time. This is helpful in that presets such as radio stations, clock, sound levels, and other settings are maintained, even when the vehicle is not running. Also, it is essential that the in-dash car audio be grounded. This will be taken care of by a custom wiring harness; if not using one, an individual should connect the grounding wire (usually black) to any screw, bolt, or wire that has a direct line to the bare metal of the chassis. If a video monitor is part of the car audio system, this will need to be connected to the emergency brake wire. This way, the video will engage with the parking brake.
Mounting Kit
Installing the new stereo is easily accomplished through the use of a mounting kit. An individual will need to install this first before inserting the new stereo's metal mounting sleeve. The stereo wiring adapter should be joined to the wiring harness,, and the antenna cable plugged in. Before fastening the unit, the installer should test it first to ensure proper operation. Systems to be tested include the power; AM, FM, CD, auxiliary sources, and the balance and fader.
Securing the New Unit
Assuming the audio system is working correctly, it is now the time to secure it into the dash. Any trim removed with the factory unit should be replaced at this time. A backstrap provides additional in-dash stereo support. Although it is generally not required, an individual may opt to install one to reduce vibration and reinforce the unit.
Buying a Car Audio In-Dash System on eBay
With countless makes and models available at the click of a mouse, an online marketplace such as eBay is a convenient place to shop for in-dash car audio systems.. Not only can you search for units, but you can specify manufacturer and product type, or even features and add-ons such as auxiliary inputs,, CD players,, DVD players,, and more. Some products are package offerings, meaning they include not only mounting kits, but often speakers, amplifiers, and tweeters, too.
If you are purchasing all components individually, do your homework to ensure each item will work with the in-dash car audio system you have selected. Also remember to check that you have the right tools for the job.
Many sellers accept returns; however, the allowable time window varies, generally ranging from 14 to 60 days. Be sure to check out this information, so if you need to return the system you purchase you understand the parameters. Warranties, too, may be another option from certain sellers. Shipping options, too, should be considered, both in terms of cost and time.
Conclusion
For many people, a car audio system is an important factor in their driving enjoyment. Whereas factory stereos may be sufficient for a time, many car owners will want to upgrade them at some point, especially as the cone speakers quickly lose their quality. Although most electronics and big-box stores offer on-site car audio system installation, the act of doing it oneself often proves both rewarding and less expensive.
Before making a purchase, whether in a store or on eBay,, prospective buyers will want to accurately gauge their needs and preferences. An auxiliary input, either built-in or through an external jack, is a highly desirable feature, as it enables listeners to play external MP3s from devices such as an iPod or a smartphone. External factors that must be compatible with the in-dash unit include component speakers, amplifiers, tweeters, subwoofers, and any other fine-tuning aspects, such as an equalizer. Depending on the type of music primarily played, all of these can factor heavily into the sound quality.
Perhaps most important, though, is the car audio in-dash system's size. Systems are, in general, seven inches wide; however, their height can be either two inches (single DIN) or four (double DIN). The length, too, can vary. For this reason, it is crucial to measure an existing unit before purchasing a replacement.