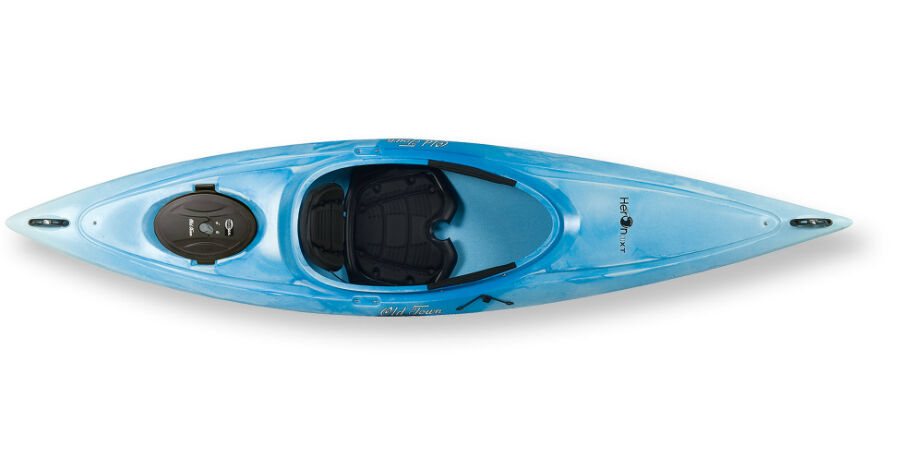 The world of kayaking is exciting, relaxing, fun, and in some cases, expensive. Combat the expense of owning a kayak by purchasing a used kayak for an affordable price from eBay. There are various types of kayaks for different uses, such as surfing kayaks, sea kayaks, whitewater kayaks, or simply kayaks for recreational kayaking and for kayakers of all experience. Sportier kayaks may be chosen for their extra bulkheads or streamlined appearance if they are to be used in rougher waters or for sport competitions or activities such as scuba diving.
There are a variety of brands of kayaks as well as colours and styles. The right kayak should be chosen based on what type of outings it is planned for, how many people are going to be using the kayak at the same time, what the buyer's budget for buying a used kayak is, and personal preference when it comes to the style of the kayak. Select the right kayak from a variety of affordable used kayak options on eBay.
Browse Types of Kayaks
Though kayaks are classified by what they are used for or what type of body of water they are going to be used in, the first factor a buyer might be interested in is how many people the kayak seats. For a buyer who is rowing with a teammate, a used kayak with two seats is preferable, but for a consumer who kayaks solo, he or she only needs a single seat kayak. Once the seating choice is made, a buyer can select the right kayak from brand and style as well as price of the kayak and the condition it is in.
Single Seat Kayaks
A single seat kayak is made to hold only one kayaker. Kayaks for different purposes are built differently, so a buyer who spends time kayaking on the open sea may want a fast kayak with an additional skeg, which helps keep the kayak rowing in a straight line. A narrow, streamlined kayak moves faster than a wider one. A well-known brand of fast, single seat kayaks is Dagger.
Another option for a single seat kayak is a sit-on-top kayak. This is a fun option for a small kid or for someone who just wants a kayak to paddle around in a gentle body of water. The best thing about a sit-on-top kayak is that it is harder to flip over, making it safe and ideal for a younger or more inexperienced kayaker who is getting the hang of kayaking for the first time. A single seat kayak which offers a sit-on-top style is also enjoyed by a person who likes to fish for sport.
Double Seat Kayaks
A double seat kayak is meant for two. Enjoy kayaking with a friend with the purchase of a double seat kayak. Most recreational kayaks are made of polythene, but for kayakers who want a little more adventure in the sea and are more experienced, a buyer should choose a double-seat kayak which is made of lightweight materials and also offers a bulkhead, rudders, and added buoyancy aids. Double seat kayaks are also used for surfing purposes, and surfing kayaks are more durable, have flat bottoms, and can hold up to more in terms of being scratched and damaged due to the fact they are used in pounding or rough waters that users surf in.
Perception makes popular two-seater kayaks. Many of these kayaks come in fun, bright colours and have extra features such as compartments for drinks and snacks, comfortable seats with backrests, and even volume distribution for smooth kayaking. For whitewater kayaking, kayaks for this purpose are shorter than touring or recreational kayaks, which tend to be longer.
Inflatable Kayaks
Another option for double kayaks is the inflatable kayak. This type of kayak is not as durable as other kayaks, but it is an inexpensive and fun option for recreational kayaking. Some inflatable kayaks come with air pumps for added convenience, and inflatable kayaks may be suitable for one or two riders. Inflatable kayaks are also ideal for travel as they can be deflated and re-inflated at a moment's notice.
Sevylor is a common brand of inflatable kayaks. They usually come with paddles, and they are ideal for general use when it comes to lake kayaking or other smooth waters. The portability of inflatable kayaks is a great feature. Though inflatable kayaks may not seem as sturdy as traditional kayaks, if they are cared for properly, they last for years and are quite durable.
Triple Seat Kayaks
Triple seat kayaks accommodate up to three kayakers at the same time for a fun kayaking experience with family, friends, or teammates. These larger kayaks are more expensive than one- and two-seater kayaks, and can possibly even fit four people. Triple seat kayaks are made of different materials just as standard kayaks are, and they are a good option for families who enjoy kayaking with small kids, because they enable a small family to fit into one kayak.
Since triple seat kayaks are larger and longer than other kayaks to accommodate more riders, they offer a wider kayak and comfortable seats, along with storage space in some cases. When it comes to triple seat kayaks, they are more often than not used for recreational purposes since all riders would have to be paddling in tandem for kayaking sports, which can be difficult unless all three kayakers are more experienced.
Select Kayaks for Different Uses
When it comes to buying a kayak, if a buyer is looking for a kayak which offers features suited for specific purposes, that should be a key buying factor. For a buyer looking for a recreational kayak, it is not as important which style or type of kayak is bought, but there are certain kayaks that are more suited for various outings such as fishing or surfing.
| Type of Kayak | Kayak Uses |
| --- | --- |
| Single seat kayak with flat bottom, lightweight | Surfing, whitewater kayaking |
| Single seat kayak, traditional style | Recreational kayaking |
| Sit-on-top kayak | Fishing and recreational and children's kayaking |
| Double seat kayak | Recreational and sport kayaking |
| Triple seat kayak | Recreational, sport, and sea kayaking |
| Inflatable kayak | Recreational kayaking |
Some types of kayaks are made to withstand more turbulent waters, and some are more comfortable for two or three kayakers. A fisherman may appreciate a sit-on-top kayak, while a family who travels frequently loves the flexibility of taking an inflatable kayak on the road with them.
How to Buy a Used Kayak on eBay
Purchasing a used kayak on eBay can alleviate a lot of the costs associated with owning your own kayak. If you love to kayak, it is more cost effective to own one than to rent one frequently, so browse the selection of used kayaks on eBay to get your hobby off the ground. Using the easy search engine eBay offers, navigate to kayaks, and select the used option to narrow down your kayak choices to more affordable options. You can then select kayaks easily by brand, such as Pyranha, or number of seats, or simply look at all of the available options and choose the kayak you like best that offers the features you are looking for. When you are purchasing a used kayak, make sure to read the seller's listing carefully to make sure the kayak is in good condition and that any flaws are listed. Click "Ask a Question" to communicate with the seller.
Some sellers offer additional items with a kayak for a discounted, bundled price, such as extra paddles, buoyancy aids, air pumps, life jackets, and other useful equipment, so find out what the seller is offering to make your kayaking experience more convenient and enjoyable. Since kayaks are generally a large purchase, shipping can be a hassle, but most sellers offer in-person pickup. When you are looking for a kayak, make sure the seller is local to you, so going to pick up the kayak in person is not too frustrating or time consuming.
Conclusion
Kayaking is a lot of fun, but shopping for one can be a big, expensive hassle. It does not have to be frustrating or costly when a buyer finds a gently used kayak for a great price on eBay. Whether a shopper is an experienced, serious kayaker, or just part of a family looking to have some weekend fun on the lake, a kayak is a great way to get outdoors, get some sun, and get some exercise while having a great time. A kayak that is inflatable is ideal for taking on vacations or getaways, and a kayak which only seats one person can be perfect for surfing or sport kayaking. For children or inexperienced kayakers, a sit-on-top kayak is a great option to learn how to kayak and become more confident.
Before buying a used kayak, a buyer should set a budget and determine everything that is needed for the kayaking experience, because additional items can run up the cost of purchasing a kayak. Buying a kayak from a seller who offers these items can save a buyer a lot of money in the long run.