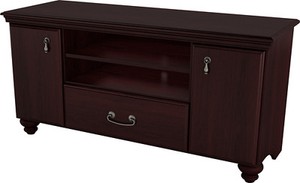 The number of purchase options available for those looking for a television stand on eBay is vast. This is because what type of stand is best for a person's home or place of business is extremely personal. The space available, organizational needs, home decor features, and entertainment options vary greatly from individual to individual.
However, no matter how unique each television stand is, the approach to choosing and buying one is similar. When looking for a TV stand, from a small wall mounting bracket, to a large all-inclusive entertainment center, the buyer should consider the budget, design features, television size, space allotted, and material used in construction among other considerations. Taking the decision process one step at a time, and having a specific plan in mind, will ensure that the television stand purchased is the best possible option for the space, providing both practicality and beauty.



History of TV Stands
TV stands are a relatively modern invention. The earliest televisions were either small enough to set comfortably on an end table, or were enclosed in their own display case. These larger televisions, known as console TVs, largely mimicked the old wood-cased radios in style and had decorated wooden cases that surrounded them, creating an entertainment center style look. Because these televisions were heavy and took up a large amount of floor space, they fell out of favor with the public and were replaced by more basic television sets. The invention of the VCR resulted in an increased need for television organization systems, and entertainment centers were created to provide a space where gaming consoles, video playing devices, and the television could all be stored together, and wires could be hidden away. Today, a wide variety of TV stands are available to service a wider home decor market.
How to Select a TV Stand
There a few basic steps that a buyer can take when selecting a TV stand to purchase.
Step 1: Set a Budget
The buyer should first set a budget for the purchase before looking at any TV stands. One of the factors which most contributes to buyer's remorse is failure to stick to a budget. Setting a clear budget for the purchase from the start will keep the buyer from spending outside his or her financial means.
Step 2: Take Measurements
It is extremely important that the TV stand purchased fits well in the home or office it is intended for. There are two sets of measurements that are important: the television's dimensions and the allotted room space dimensions.
TV Dimensions
There are multiple measurements that should be taken from the television before selecting a stand for it. Begin by measuring the screen from the upper left corner to the lower right corner. This measurement, taken on the screen's diagonal, is the base TV measurement. For example, a TV that is advertised as a 46 inch flat screen will measure 46 inches from corner to corner. Many wall mount brackets will use this measurement to describe what size TVs they are designed for.
Next, measure the base of the TV. For modern flat-screen TVs, this will be the width and length of the foot they stand on; for older televisions, this will be the width and length of the TV's bottom. Finally, measure the body of the television. Measure its height, width, and depth. These measurements are necessary for armoires, entertainment centers, or any other stand type where the television actually fits inside.
Space Dimensions
Use masking tape to tape off the space on the floor or the wall where the TV stand will go. Then, use a measuring tape to measure the dimensions of that space. Make sure to record the space's height, width, depth, and length. This will ensure the TV stand purchased does not take up too much space in the room.
Step 3: Select a Material Type
Select a material type based on the decor of the room. What material the TV stand is made from should be based on personal preference and aesthetic appeal within the space. Material types to consider are wood, glass, and metal. If considering a metal TV stand, select a color. If considering wood, decide on a stain or wood grain before beginning to shop.
Step 4: Select a TV Stand Type
Select a TV stand type based on the space that it will be installed in and the individual needs of the users. Credenzas, hutches, platforms, and mounting brackets are among the most common TV stand types, but other more personalized options are also available.
| Style | Features | Best Uses |
| --- | --- | --- |
| | Offers a variety of storage features, which vary from design to design; all hutches have closing doors which hide the TV away | Formal living rooms, or rooms centered around some feature other than the TV; ideal for living rooms with a fireplace |
| | Features separate shelf space for the television, gaming center, DVD player and other media; unlike the hutch, the entertainment center does not have doors that enclose the television itself | A large living room or a home with a wide variety of media hookups leading to the TV |
| | Similar to an entertainment center; rarely over 30 inches tall; typically has drawers or doors with storage that is enclosed and looks similar to a dining room buffet set | Excellent for those interested in keeping their television at eye level |
| | Similar to a credenza without a side or back; typically made from metal or glass and have a very modern, minimalist look | Ideal in modern homes; well suited to both living room and bedroom TV set-ups |
| | Usually either credenza or platform style; built in; triangular to fit into a room's corner | Well suited to rooms with very limited space |
| | Typically tall, narrow credenza-style TV stands with casters; designed for televisions that need to be moved from room to room with some regularity | Ideal for use in the school setting, as a corporate training aid, or other business-related settings |
| | Designed to hang a television from the wall; can be used to mount modern plasma and flat-screen televisions | Ideal for areas with limited space or modern homes where wall mounting is preferable; also ideal for situations where a large number of viewers are present, like in restaurants and sports bars |
| | Televisions, DVD players, and other media pieces are set on top of the dresser; drawers are used as storage for movies, games, gaming paraphernalia, and more | Bedroom or living room with primitive decor |
Try to envision each style in the space and select a style that will both meet the practical needs of the user and visually enhance the space.
Buying a TV Stand on eBay
After setting a price point, measuring, and selecting a basic design for the television stand, start considering features. Features to consider include storage, organization, screen tilt, and more. With all of this in mind, it's time to begin looking at some specific models on eBay.
When you have a clear idea of what type of TV stand you are looking for, go online and see what the sellers on eBay have to offer. Go to the search bar on the main page and enter the search phrase of your choice. Try to be as specific as possible: for example, instead of typing "TV stand," try "credenza TV stand."
You can also search for TV stands within the Home & Garden category. From there, you can proceed to the Furniture section, and directly to the Entertainment Units, TV Stands subsection. Within that section, you can choose to browse through several subcategories, including:
You can then make use of the various search modifiers available, including Brand, Material, Color, Condition, and Price in order to find the TV stand that suits your needs and budget.
Be sure to review seller feedback before making a purchasing decision in order to make sure that the seller is reputable and has a history of selling high quality products.
Conclusion
After selecting a TV stand, it is important to consider how much assembly the stand will require. For those who are not mechanically inclined, and do not have friends or family who may be able to help, it's best to avoid models that say "some assembly required." Instead, look for options that come pre-assembled or for TV stands that were previously used. Also consider long-term care. Glass should always be cleaned with glass safe cleaners to avoid etching, and wood will need to be cleaned regularly to maintain its luster. Selecting a TV stand that one can expect to assemble well and maintain correctly will ensure years of use. By following these tips and steps, buyers can have a positive purchasing experience that will enable them to have a TV stand that will last them for many years.