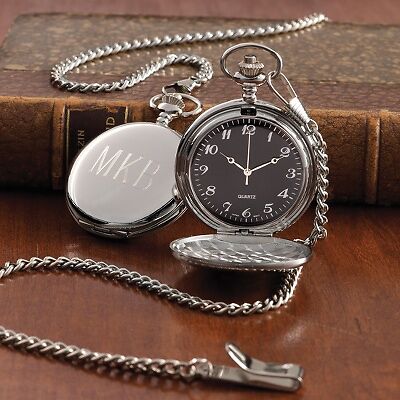 The pocket watch is a famous piece of history that continues to be manufactured today for its functionality and beauty. Offering the buyer its famous lustre, a silver pocket watch can be a unique and interesting departure from the common wristwatch, providing an enthusiast with both portability and collectability. Before a prospective buyer considers their purchase, however, they may benefit from following a few guidelines first. With important factors to consider, such as what the term 'silver' can mean on the market, the types of pocket watches available, the features to look out for, and simple methods of maintenance; prospective buyers can be better prepared to find the silver pocket watch that suits their needs.
History of Pocket Watches
The first timepieces to be worn on the body were made during the sixteenth century and only had an hour hand. These devices split the size difference between clocks and watches, and were worn around the neck. Though portable, these rather impractical pieces were clumsy and difficult to wear for long periods. During the same century, technological improvements gave rise to the smaller pocket watch, which, by the seventeenth century, was designed to be carried in the new style of waistcoats introduced by Charles II of England. Attached to a chain to ensure it wasn't dropped or lost, the pocket watch soared into popularity among the wealthy, and by the late seventeenth century the minute hand was added to the dial. Further accuracy of the pocket watch then owed itself to the railroads of the nineteenth century, as makers devised 'standard' pocket watches that were used to ensure the punctual running of the trains. Throughout its history, this important and practical piece of jewellery has been decorated and valued in many ways, a common choice being to be built from precious silver.
Discover Silver Pocket Watches
While the wristwatch became more common after World War One, the silver pocket watch continues to be sold today, in both used and new condition. With its Old World charm and monetary value, the silver designs are often sought after for the pocket of the buyer, as well as the cabinet of the collector. As a result of their extensive history, prospective buyers may even find themselves purchasing an antique piece, commonly regarded as any piece over one hundred years old. This can vary the value significantly, as can the nature of the silver that is used. Found in a few varieties, the watches are also intended to be attached to a small chain that give the user both security and further beauty. Often this chain can complement the watch and will also be made of silver.
Materials Used in Silver Pocket Watches
As pure silver is too soft to be used for construction, it is mixed with other metals, such as copper, to create alloys of different percentages. Below are listed several silver options found on the pocket watch market.
| Silver Alloy | Description |
| --- | --- |
| | Both popular and valuable, sterling silver contains at least 92.5 percent silver and 7.5 percent copper. |
| Britannia Silver | Less common than sterling, this alloy is made up of 95.8 percent silver which increases its value. |
| | An important distinction from valuable silver alloys, silver plate is simply a small coating of silver on the outside of a less valuable metal such as bronze. |
| Flashing | Flashing is a valuable, but fragile plating, and is made from up to 99.9 percent pure silver. It can also be applied to the outside of sterling or Britannia silver. |
Types of Silver Pocket Watches
Silver pocket watches come is a variety of designs that can affect the case or the winding mechanism.
| Case | Description | Advantages | Considerations |
| --- | --- | --- | --- |
| Open-Face | No hinged panel to the watch. | Easy to read | Face can become scratched |
| Full Hunter | Has a panel that is hinged over the face | Protects the face from damage | Makes it harder for reading access |
| Half Hunter | Has a hinged panel with a small viewing port | Allows both protection and reading with panel closed | Easy reading still requires the half hunter to be opened |
| Double Hunter | Hinged panels on both front and back of watch | Can access the face and the internal mechanisms | Less practical for common use |
| Skeleton | Design that allows exposure of the inner workings | An interesting aesthetic addition | Different to the traditional look and feel of the common pocket watch |
| Mechanism | Description | Advantages | Considerations |
| --- | --- | --- | --- |
| Key-Wind | Older approach that gives the clock power through use of a key | May mean the watch is an antique | Key can be lost |
| Stem-Wing | Power is given to the watch through turning a small extension that replaces the key | Can be wound at any time | Stem mechanisms can vary |
Factors to Consider When Buying a Silver Pocket Watch
Many factors should be considered before buying a silver pocket watch, including:
Solid Silver – A buyer should note that sterling and Britannia silver are sometimes referred to as 'solid silver' even though they are not pure.
New or Used – Silver pocket watches can be up to hundreds of years old and a buyer should note whether they require an older or a newer model.
Repair – If purchasing second-hand, it is good to ascertain if any changes to the watch components have been made. This can potentially alter the reliability and the value of the piece.
Use – Depending on whether the buyer is purchasing for everyday use or for a collection, they may want to search for rare or fragile pieces that would otherwise be impractical.
Typical Features of Silver Pocket Watches
1.
Engraving
A common feature, engraving can indicate the type of silver (such as the number 925 for sterling) or carry maker's marks or personalised messages. It can also extend to ornate patterns on the case, such as floral designs.
2. Face
The face of a pocket watch can have Roman or Arabic numerals, or simply notches that indicate the hourly positions. Ornamentation such as jewels or ornately fashioned hands may also be found on the face. Some pocket watches may even include a moon phase dial to indicate the stages of the lunar cycle.
3. Chain
The additional chain of a pocket watch can come in a variety of designs and materials, much like a necklace. It is often found appropriate to combine a silver watch with a complimentary silver chain.
4. Special Features
Modern features such a waterproofing, luminescent hands, and built-in stopwatches can be found in some new silver pocket watch designs.
5. Power Source
Pocket watches, though generally hand wound, can also be battery powered.
6. Jewelled Movements
High quality mechanics will often be adorned with small, hard jewels. Though many of these do not serve a practical function, they offer an indication of the quality of craftsmanship.
7. Adjusted Movements
If marked as 'adjusted,' a pocket watch has been tuned to tell time under certain conditions or orientations – such as 'dial up,' or temperatures within one to forty degrees Celsius.
8. Photo Insert
Those pocket watches with hinged hunter cases can be fitted with photos on the inside, much like a locket.
How to Care for Silver Pocket Watches
Below are some approaches to maintaining a silver pocket watch.
Limit the tarnishing of the silver exterior using jeweller's polish, ensuring to use a fine cloth.
Do not expose it to high temperatures such as fireplaces or direct sunlight, as this can warp the metal components.
When winding the watch by hand, be careful to wind slowly and not to wind too far.
Keep the pocket watch free from moisture or high humidity as this can damage the parts and aid corrosion.
Take silver pocket watches to professionals for any repair or serious cleaning.
Popular Silver Pocket Watch Manufacturers
Waltham
Ball
Hamilton
Howard
Junghans
Kienzle Uhren
Orfina
Harley Davidson
Elgin
Hampden
Japy
Finding Silver Pocket Watches on eBay
Once you determine the type of silver pocket watch that you want to purchase, visit the Antiques portal on eBay, click on 'Silver', then 'Pocket watches/chains/fobs' and start searching item listings. The Categories list on the left-hand side of the eBay page helps to narrow the search.
Searching for Silver Pocket Watcheson eBay
Search eBay listing titles for specific words when shopping for silver pocket watches. For example, to find a sterling silver half hunter pocket watch, type 'Sterling Silver Half Hunter Pocket Watch' into the search box, and then click the Advanced button to customise the results. Also visit eBay's Search Tips page for more advice on searching for pocket watches with keywords. If you can't find the exact silver pocket watch you want, try shopping eBay Stores.
Conclusion
As this guide explains, a buyer has a few points to consider before settling on a silver pocket watch to purchase. With centuries of manufacture and a variety of silver options, it is advisable to factor in what alloy and design best suits the buyer's needs. Consider whether a case is required, and if so, which case style to pursue. From key winding to waterproofing, it is important to keep in mind the features available and the methods of maintenance required for a new timepiece to keep ticking. Once you have collected this information, you can buy a silver pocket watch safely and securely on eBay.