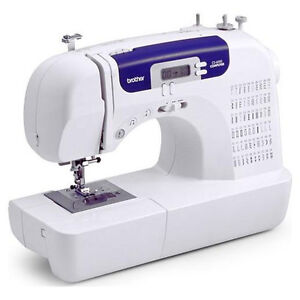 Sewing is a skill that can save money, offer a creative outlet, and even blossom into a small business. The primary sewing tool is the home sewing machine. Having a machine that is suited to the needs of the user can mean successful completion of projects. A mismatch between the machine and the user can mean frustration. Fortunately, there are machines available to suit all sorts of skill levels and space constraints.
Understanding the Different Types of Sewing Machines
There are machines that are simply for plain sewing or for overlocking. There are also combination machines that do both sewing and embroidery. Some machines are highly specialized for those with specific needs, such as blind hemmers or industrial sewing machines.
Mending and Crafting Machines
For stitching split seams, hemming pants, or making small craft projects, a compact machine with a straight stitch may be all one needs. These small machines store easily on a shelf when not in use. They are also lightweight for portability. Some may even be used to hem draperies while the draperies are hanging in place. Drama teachers might want such a machine backstage to take care of occasional costume emergencies. Small machines can be a good choice for children although older children will also do well with a basic sewing machine for adults.
Basic Sewing Machines
The simplest full-sized home sewing machines usually include a straight stitch, zigzag stitch, reverse stitching capability, and a 4-step built-in buttonhole. These stitches enable the sewer to make clothing and home decorating items using most fabrics. A person who sews primarily heavy fabrics such as upholstery or denim will want a heavy-duty machine. The one who makes many shirts or dresses with buttonholes will want a sewing machine that includes a one-step buttonhole for extra convenience.
This basic sewing machine is the workhorse of most designers. While machines are available with hundreds of features, even the most experienced sewers do most of their sewing with the basic stitches and functions available on a simple sewing machine. Basic machines are good for teaching sewing to beginners. The simple controls and limited stitch options make it easy to gain confidence in elementary sewing skills.
Computerized Sewing Machines and Embroidery Machines
Those who love to embellish clothing and crafts with colorful embroidery will appreciate a machine with the capacity to create designs with colored embroidery threads. Some machines will accept a CD-ROM with embroidery designs and reproduce the design on fabric held in a hoop. Software is also available that will enable the designer to scan a photograph or drawing and digitize the image for use by the embroidery machine. Most brands of embroidery machines have a library of downloadable designs that work with their machines.
Monograms are easy to do with a sewing machine that has several built-in alphabets in adjustable sizes. These machines enable the owner to produce personalized gifts such as monogrammed sheets or embroidered baby blankets. Small letters would be great for labeling children's clothes for camp or school.
Those who do heirloom sewing, also called French hand sewing, can achieve quicker results with a sewing machine that can imitate the most popular hand embroidery stitches: pin stitch, feather stitch, applique stitch, and blanket stitch. Many premium machines have automatic tension adjustment so that lightweight fabrics such as Swiss batiste or silk chiffon can be sewn without puckering or jamming. Those who sew such specialty fabrics or use embroidery often will get their money's worth from a computerized sewing machine.
Sergers
The serger, also known as the overlock machine, is used to overcast fabric edges to prevent raveling. A four-thread or five-thread serger sews seams, trims, and overcasts the edges in a single pass through the machine. Some sergers also include a cover stitch, a stitch often used in sweatpants and other active sportswear. Sergers can run at high speed and should be placed on a sturdy table when in use. These specialized machines use lots of thread and are equipped with holders to accommodate large cones of thread.
Many crafters want a serger in order to quickly execute rolled hems. Avid home decorators could use a serger to produce tablecloths and napkins or to work with decorator fabrics that ravel easily. People who do large amounts of sewing find a serger is a time-saving tool. These machines can be complicated to thread, so the buyer should be willing to watch the instructional video or read the manual that comes with the machine.
A serger does not take the place of a basic sewing machine. It does not make buttonholes and cannot be used to sew zippers, for example. The serger does make a great second machine, enabling the crafter to quickly finish long seams and hem wide skirts or other large items.
Long -Arm Quilting Machines
Crafters who love to make large quilts may want to own a long-arm quilting machine. They should be sure they have enough space to accommodate this specialized sewing machine. It is meant to easily handle full-sized or queen-sized quilts that cannot easily be quilted on a standard sewing machine. A long-arm quilting machine is able to handle the layers of fabric and batting as they are guided through the machine by a skilled machine quilter.
A consumer would be well advised to attend a quilt show or conference in order to learn about these machines. Check out the websites for various brands and see if it is possible to watch a demonstration before shopping for a machine.
Fixed or Portable Machines
If the consumer has a sewing room or an area where a sewing table can fit, he or she can choose a machine that is designed to fit in a cabinet. Many cabinet designs enable the owner to fold the machine out of sight when sewing time is over. The cabinet then looks like a regular desk or table. L-shaped desks can accommodate both a sewing machine and a serger. Sewing tables and storage units can be found on eBay.
Those who sew only occasionally or seasonally will probably want a portable machine. Portables come with a case that keeps the machine protected from dust and scratches while in storage or in transit. Lightweight portable machines are good for people who take their machines to classes or conferences. The portable machine is also a good choice for those who live in small spaces where sewing must be done at the kitchen table.
A Word about Industrial Sewing Machines
Many serious sewing enthusiasts will at some point consider an industrial sewing machine. Those who have already used such a machine and can find one at a bargain price may be pleased with their purchase. Those unfamiliar with industrial machines should try some sample sewing on an industrial machine before committing to buy one. Compare the industrial machine to premium home sewing machines to determine which is best suited to a particular situation.
Industrial machines often perform only a straight stitch in forward and reverse. They stitch at high speed and handle even difficult fabrics without jamming. Sewers with home businesses in bridal sewing, alterations, or high-volume production of crafts for sale will get plenty of use from an industrial machine.
How to Find a Sewing Machine on eBay
From the eBay home page, click on Browse by Category and select the Crafts category. Select Sewing & Fabric, followed by Sewing. Click on Sewing Machines & Sergers to see all possible machines.
Narrow the search by using the choices on the left side of the page. Search by brand, type, or condition. Select mechanical or computerized machines. Use the search box to find a specific model number. Specify a price range that suits a particular budget constraint.
Don't forget to check eBay for any sewing machine accessories needed as well. Sellers offer accessories for new, used, and antique machines. Fabric, patterns, and sewing books are also available from eBay sellers around the world.
Conclusion
The selection of new and gently used machines on eBay is vast. Shopping online often enables the consumer to buy a machine with more features at a lower price than can be found in a local shop. There is a sewing machine for every crafter, from beginner to professional.