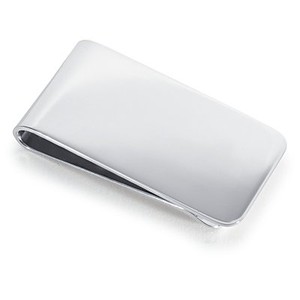 A money clip is not only a great way to keep paper money together when on the go, it is also a great opportunity to make a statement. Many men use a wallet, so just using a money clip says something about the person using it. A clip is also less bulky than a wallet, making money easier to carry. The type or style of the clip chosen can also make a statement, especially if it is something unique or something that many people are interested in. For instance, carrying a clip that displays the image of a deer or a racecar reflects the owner's interests. A man may find himself in many situations that provide opportunities for using a different clip each time, such as a trip to the ballpark, to a new city, to the golf course, or even to a museum. Because changing to a new money clip only requires moving money from one to the other, unlike changing a wallet, it is easy to use a different one for each unique event. This is also a good reason to find great clips to give as gifts. Money clips are fun, personal, and it is easy to change them out for a new look.
Searching for Money Clips on eBay
eBay is a great place to find all kinds of money clips, from more traditional, simple clips to very unique clips. One of the easiest search methods that returns a wide selection of item listings from all eBay categories is to enter the keywords "money clip" into the Search field on eBay's homepage. This type of search is bound to return thousands of listings, which can be overwhelming for many buyers. It is possible to narrow those results by choosing from the category options on the sidebar, paying close attention to the categories that show a large number of items listed.
Narrowing the Search Results
When searching within individual categories to find a specific style of money clip, a specific type of material, or a specific image represented on the money clip, type additional keywords in the Search field, such as "gold" or "soccer," within the selected category. This will show items listed in that category matching those key words, and it narrows the list of items to a manageable number.
Another way to locate a larger number of listings for a specific money clip is to add other descriptors to your initial search. For instance, to see what kind of money clips are available embellished with the image of an eagle, type "eagle money clip" into the Search field on the homepage. This will returns a large number of results but not as many as simply searching for "money clip."
Along with searching for specific images or types of embellishments, decide what features are important and what style to search for also. This is much easier to do when the buyer has an understanding of the different styles and features of common money clips.
Choosing the Right Money Clip
Now that you know how to search eBay for money clips, it is time to discuss the features of money clips and how to choose the right one for your needs. No matter how it is embellished, how it is designed, what material it is crafted from, or what specific style it is, a money clip is intended to do one thing, and it must do that one thing well. That job is to hold the money securely so that no bills slip loose. Some materials and design are better at this than others. There are many different and unique money clips, but any that are constructed from a strong material, such as steel, titanium, and some hardwoods are good choices. What may not work well is material that loses its ability to clasp the money over time, such as weak metals like aluminum.
Styles of Money Clips
While a money clip only has one job (keeping bills together) these simple items come in a number of different styles. Some are simple clips, crafted without much concern for style. Others are much more elaborate, embellished with just about any icon, scene, or symbol imaginable. In between the basic and elaborate money clips are those that combine the streamline design of a money clip with the ability of a wallet to contain the owner's driver's licence and bank cards. These highly functional clips can be simple or embellished.
Basic Money Clips
A basic money clip is simply a piece of strong metal bent in such a way that a wad of bills can be easily slipped into the fold. This is the most simple design, and it certainly gets the job done. Another very basic style of money clip may feature a spring mechanism that allows the clip to open and that also applies pressure to the billfold when closed.
Basic Money Clips With Embellishments
Perhaps the most common style is the basic money clip with some sort of embellishment. Often, such an embellishment has something to do with money, such as a rare or valuable coin, or the simple dollar symbol. Other embellishments are more elaborate, including beautifully etched or hand painted scenes. Some of the more common ways to jazz up a basic money clip are listed in the table below.
| Embellishment | Description |
| --- | --- |
| Coins | Attaching a coin, often a silver dollar, to a basic money clip is a very traditional embellishment. Because it has been such a common thing for so long, it is easy to find money clips with very old, sometimes rare, coins attached. Locating a clip with a coin that signifies the families heritage is a wonderful gift idea. |
| Sports Team Logos | A money clip displaying a man's favorite sports team logo allows him to show his team spirit wherever he spends his cash. Money clips with the logos of MLB, NFL, and even college sports teams are abundant, so the man can have one for his favorite team in every sport. Siskiyou produces many stainless steel sports team logo money clips. |
| Animals | Animals are a very popular money clip embellishment, especially for the outdoorsman. Barlow produces beautiful hand crafted, quality money clips featuring wildlife. The detail on many of these items are hand etched animal prints or outdoors scenes. |
| Knives | Since men often carry pocket knives, some money clip manufacturers created money clips with attached knives. Some of these are more knife than money clip, and some are also very high quality knives. |
| Historical | A money clip can be just as personal for a man as a wallet, and one that represent something historical, such as a war or an event, can become a favored piece. |
There are many other ways that the basic money clip can be embellished in a way that makes each one a very personal item.
Money Clip With ID Card Holder
A great compromise between a wallet and a money clip is a money clip with an attached card holder, usually with a viewing window for the ID. These are most often made of leather. They are also very slim, only holding a few cards, and they are not intended to contain all the items that a man may keep in a wallet. The addition of the ID holder does not actually add much bulk to the clip because it takes the the same dimensions as the folded money. On eBay, many sellers list a variety of ID clips that are made from plain black leather, and those are all great options. However, there are also some that include more detail, which allows for a more personal selection.
Handmade Money Clips
Whenever something is handcrafted, that makes it even more personal and special. eBay sellers list a number of handmade money clips. Some of these are homemade ID holders and money clips. Others are very nice money clips expertly embellished with polished stones or other artistry. This is the type of item list that is ever changing on eBay, changing whenever new crafters list their pieces. Many of these crafters are approachable and happily reply to questions. If you see something you like but want to see it in a different color or design, it never hurts to ask. Put sellers who make items you like on your eBay watchlist.
Finalizing a Money Clip Purchase on eBay
Once you have chosen the money clip you want to purchase, be sure to check the seller's feedback and rating before bidding. Doing this helps you to feel safe about the purchase, knowing that other people have bought from this source before and were happy with their experience. Also, before finalizing the sale, check out the other items the seller may have listed in his or her eBay Store.
One of the easiest things to forget when bidding on items on eBay is that the sellers stated shipping cost needs to be figured into the budget. Some sellers offer free shipping, but this should not be assumed. Most items do cost something to ship.
Once you have successfully bid on your item and received it in the condition you expected, do not forget to return to the seller to leave feedback. By doing so, you help the seller and the eBay feedback system.
Conclusion
A money clip is a great alternative to carrying a bulky wallet. It is a money-holding device that allows the buyer a large variety of options when it comes to design, style, and embellishments. With all the money clips available, it is possible to purchase one that feels very personal. These clips also make great gifts for the man who prefers them over a wallet. The different styles and embellishments provide many different gift giving choices. Money clips can be easily and safely purchased on eBay, where buyers can find a huge selection at a variety of price points. Knowing how to search eBay for the right clip and finalize the purchase brings buyers that much closer to obtaining the clip they desire.