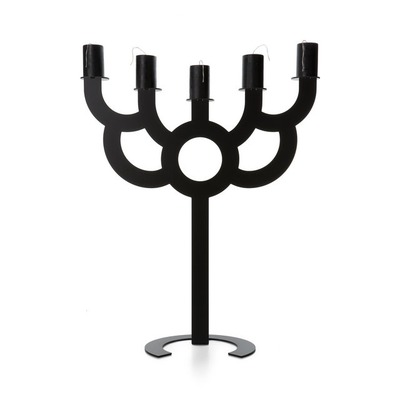 Candlesticks were exported to Europe from Arabian countries in the 14th century. Eventually English and French craftsmen created their own distinctive styles of candlesticks. These items have been highly valued for use at home, on special occasions, and in religious rites, and remain so to this day. It is customary for candlesticks to be purchased in matching sets or pairs.
Classic Types of Candlesticks for Home Use
Collectors of vintage candlesticks find diverse selections for sale online and in antique shops. The common types of candlesticks used at home in the pre-electricity era were chambersticks, table candlesticks, and candelabra. As practical home fixtures during the Victorian era, chambersticks still have their use as props in movies and theatre plays to depict the period. Simple and compact, they were designed to be carried around the house to light one's way in the evenings and to be set on a bedroom nightstand. The candleholder rested on a saucer-shaped base with a loop for a finger grip. Typically in pairs, table candlesticks are tall holders for taper candles. Formal settings often display sterling silver or solid brass candlesticks supported by round, weighted bases.
Materials Used for Candlesticks
Candlesticks are made of various materials such as wood, wrought iron, pewter, brass, crystal, silver, or combinations of several materials. A fine-quality antique candlestick fetches a princely sum whose real worth deserves a closer inspection before purchase.
Crystal and Glass Candlesticks
High-end crystal candlesticks from distinguished brands are expensive. They are collectible items as well, particularly those produced in limited edition. They are sparkling and lovely to behold, as the facets of the cut crystal reflect the candle flame. Some styles come with pins for sticking the candle into place. Glass candlesticks are available in a dazzling array of styles, shapes, and sizes. The most common finish is clear glass, but some are frosted, tinted, or mosaic, which are all interesting choices. When buying glass candleholders, inspect them carefully for cracks. Even superficial ones can shatter the glass when exposed to thermal pressure. In the past, candles were sold in standard sizes, so they fit into the sockets of glass candle holders. Now the prevalence of jar candles, along with creative candles in various forms and dimensions, have relegated traditional glass candlesticks to a decorative role.
Antique Solid Brass Candlesticks
Candlesticks made of brass, a zinc and copper alloy, were first made in the 18th century. Some were ornately designed pieces created by master craftsmen, while others had simpler styles. Antique solid brass candlesticks are available at affordable price ranges. Newer sets sold at low prices may only be skimpily brass-plated. Buyers who want original solid brass candlesticks can learn to identify the real from the imitation with a few inspection steps. Some identifying features of old brass can be detected by just looking at photos of the item. Trustworthy sellers confidently show close-ups and various parts and angles of an antique piece. The other distinguishing marks of real brass require actual physical inspection. Online shoppers are advised to buy from top-rated sellers with high positive feedback ratings who may offer a satisfaction-guaranteed return option. Buyers can examine the item and return if it they discover that it's not an authentic antique. The table below lists some ways to differentiate a real brass treasure find from a fake copy.
Feel the interior of a brass candlestick claimed to be from early 19th century.During this period, the candlestick was cast by sand, so the interior should be somewhat rough to the touch.
Search for balustre-form brass candlesticks with big saucer-shaped bases and cups.This is an English design from the 17th century and up.
Look inside for a thin metal rod with a button-shaped end or a side ejector.A rod was used to keep the candle in place, take it out, and scrape off the candle stub. Its presence is a mark of authentic 18-19th century candlesticks.
Check if the candleholder's stem is seamed in the middle from the top down.The old-fashioned process involved soldering two halves together over a flame, so a line should show from top to bottom of the stem.
Inspect for a similar finish all over, including the underside. Scratches at the bottom revealing a white or silver streak indicate that the candlestick is only brass plated or of a different material. Candleholders circa 20th century will have discolouration on the bottom. Lower-grade metal may have been used on less visible parts of the candleholder.The colour of antique solid brass should be yellow gold and the finish should be consistent. A smooth patina is a sign of quality in vintage brass.
Look for candlesticks with square or round stems and curved handles attached to saucer-shaped bases.This was a typical style for bedroom use.
Sterling Silver Candlesticks
Sterling silver has appreciated in value as a precious metal. Antique silver candlesticks are, therefore, doubly esteemed by collectors, due to their rarity and rising market value. Modern silver candlesticks are still highly prized gift items for weddings and 25th anniversaries. There's a marked difference in design between the tall and slender vintage candlesticks and the diverse styles of contemporary versions to fit candles of varying forms and sizes. Antique silver candlesticks produced prior to the 1900s are rare treasures or museum pieces. The majority of silver candlesticks sold as antiques come from the 19th and 20th centuries. Truly valuable candlestick sets or pairs hallmarked with the maker's brand and point of origin can be worth hundreds and thousands of pounds. Traditional silver candlesticks are designed as a column raised on a square or round base. A true pair of antique candlesticks must have been crafted by the same silversmith in the same year. Miniature candlesticks or those made in the latter 20th century are more modestly priced.
Estimate the Current Value
Discerning shoppers want to know whether a high-priced merchandise is genuine and the price tag reflects its current market value. Conducting a bit of research and legwork helps buyers know the realistic price range of a candlestick for comparison to an online seller's price. If a best offer option is available, a serious buyer can make an informed offer and negotiate the final price with the vendor. For an auction item, a prospective buyer will know the maximum bid to make that's close enough to the actual value or around the ballpark figure. Refer to the table below to make a smart purchase.
If the manufacturer or craftsman's name is not in the product description, request the seller to provide the identifying marks engraved on the candlestick's base or a close-up shot. Ask for the year the candlestick was made. Otherwise, contact the manufacturer, if it still exists.The product information, including the year of production, helps to accurately estimate its worth. Typically, the older the candlestick, the more valuable it is.
Browse bookstores or libraries for the latest edition of antique manuals. Scan the books for the value of the candlestick, listed by dealer name and year.The antique guidebooks are updated yearly and publish the value of items as evaluated by experts.
Cross-check the information by asking several antique dealers and pawnshop owners to assess the candlestick's current value.Comparing the price quotes of antique experts and pawnbrokers helps buyers arrive at a realistic price range for the candlestick.
It's best to physically check out the merchandise, so if the eBay sellers have local bricks-and-mortar shops, pay them a visit. Compare their products and prices with comparable items sold at other antique shops, auctions, and estate sales. Bring along a knowledgeable friend to distinguish whether the item is genuine antique or a clever reproduction, sterling silver or silver-plated.Being well-informed and canvassing available items in the market enable buyers to haggle smartly and clinch the best deals.
Finding Candlesticks on eBay
When one types the keyword "candlesticks" on the search field of the eBay home page, a list of eBay suggestions shows related keywords. The listed items are more specific, recommending types of materials such as pewter candlesticks, or styles such as art deco candlesticks. A preliminary search of candlesticks yields thousands of results. To narrow down the selections, choose preferences from the categories and subcategories on the left pane of the results page. For example, buyers interested in period pieces can pick Periods/Styles and filter the results according to their preferences on primary material, age, original/repro and other options. Before starting a new search, click the Save search link on top of the listings for later reference. See all matching eBay Shops to browse the merchandise offered by online stores.
Conclusion
Candlesticks, especially rare retro pieces, are cherished by some people as collectible treasures. They serve as decorative accents in homes and are a hallmark of gracious living. Stylish candlesticks make gorgeous gift items that are much appreciated. An elegant candlestick set may be a centrepiece of a table arrangement for a wedding reception or a formal banquet. Wherever candlesticks find themselves, they add a touch of sophistication to any setting.