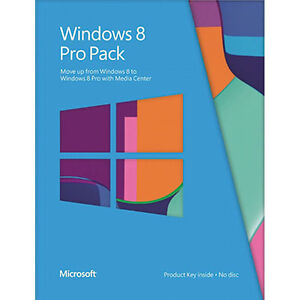 There are several ways for consumers to enjoy the newest version of Microsoft Windows. Those who purchase a new PC or laptop may find that Windows 8 is already installed. As long as certain system requirements are met, people also have the option of upgrading their current machine to Windows 8. Additionally, there are products geared toward business environments, as well as people who like to build their own computer systems. Before making a purchase, buyers are encouraged to find out if their computer is ready for an upgrade. Luckily, Microsoft offers an easy way to ascertain upgrade readiness.
With eBay, comparison shopping for Windows 8 products is easy. eBay helps online buyers browse for Windows 8 from the comfort of home. After determining system readiness and choosing the correct version, a quick eBay search produces a wide array of viable options. To find the best eBay deals on Windows 8, experienced shoppers focus on price, shipping, and returns policies. Using these details, they narrow down their search results to a manageable list of comparable items. By choosing a reputable seller, consumers can feel confident they are buying an authorized version of Windows 8.

Microsoft Windows 8 Benefits and Options
Before shopping for Windows 8 on eBay, buyers might be interested to learn more about Microsoft's newest operating system (OS). Most notably, Windows 8 connects PCs to a wide range of free and paid apps downloadable through the Windows Store. This new version of Windows also introduces an enhanced Start screen layout, much like those seen on handheld touchscreen devices. To enjoy all the benefits Windows 8 has to offer, buyers must select the correct version when shopping on eBay.
Interesting Windows 8 Innovations
Windows 8 is smoother, faster, and more secure than earlier versions, treating users to many new and useful design features. Compatible with a broad range of tablets, laptops, and PCs, Windows 8 supports both touchscreen devices and computers connected to a keyboard and mouse. Trading icons for tiles, the evolved Windows Start screen is a far cry from traditional PC desktop formats. This streamlined layout showcases brightly colored tiles representing various folders, apps, photos, and more.
By logging into their Microsoft account, users can connect to their personalized background and settings from any of their Windows 8 devices. Files and photos can be synced through the Microsoft cloud for easy access on the go. In spite of all these nifty innovations, Windows 8 is also perfect for those who struggle to learn the latest technology. This latest Microsoft OS is equipped with flexible functionality; users are free to switch between the new Start screen and the more familiar Windows desktop layout at any time.
Choosing the Right Version of Windows 8
There are several versions of Windows 8, but they are not all available as standalone products. The concurrently released Microsoft OS known as Windows RT is only available on certain PCs and tablets. Likewise, before February 1, 2013, the Windows 8 consumer edition can only be found preinstalled on select computers. This leaves Windows 8 Pro as the preferred version for upgrading computers already running an older edition of Windows. Compared to the basic version of Windows 8, the Professional version offers expanded network capabilities and enhanced security features. There is also another version geared toward people with computers that are not currently running Windows. A full system build requires either the Windows 8 or Windows 8 Professional System Builder rather that the upgrade version.

Getting Ready for a Windows 8 Upgrade
Before purchasing Windows 8 on eBay, owners must determine if their computer is compatible. Most importantly, PCs must meet certain minimum system requirements to run Windows 8. If their computer is not currently upgradable, buyers can either make the necessary adjustments or purchase a new Windows 8 device. Microsoft.com offers a Windows 8 Upgrade Assistant to help determine readiness. To complete the upgrade, a computer must be currently running one of these earlier Windows versions:
Windows XP SP3
Windows Vista
Windows 7
Windows 8 Consumer Preview
Windows 8 Release Preview
To ease the hassle of a system upgrade, Microsoft attempts to make the process as seamless as possible. For instance, programs that run on Windows 7 also run on Windows 8. Files from PCs running Windows 7, Windows 8 Consumer Preview, or Windows 8 Release Preview are easily transferable to Windows 8. On the other hand, apps on computers running Windows XP or Windows Vista must be reinstalled after the upgrade.
Windows 8 System Requirements
The following chart lists the minimum system requirements for Windows 8 installation:

| System Component | Requirement |
| --- | --- |
| Graphics Card | Microsoft DirectX 9 graphics device along with WDDM driver |
| Hard Disk Space | 16 gigabytes (GB) (for 32-bit systems); 20 GB (for 64-bit systems) |
| Processor | 1 gigahertz (GHz) or faster; support for Physical Address Extension (PAE), NX processor bit (NX), and Streaming SIMD Extensions 2 (SSE2) |
| RAM | 1 GB (for 32-bit systems); 2 GB (for 64-bit systems) |

Consumers who are unsure about their current system parameters can run the Microsoft Windows Upgrade Assistant. This free download is accessible to all consumers, even if they do not plan to purchase Windows 8 directly from Microsoft. It scans hardware, devices, and apps for compatibility with Windows 8, and lets users know if there is anything they must do before or after the upgrade. The Upgrade Assistant also reports which enhanced Windows 8 features are supported.
Nonessential System Requirements
Certain enhanced Windows 8 features have their own set of system requirements, but none are essential to basic system functionality. For instance, not all upgradable computers can make use of new touchscreen capabilities. Computers running Windows 8 must have a compatible touchscreen monitor to support this advanced technology. Here are a few more examples of specialty system requirements:
An Internet connection is necessary to access the Window Store
Users must install separate playback software for watching DVDs
Certain programs and games require an advanced graphics card

Use eBay to Comparison Shop for Windows 8
There are many different sellers offering various versions of Microsoft Windows for sale through the eBay Stores and auction listings. A quick eBay search is likely to produce many Windows 8 listings. The key is knowing how to refine search results to locate listings with satisfactory purchase terms. Luckily, eBay offers helpful comparison tools that make shopping for Microsoft Windows 8 a breeze.
Search the eBay Listings for Windows 8
To find listings for Windows 8 on eBay, start by choosing relevant search terms that relate to the desired version. For most people, "Windows 8 upgrade" is a solid set of keywords to begin an eBay search. Others might be looking specifically for a "Windows 8 system builder" or a "Windows 8 tablet." It is up to shoppers to determine which keyword combinations are most productive for them. Often, after executing a search, eBay suggests related keywords for buyers to consider.
Select Pertinent Search Refinements
A basic search for Windows 8 generally produces quite a few product listings. This means consumers are tasked with narrowing their options down to one particular listing. When faced with hundreds of possibilities, this step could take significant time without help from eBay. By using the available search refinements, shoppers can quickly weed out the listings they are not interested in. By choosing their preferences based on the following parameters, consumers can focus on eBay listings that suit them:
Price
Buying Format
Condition
Free Shipping
Item Location
Seller
How to Shop Smart with My eBay
My eBay offers an array of helpful tools to make shopping easier. For example, users who are logged into My eBay can save a search. This allows them to view the latest matching listings via email update or by visiting My eBay. Buyers can also use their eBay account to keep track of potential purchases. By watching items, they are able to compare products and receive timely price and status notifications.
Comparing Windows 8 Listings Side By Side
After buyers add items to their Watch List, comparison shopping is just a few clicks away. To access their Watch List, members must first navigate to My eBay. From there, buyers can select items for side by side comparison. This approach is especially helpful when browsing for the best deal among a number of similar eBay listings for Windows 8.

How to Research a Seller's Reputation on eBay
Before purchasing Windows 8 on eBay, buyers must feel confident the seller is supplying them with a valid Microsoft product key. This unique alphanumeric code is a crucial element in the system upgrade process. Authorized versions of Windows 8 should automatically include a product key, but buyers must not take this detail for granted. After thoroughly researching a seller's reputation, buyers can decide if his or her product descriptions are trustworthy.
Remember to Visit Seller Feedback Profiles
While members with Top-Rated Plus status are easy to spot, there are other ways to find reliable eBay sellers. Before completing a purchase transaction, buyers are encouraged to check out the seller's customer Feedback. Feedback profiles are easily accessible from the item listing page. Simply click on the Feedback score next to the member's user ID. By reading detailed seller ratings and written reviews from past customers, buyers can learn a lot about a person's eBay sales history. This information is an important indication of the accuracy and reliability of the seller's eBay product listings.

Conclusion
Consumers who are interested in purchasing Windows 8 can find plenty of options by searching eBay. There are several ways to enjoy the innovative Windows 8 OS. Some choose to buy a new desktop computer, laptop, or tablet running Windows 8. Others would rather upgrade their current system than buy new equipment. With various editions available, there is a version of Windows 8 to suit every situation. Many consumers are looking for a Windows 8 upgrade package. Alternatively, system builder products are perfect for people who want to install a parallel operating system on their current PC.
Many consumers turn to eBay to find the latest version of Microsoft Windows. An eBay product search allows them to locate matching listings quickly. Those who choose to shop for Windows 8 on eBay are likely to turn up a variety of product listings. Luckily, eBay allows people to narrow down their options quickly to find the best deals available. Savvy online shoppers also take advantage of helpful My eBay features like saved searches and custom lists. In addition to these handy tools, visible customer Feedback allows consumers to research seller reputations before purchasing Windows 8 on eBay.