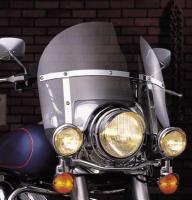 Depending on the kind of motorcycle selected, it may or may not have come from the factory with a windshield as original equipment. Touring cycles tend to have windshields because their riders, using the motorcycles for long rides in many kinds of weather, like the protection. Many other kinds of motorcycles leave the selection of a windshield and the decision whether to obtain a windshield up to the purchaser. That makes the windshield the most popular aftermarket add-on for motorcycles.
The windshield aftermarket offers a wide range of motorcycle windshields for the dedicated rider, the weekend rider, the commuter, and the sports rider. Wide, wrapping windshields offer maximum protection; small fairings hug the bike along with the sports rider. Windshields are available in acrylics, which are relatively inexpensive but more likely to shatter in an accident, and in polycarbonates, the same super tough material that is used to produce the bubble over a fighter pilot in a military aircraft.
In this guide we will review a brief history of motorcycle windshields and the value they provide to riders. We will consider how windshields are selected for their fit to the motorcycle, the visibility required, and the level of wind protection and deflection expected. Finally, we will consider how to purchase motorcycle windshields on eBay..
Brief History of Motorcycle Windshields
The first motorcycle windshields were do-it-yourself jobs, which only seems surprising to those who don't know that automobiles were open vehicles driven by goggle-protected men as late as 1919. By 1929, 9 out of 10 cars was glassed-in. Motorcycle racers had likewise begun to protect themselves with what was described as a "flyscreen" made of a new plastic that would later be sold under such trade names as Plexiglas and Lucite.
Ordinary riders began to use windshields in the 1930s and 1940s, especially on large touring bikes. The cellulose plastics that were used lacked endurance, however, yellowing and cracking much too rapidly. Frames built to better support the windshields did not adequately sustain them. Acrylic plastics emerged in the 1960s with much better clarity. Their weakness was their tendency to shatter on impact, endangering the rider. Acrylics with greater shatter resistance continued to be developed over the ensuing years. Current high impact acrylics have more than five times the shatter resistance of standard acrylic.
Polycarbonates entered the market in the 1970s, as a harder, more durable plastic. Once coated to increase their abrasion resistance, they became the industry standard for top of the line windshields, although they are somewhat vulnerable to yellowing over time.
Value of a Windshield to a Rider
The reason for a windshield is to shield a motorcycle rider from the wind and everything it carries. A windshield can help reduce the number of insects and road debris that hit a rider. In wet weather, it may reduce the amount of precipitation directly contacting the rider's face or the front of the helmet. In cold weather, it helps to create a protective air cushion in front of the rider, so the chill doesn't rob the rider of all his or her body heat.
Because motorcycle windshields don't have wipers, they can become obscured in wet or foggy weather. Most windshields are made so they end below the rider's line of vision, reducing this problem. A windshield so high that it becomes an obstructed screen in bad weather can be a poor choice.
Selecting the Right Windshield
When selecting a windshield or other windscreen for a motorcycle, some of the key terms encountered include the following:
| Term | Usage |
| --- | --- |
| Windshield | An plastic screen above or below the handlebars, generally perpendicular to the road; may be single piece, flat, or wrapped |
| | On sports bikes, a low wind deflector which is usually colored and is only slightly off parallel to the road |
| | A windshield designed to fit multiple, but not all, motorcycles; specifications will indicate which bikes it should fit |
| Wind Deflector | Generic term for windshields and fairings |
| Wind Screen | Generic term for windshields |
| Cutouts | Openings in the windshield, typically provided for access to signals |
| | Deflector for wind and road debris; mounted below the handlebars; may be tinted, solid colored, or clear |
| Acrylic | Plastic material used in wind deflectors; detractors note it is subject to shattering |
| High-Impact Acrylic | More durable acrylic, less subject to shattering |
| Polycarbonate | High-tech plastic, not subject to shattering, needs a coating to protect from abrasion; detractors say it is subject to yellowing |
Issues to consider in choosing the right windshield for a particular motorcycle include the following:
Wind Protection and Deflection
How the motorcycle windshield,, the wind, and the rider relate could be the topic of a small dissertation in aerodynamics. Failing that, we will simply address some of the key topics related to how the movement of air around the windshield or other wind deflector affects the quality and safety of the rider's experience.
Generally speaking, the wind deflector creates a pocket of still air immediately behind itself where the rider is protected from the elements and can remain relatively warm during cold weather. The small, raked-back fairing of the sports bike creates the least impact on the overall aerodynamics of the motorcycle; the wide tall windshields used by upright seated riders on some touring bikes will create the most.
Low windshields allow the air traveling over the top to reach the rider, depending on how close to the windshield he or she is seated. In warm climates this can be a boon; in cold climates, less so. Depending on the road speed, it can also be tiring to fight wind simply to retain an upright riding posture.
Narrow windshields likewise allow wind to reach the arms and hands of the rider and any passenger.
Fit on a Motorcycle
Determining how a windshield fits on a motorcycle is somewhat subjective because it depends on how the windshield fits the particular rider on the motorcycle. It is commonly suggested that riders try cardboard cutouts of the various sizes of windshield they are considering to see how they fit with their own riding posture.
Some motorcycle windshields are made for specific motorcycles and are easily bolted on; others are universal windshields and can be readily fitted above the handlebars of many different bikes. Check the specs to confirm that a particular windshield or fairing under consideration is designed for the motorcycle being used.
Visibility Provided
Contrary to what most people tend to think, the taller the windshield, the less visibility. Insects, road dust, and rain droplets amass on the windshield and limit the rider's ability to see through it. A windshield truly does just shield from wind.
It is still important to choose a windshield with good, clear plastic so when the rider does look through it toward the road he or she will get a good view. Of the two materials most popular today, the acrylic plastics (such as Lucite) remain clear for the longest time while the polycarbonates (such as Lexan), which are more durable, are prone to yellowing over time.
Other Items to Remember
When purchasing a motorcycle windshield, other items to consider purchasing include:
Any required mounting hardware.
Any desired gear bag. The largest are three pouches wide to fit wrapping windshields.
Any desired separate lower windshield, if available for the bike. These are offered in various colors and provide additional protection from road spray.
Buying Motorcycle Windshields on eBay
The rider who wants to add or replace a motorcycle windshield will find many options on eBay.. The eBay Motors marketplace offers an extensive selection of motorcycle parts selected through a convenient picker: name the motorcycle year, make and model, as well as what part is being sought and a wide range of options will appear. Sometimes auto parts and motorcycle parts both come up in the search and adding "motorcycle" to the search is helpful, as in "motorcycle windshield." Results may be further sorted by such characteristics as a preferred brand, or ordered according to price to find the best deals.
Motorcycle parts are offered on eBay by many frequent sellers as well as private parties. Sellers marked with ribbons as eBay top-rated sellers have long track records of quality services and sometimes are familiar large motorcycle and parts retailers. All sellers have feedback numbers representing the feedback they have received from past buyers. High feedback numbers indicate consistent good service, but a low number may only represent a person who has not yet made many sales. Check recent reviews before ruling a particular seller out. The seller may be very enthusiastic about winning your business.
Conclusion
Windshields are the most popular aftermarket add-on to motorcycles. The average motorcycle comes from the factory without a windshield and the average rider wants to create some level of wind protection, so he or she makes a choice from the wind screens offered by the OEM or aftermarket distributors.
The shape, size, and even color of a wind screen depend on the way it will be used. Riders who tour for long distances often prefer larger screens that create a big bubble of still air in front of them, at least during colder weather; although they may change out for a smaller screen to enjoy more circulation in warmer weather. Sports bikers are hugged close to their bikes and the little fairings that send air shooting over their helmets.
Finding the right windshield or other windscreen for a motorcycle is easy on the eBay Motors marketplace. On eBay, a wide selection of sellers offer parts for motorcycles of every kind. Locating just the right windshield for a particular motorcycle is just a matter of point, click, and select.