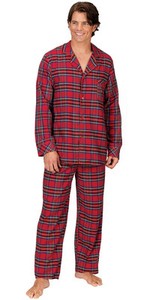 Buying men's sleepwear and robes seems like an easy process. In fact, it's common for friends and loved ones to give gifts of these items to the men in their lives for the holidays. There are dozens of options available on the market using different styles and materials. It's easy to get confused and just buy the first pair of pajamas that one sees available. However, learning a little bit about the different styles for sale in men's sleepwear and the type of material used in their manufacture can aid a great deal and lessen confusion.
Men can wear full-length nightshirts, or pajama sets with button up shirts and pajama pants. Robes are a popular item to provide extra coverage when lounging around the house. Both items can be found in complete sets or purchased individually. Men's sleepwear, in general, follows a standard sizing chart that is based on waist size. It's easy to purchase a pair of properly fitting pants and shirt following the manufacturer's sizing. Men's sleepwear and robes can be found in clothing stores, on manufacturer websites, and on auction sites like eBay.
Types of Sleepwear and Robes
Men's sleepwear and robes are garments intended to provide coverage and comfort. The type of sleepwear a man uses depends on his personal preference, and the local climate. Long-sleeved shirts and long pants are generally preferred when it is cooler outside. Short-sleeved shirts, shorts, and even underwear are preferred in hotter climates. It is a good idea for a man to have at least one complete set of pajamas and a robe, no matter how he prefers to sleep. There may be occasions when he is staying with friends or family, and garments that provide more coverage are a better option.
Lounge Pants
Lounge pants are commonly used as bottoms in pajama sets. These pants have a long leg that ends below the ankle with plenty of room for ease of movement and comfort. They typically have an elastic waistband, and may or may not feature a front fly. Some lounge pants also have pockets, but this is not necessary.
Nightshirts
Men's nightshirts vary widely in style. This just means that men have plenty of options in choosing a comfortable nightshirt to sleep in. Traditional nightshirts are very similar to nightgowns for women. They are long, ending at the mid-thigh or knee. They have a short or long arm sleeve. They are loose in the torso and sleeves, and have a wide neck or Henley style collar. Another more contemporary style nightshirt is shorter and more form fitting. It ends at the waist and buttons up at the front. These shirts are usually long-sleeved. Men can also opt to use plain white T-shirts and undershirts for their pajamas as well.
Pajama Sets
Men's pajama sets usually include a top and bottom consisting of any style combination of pants, shorts, nightshirts, and T-shirts. Most pajama sets are matching and both pieces are the same size. They may also come with a cloth bag for storage, or packing on a trip. Higher quality pajama sets can also include men's robes to lounge around in.
Robes
Men's robes are a form of outerwear worn around the house. They are generally meant for an additional layer of coverage and extra warmth on cool mornings and evenings. These robes are open in the front, and secure with a cloth belt around the waist. They are long-sleeved and very loose in the arms and torso. Robes come down to about knee length.
Sleep Shorts
Some men prefer to use sleep shorts instead of pajama bottoms. They are cooler to sleep in during hot weather, and the legs ride up while tossing and turning at night. Sleep shorts are very similar to boxer shorts and can also have an easy to open front fly. They vary in length from about mid-thigh to the knee. Sleep shorts also have an elastic waistband. Some men may simply use boxer shorts in lieu of sleep shorts.
Underwear
It is also common for men to sleep in their underwear at night, especially if they use loose fitting boxers, or boxer briefs and T-shirts. This is a much cooler way to sleep in hot climates, and helps keep the wardrobe to a minimum. Other types of pajamas may feel uncomfortable as they ride up or wrinkle over the course of the night.
Men's Sizes
Men's pajama bottoms and tops usually follow the same sizing standards as regular shirts and pants. However, they will use a simplified sizing system, such as small, medium, large, and extra large.
| Size | S | M | L | XL |
| --- | --- | --- | --- | --- |
| Waist (inches) | 28-30 | 32-34 | 36-38 | 40-42 |
The waist measurement is really all the information you'll need to pick out a pair of loose fitting men's pajamas. If you want to ensure that the pants and shirt fit properly, you can also look at the torso, arm length, and leg length, but this usually isn't required to find a good fit.
Materials
Men's sleepwear and robes can be created using any number of materials. Manufacturers and men tend to lean towards fabric that is soft and comfortable to sleep in. The ideal sleepwear should have lots of give, provide plenty of warmth or coolness, absorb sweat and oils from the skin, and provide breathability. There are just a few materials that meet most of the qualifications for comfortable pajamas.
Cotton
The most commonly used material for clothing today is cotton fabric. This ubiquitous fabric material is low maintenance, easy to sew, longer-lasting, and affordable. It's also very comfortable as a soft material with plenty of give. A pair of men's pajamas can be made of simple cotton shirt and pants, or it can be made from cotton flannel or even plush cotton fleece. The latter options are types of fabric woven in different techniques to create different effects. Cotton flannel is heavy, less giving, and soft to the touch. Fleece is very giving, almost stretchy, and usually has a long thread or loop.
Silk
A natural fiber harvested from silk worms, silk can be more costly than other materials. It is considered to be very high quality with a beautiful sheen and drape on the skin. Silk is lightweight, but also tightly woven to help keep the warmth in. On the downside, silk requires special care and doesn't have a lot of give. Men can buy complete pajama sets made of silk or just a pair of silk boxer shorts to sleep in.
Polyester
Polyester is a man-made fiber derived from plastics. It is very durable and long lasting. Polyester doesn't stain easily, nor does it degrade the way an organic fiber will. However, polyester doesn't usually offer a lot of give. It is very affordable and can be woven in a variety of techniques. Often, polyester is combined with cotton in a blended fabric to provide the best qualities of both materials.
Nylon
This material is also derived from plastic polymers. Nylon has many qualities similar to polyester. It is very durable, longer lasting, resists stains and wrinkling, and retains color very well. Nylon can be a bit lighter weight than polyester, making for very comfortable pajamas. It can also be very stretchy, providing plenty of give, but tends toward more form fitting looks. Nylon can be combined with polyester or cotton in a blended material used to create a looser fitting pair of pajamas.
Buying Men's Sleepwear and Robes on eBay
You can find men's sleepwear and robes on eBay by clicking on the Fashion category, then clicking on the Men's Clothing category, and then clicking on the Sleepwear & Robes subcategory. Here, you'll find thousands of listings for men's sleepwear and robes. You can narrow down the listings using the filters available in the navigation menu on this page. These filters include options for size, brand, style, color, pattern, and more. Be aware that the filters change from category to category.
Use the Search Engine
You can immediately start searching for a specific style, brand, or color of men's pajama by using the search engine on the eBay home page. To use the search engine, just enter the search term into the search engine bar. For instance, you can look for "Izod pajama sets." When ready to search for your item you can hit the "Search" button. eBay will instantly look through thousands of listings in the appropriate category and return the matching listings in a results page. You can also narrow down these results using the filters in the navigation menu.
Conclusion
Men's sleepwear includes both complete sets of tops and bottoms, or individually sold pajama pants and shirts. Men can also purchase robes to provide warmth and extra coverage while lounging around the house. Men have several options when it comes to styles of sleepwear including long nightshirts, and button-up long-sleeved shirts. They can also wear boxer shorts or full-length pajama pants. Some men even opt to sleep in their underwear, which helps keep the wardrobe to a minimum, feels comfortable, and saves cash.
Men's sizing for sleepwear and robes follows a simple sizing standard from small to extra-large, according to the waist measurement in inches. Men's sleepwear can be manufactured using any kind of material. However, cotton, silk, polyester, and nylon are the most commonly used fabrics. These fibers meet most of the requirements for comfortable sleepwear, such as give, warmth, breathability, softness, durability, and affordability. However, cotton and cotton blends are the most commonly used material of all. Men can find sleepwear and robes on the auction site, eBay.