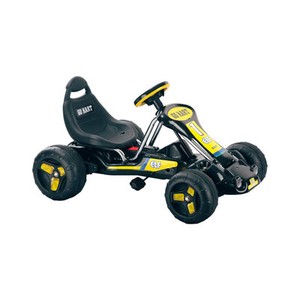 Ayrton Senna, Michael Schumacher, Alain Prost, and Fernando Alonso are all among our most cherished Formula One championship legends. At breathtaking speeds, they raced the globe's F1 circuits, exhibiting uncanny coordination and perception to maneuver their custom-built race cars as fast as possible across the finishing line. How did they get there? Did they just stumble upon a million-dollar F1 in the backyard one day and decide to give it a go? No. The truth is that all of them started their careers as go-kart drivers. Though most of us do not intend to become the next Grand Prix champion, driving go-karts is a popular activity at corporate events, bachelor parties, and other social gatherings around the world. Whether you want to finally beat "Speedy Steven" across the finish line at next year's office team building day, or to just have fun tooling around the parking lot, or, indeed, practicing for becoming the next Schumacher, owning a go-kart may be a good investment. This guide explains the basics of go-karts, and provides several tips to consider when purchasing one.

Go-Kart Basics
Go-karts are, one might say, the slower, smaller, and more loveable cousin of F1 racing cars. Where F1 cars are demanding and high-maintenance, go-karts are modest, friendly, inexpensive, and easier to drive. Most people have come across go-karts at so called "arrive and drive" rental facilities, which provide laymen with all the equipment necessary to drive. Before going out to buy a go-kart for oneself, however, it may be useful to know a few essential facts.
Go-Kart Types: For Fun or For Racing
In its simplest form, a go-kart consists of a chassis, axle, rims, gas tank, and, of course, an engine. Typically, go-karts are divided into two types: Those used for recreational purposes ("fun-karts"), and those used for competitive racing. Recreational go-karts are meant to be driven on solid surfaces, such as asphalt, while racing karts are sometimes designed for off-road driving, as well. Prospective go-kart buyers should determine whether they want a go-kart or what is known as a "buggy," i.e. a larger vehicle designed for sand and trail driving. This guide assumes readers are interested in acquiring a recreational go-kart, or one that can be used for playful racing.
Go-Kart Safety
Go-kart driving is generally regarded as a safe motorsport. Speeds, though bachelor party attendees may claim the opposite, tend to be comparatively low. Nevertheless, it is important for go-kart drivers to observe a few safety guidelines. Safety regulations and machine specifications differ from country to country, but here are a few standards to keep in mind when purchasing a go-kart privately:
The go-kart wheel base is typically between 101 cm to 127 cm.
The kart is generally not heavier than 100 kg, excluding the added weight of the driver.
The chassis length should not be more than 210 cm, and the chassis itself should not contain any temporary parts.
Speed regulations vary between different jurisdictions, but maximum speeds for recreational karts are typically between 45 km/h and 60 km/h. Such speeds will obviously not be achieved when driving within a small confined area, such as a parking lot.
Go-karts should be equipped with a seatbelt.
If the go-kart is to be used on an amateur racing circuit, the wheels should be protected so that they cannot hook onto nearby go-karts.
Buyers interested in off-road karting may want to add roll-bars to prevent driver injuries if the kart tips over.
Finally, if the kart is to be used by children, it may be wise to have it equipped with a remote emergency switch, or an adjustable speed control. If the child ventures off, or starts to gain excessive speed, the guardian can control the go-kart from a distance.
The points outlined above are for reference only, and intended as a general framework to keep in mind when purchasing a go-kart. Prospective buyers are encouraged to read up on local rules and regulations, particularly if the go-kart is to be used for racing.
Go-Kart Engines
Recreational go-karts are typically powered by gas-fueled, 4-stroke engines which, depending on whether they are designed for indoor- or outdoor use, span between 5 and 15 horsepowers. Among the more well-known manufacturers of go-kart engines are Tecumseh, Kohler, Robin, Honda, and Briggs & Stratton. It is a good idea to read up on the pros and cons of each of these brands, and to check the engine inside any go-kart before buying. In addition, there are electric go-kart engines, which require no gasoline and therefore do not emit any CO2. For recreational purposes, it may be enough to buy a less powerful engine, while those intent on engaging in amateur racing should probably get a more powerful engine, perhaps even a 2-stroke model.

Aspects of Buying a Go-Kart
Having learned the basics of go-karts, the next step is to find one that suits one's purposes.
New or Used Go-Kart
This guide assumes that readers are not semi-professional go-kart drivers out to buy a kart for the next regional championship. Beginners are probably interested in purchasing a used go-kart, as new racing karts tend to be expensive. Having said that, the beginner who wants nothing but the best may very well want to check out new models by manufacturers such as Tony Kart, Trulli, Avanti, CRG, Birel, Gillard, Kosmic, FA Kart, Zanardi, or Intrepid. Buying a brand new chassis ensures that the go-kart is in pristine condition, and instantly ready to hit the tracks (or parking lot).
Go-Kart Size Matters
Choosing go-kart size depends upon who will use the go-kart and for what purposes. If the go-kart will be used by children, it is extremely important, for safety reasons, that the vehicle not be too big for them to comfortably handle. As many countries permit go-kart racing at an early age, some karts are designed specifically for children. Australia, for instance, has a system of classification that runs from "Midgets" and "Juniors" up to "Rookies" and "Seniors." Therefore, a buyer who wants a future Schumacher in the family is encouraged to look for kid's models specifically. Conversely, adult drivers need to make sure that the go-kart is spacious enough. Homemade go-karts are normally not officially classified as one size or the other. In such cases, the buyer must use his or her best judgement to determine if the go-kart is of the appropriate dimensions.
Go-Kart Age Matters
Even when not used for racing, go-karts are exposed to much wear and tear, and buying a go-kart that is more than five years old is discouraged. For racing purposes, an engine that has served for more than four hours of driving is considered in need of renovation. Here are a few rules of thumb to help buyer determine the age of a go-kart when a seller is unable (or unwilling) to provide information about its origins:
A kart that is not equipped with hydraulic brakes, but has a mechanical brakes system, is probably an older model.
If the tires are old, the kart is often old as well. If possible, buyers could try to find out the brand of the tires (e.g. Bridgestone, Maxxis, or Dunlop) and look up the model's year of manufacture.
Axle dimensions are sometimes a good age indicator, as well. Older karts typically have a 25 mm, 28 mm, or 35 mm axle.
Finally, if the kart has been formerly used as a rental kart it, it has probably experienced a great deal of wear-and-tear.
Go-Kart Looks Matter
"It's the inside that matters," many an idealist likes to point out. Granted, this is true. What the idealist tends to forget, however, is that the surface is often a good indicator of what lies beneath. When purchasing a go-kart, therefore, prospective buyers should make a note of what cosmetic condition it is in. A used go-kart with surface blemishes all over is, most likely, not in superb mechanical condition beneath. The inside does indeed matter, but the first impression provides a hint.
Go-Kart Insides Matter
"The surface is often a good indicator of what lies beneath," many an idealist likes to point out. Granted, this is true. What the idealist tends to forget, however, is that it is the inside that really matters. Prospective go-kart buyers should not only rely on the surface appearance of the go-kart, but check its mechanical condition, as well. Here are some specific areas to inspect:
Look for visible dents to key components, such as the seat, the breaks, and the engine. It is very important that these vital parts are in proper place.
Check for bent parts. If the go-kart has been in a major accident, or several smaller ones, damage is often visible on the chassis, the wheels, the steering system, or brake discs. It is not a good idea to buy a go-kart that has been in more than two severe crashes.
Buyers should ask the seller whether the go-kart needs any special components. The seller may be able to offer advice on where to purchase such components, or may even have a spare.
Finally, it is always wise to ask about the condition of the engine. For instance, inquire about how many hours or miles it has been driven, and the number of times it has been upgraded or remodelled.
Where to Buy a Go-Kart
New and used go-karts come up for sale all the time. Enthusiasts often sell their old practice vehicles as they advance to the next level, and others simply discovered that the sport is not for them. A great place to look for go-karts, is in the classifieds pages in the local newspaper. Also, it may be worthwhile take out an ad in the paper yourself, describing the kart you want. Flea markets and garage sales are another option. Also, you can probably get great advice by calling a local go-kart club, or visiting manufacturers' websites for details about specific models.
Buying a Go-Kart on eBay
Whether buying a new or used go-kart, the Internet provides great opportunities for finding the one you want. Online marketplaces such as eBay offer hundreds of listings of both new and used models.
Searching for Go-Karts on eBay
Start by going to the main eBay page and locate the category for Motors in the panel on the left side of the screen. From there, you can access the Powersports subcategory. Click on it, and, on the page that you are taken to, notice the top pane, just beneath the eBay logo, but above the main search box. In the pane, you are able to hover your mouse over different product groups, one of which is called Powersports, Boats & More. Hold your cursor over it until the menu appears, and locate the section called Go Karts at the very left on the screen.
Alternatively, simply type "go-kart," or just "kart," (minus quotation marks) into the search box on the main page, and click the Search button to receive hundreds of results.
If you know what type of go-kart you want, add a "+" followed by the brand (e.g. "Yamaha," "Avanti," or "FA Kart") into the search box.
Another useful motor category to check out is the one for Parts & Accessories, which features hundreds of listings for spare parts and special go-kart components.
When conducting keyword searches for go-karts, click "Search title and description" to expand your results.
Finally, visit eBay's Search Tips page for more information on how to search for go-karts with keywords.
Want It Now?
If you want a particular type of go-kart, you can always post a listing under the Want It Now page so that people who have the model you are looking for can contact you directly.
Go-Kart Purchase Checklist
When sellers list a go-kart on eBay, they usually include pictures and a description of the kart.
The description should include as much detailed information as possible about the go-kart (e.g. its age, its engine, its origins, how much it has been used, whether it has been used for racing or recreational purposes, etc).
Close-up pictures of the product are often included. You may want to check, for instance, whether the go-kart looks well-kept, if it has any visible dents or cracks, and if it seems to generally look like the one you have in mind.
Take into account delivery costs. Since go-karts are large and heavy, shipping costs may significantly increase the total cost of purchase, so to avoid any unpleasant surprises, make sure to find out how the kart is to be shipped, and under what conditions.
Ask whether the go-kart will be insured during shipping.
Check the seller's reputation and buyer feedback. eBay has a useful five-star rating system, which lets previous buyers express what they thought of the seller.
Once you receive the go-kart, don't forget to leave feedback to inform other buyers of the quality of the seller's product and service.
Finally, remember when purchasing a go-kart on eBay to complete the transaction entirely using the eBay framework. Otherwise, in the unlikely event that anything with your go-kart purchase should go wrong, eBay will not be able to cover you under its
eBay Buyer Protection
program, which is there for your protection.

Conclusion
Perhaps after last year's team building day fiasco, you promised the whole department that Speedy Steven over at HR would never win again, or you would resign before next Christmas. Or, maybe you noticed that your youngest daughter showed a precocious talent for the pedal kart at age three, and you think she might be a natural on the gas-fuelled type as well. Or, perhaps you and your friends just want to put on those goggles and gloves, and ride in circles at the deserted parking lot over the weekend. Whatever you have in mind, driving your own go-kart is a fun and exciting hobby. This guide, and its introduction to go-karts and some of the aspects associated with buying one, have hopefully provided the reader with enough useful information that he or she can begin the search for a go-kart with confidence.