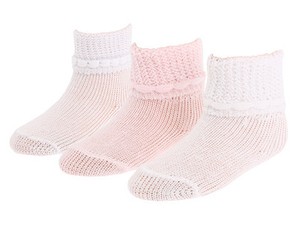 Nothing is more loveable than a pair of brand new baby feet. Baby and toddler feet keep little ones busy and parents on their toes, but it is important to keep those little piggies cozy in a pair of high quality socks. Baby and toddler socks can be difficult to choose because these little ones have unique footwear needs, such as keeping socks on a newborn who loves to kick her socks off, or providing a non-skid sole for a brand new walker. Children's socks can be purchased in a variety of places, but online stores like eBay are the best choice for quality and variety. This guide is designed to walk buyers through the process of purchasing baby and toddler socks to choose a variety that fits the child, the style, and the budget of each individual buyer to provide both comfort and function to tiny toes.
Sock Sizing
Sock sizing can be somewhat difficult due to the fact that children's sock sizes are different from shoe sizes. Sock sizes are based on the length of the foot, while shoe sizes are based on the length of the shoe. Most socks for infants or toddlers are sized simply as "infant" or "toddler." Size the socks according to the child's age and shoe size. Children age 0 to 9 months old with a shoe size of 0 to 3 wear an infant size. Children 9 to 24 months old with a shoe size of 3 to 8 wear a toddler size. Children age two to four years old with a shoe size of 8 to 13 wear a child size. Children age four to eight years old with a shoe size of 1 to 5 wear a youth size sock.
Other socks come in a number size related to age rather than simply infant, toddler, child, or youth, sized according to the child's clothing size rather than age. For example, a 12-24m sock is designed to fit children who are wearing 12-24 month clothing,, regardless of the child's actual age.
Fit
It is important that baby and toddler socks fit correctly while not being too big or too small. A sock that is too small will squeeze the toe, and the heel will slide down the sole of the foot. Socks that squeeze the toes can be harmful to babies because if tightly wound socks are worn consistently, they can cause damage to the toes and permanently change the shape of the foot.
Socks that are too big won't cause bodily injury, but can be cumbersome for both parent and child. A sock that is too big will be consistently falling off, bunching up, or sliding down the foot, leaving excess fabric around the toes that is bunched up when put into shoes.
Material
When choosing materials for baby and toddler socks, it is important to find a material that has a reputation for wicking away moisture, thereby keeping the child's feet dry. While cotton is one of the most popular materials for children's socks, it doesn't do a very good job of this. Other materials are used in baby and toddler socks to perform a specific function.
Cotton
Cotton is made out of natural fibers so it is very lightweight and comfortable. Very few people are allergic to this material, since it is all natural and chemical free. It is quite breathable, so bacteria do not settle, helping to avoid odors. Cotton is sustainable and lasts for a long time during constant use. However, cotton is highly absorbent, so on a rainy day, cotton socks will soak up moisture, which keeps little feet cold and wet.
Polyester
This is another popular material for children's socks that is a man-made fiber and highly durable and perfect to use when your children are playing games and sports. Polyester is also preferred by many parents because it doesn't shrink as much as cotton does, thereby allowing the socks to last longer for each child.
Wool
Wool material is very absorbent, but it is a very warm sock for cold winter months. Wool can absorb moisture more than thirty percent of its weight, but it will keep a child's foot warm even when soaked. Wool is highly cushioned, comfy, and very soft. It is breathable, but can also be scratchy, so it is often best worn with a soft polyester liner sock,, and then the wool sock on top.
Acrylic
Acrylic is one of the best materials for socks, because it is lightweight, soft, and warm. Moreover, it is highly durable and is moisture repellent. It also comes in many bright colors because of its ability to hold dyes strongly.
Color
Kids' socks come in a wide variety of colors. For some parents, they prefer to always purchase socks in the same color. Whether it is white, grey, or pink, this method eliminates the matching socks problem in many households. However, baby and toddler socks come in a wide variety of colors and styles, which should be taken into account when buying soft footwear. Today, socks are created with much creativity and diversity to keep your toes warm and snug, while making a fashion statement. To choose the best colors, take the child's wardrobe into consideration. For most girls, pink or purple options tend to match most of the toddler girl clothing available in stores. For boys, red, blue, or grey are great choices. In addition, keep in mind that darker colors tend to hide dirt from home flooring or playground surfaces.
Shop by Brand
Many buyers have found one brand or another that they have become dedicated to because of its high quality, durability, or sustainability. For many parents, when they find a brand of sock that works for their child, stays on, and keeps the feet warm, they are hesitant to deviate.
Infant
For infants, it can be hard to find a sock that is loose enough to be comfortable, and yet tight enough to stay on tiny feet. For these little ones, Trumpette socks are the very best. They don't fall off baby feet and they come in cute mix-and-match colors and patterns. The cost is a little higher, but they can be found discounted online. These socks even come in designed styles that are created to look like shoes for little ones who aren't wearing shoes yet. From skater Vans socks to Mary Janes, Trumpette is a great place to start for quality infant socks with lots more varieties.
Toddlers and Preschoolers
For toddlers and preschoolers, there is a wide variety of socks that work well for this age group. The main features to look for in toddler socks is that they not only stay on, but provide a gripping sole to keep new walkers from falling on hardwood, vinyl, or tile floors. Gap makes a particularly good triple-roll sock, as does Old Navy..
Big Kids
For big preschoolers who can walk steady and keep their socks on, the most important need for this age group is quality. Kids in this age group are running, jumping, and climbing on anything and everything with or without shoes on. Children's Place has a high quality brand of socks that are thick and dependable. In other brands, look for those with strong seams, thick fabric that will not get holes easily, and a high quality material that is durable.
Novelty Socks
Dress socks (or trouser socks as otherwise called) for toddlers are worn for special occasions like formal weddings, religious services, or birthdays. These socks are different than everyday socks. They are usually thin and made from wool or silk cashmere. Colors and designs are usually nude and subdued to coordinate well with the children ' s suits,, dresses, and dress shoes.
Buying Baby and Toddler Socks on eBay
Because eBay's website is so large, there is a wide variety of baby and toddler socks available. While buyers may choose to shop a local brick and mortar store, eBay is a great way to find exactly what you're looking for in one place and at a better price than retail. The first method to find baby and toddler socks on eBay is to simply run a search for the size of sock you're looking for. For example, "18m toddler socks&" or, for the brand you're looking for, such as "Trumpette infant socks.." Users with a particular color, size, or brand of socks in mind should include those additional search terms to narrow the results to find exactly what you're looking for. Additionally, most search results pages offer check boxes that let buyers filter results by more categories to narrow results to include only used items, items by a particular maker, or items from buyers in a certain location.
Sock Lots on eBay
When making clothing purchases on eBay, particularly children's clothing, many buyers will offer a "lot" purchase. A lot is a purchase that includes a wide variety of multiple items. For example, a baby sock lot purchase may include a variety of socks in different brands, colors, and perhaps sizes. When considering a lot purchase, it is important to communicate with the sellers to understand the sizes, brands, and condition of the items included.
Conclusion
From newborn infants to toddling toddlers, babies need a durable pair of socks to keep their toes warm and cozy. For infants, purchasing approximately 7-8 pair of socks is sufficient for one week's worth. For older toddlers and children, socks tend to get more dirty and/or wet, which may necessitate daily changes. Because of this, older children tend to go through more socks so 10-14 pairs of socks is recommended for one week's worth of wear. Once you find the perfect fit and size for your individual baby or toddler, take into account the material when choosing socks. Consider polyester or cotton for summer time socks with shoes or sandals, and wool for winter time socks with boots on cold or rainy days. For new babies, it is often recommended to try several brands and styles of socks to determine which will be the best fit for both comfort and function.