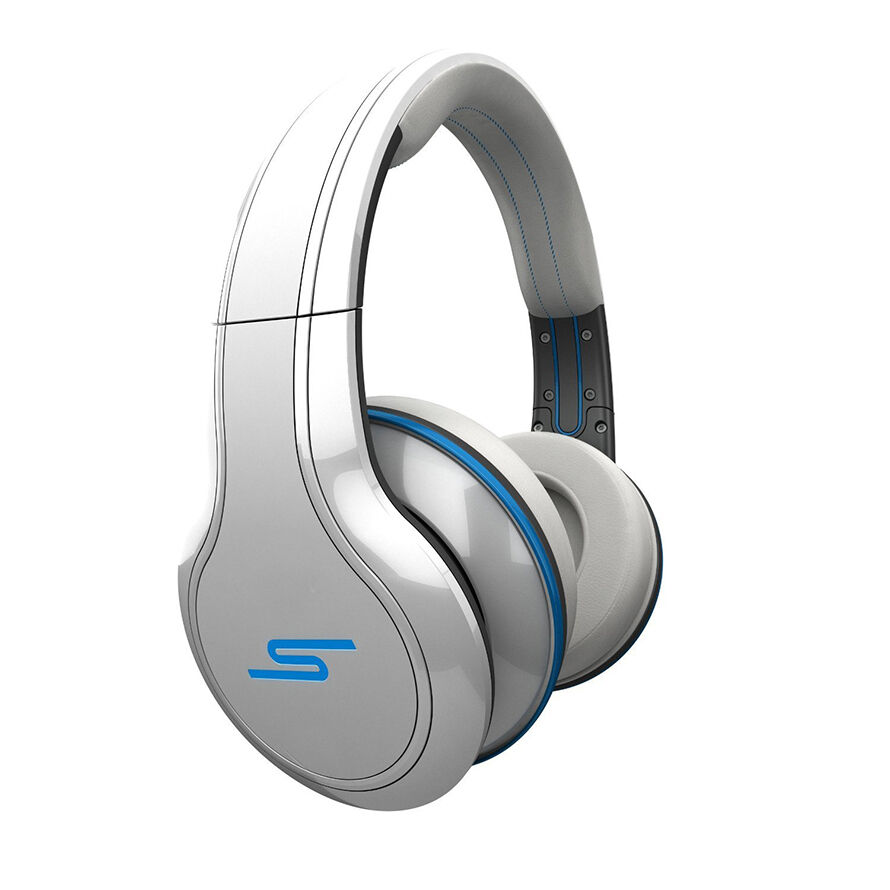 SMS Audio LLC is an American consumer electronics manufacturer headed by Curtis James Jackson III. SMS Audio produces a line of headphones, audio accessories, and clothing branded with the SMS logo. Jackson was born in Queens, New York in 1975, and is better known by his stage name, 50 Cent. Prominently known as a rap artist, Jackson has also acted and, more recently, has become a serious entrepreneur and investor. Because drugs were such a serious problem around New York City when he was growing up in the 1980s, Jackson turned to music as an avenue for self-expression.
In 2000, Jackson was shot nine times and nearly lost his life. He released an album two years later which caught the attention of music icons Eminem and Dr. Dre, and in 2003 Jackson released Get Rich or Die Tryin'. The album was a smash success and since has sold close to ten million copies. Jackson used his new found wealth and fame to open his own record label, then looked for other ways to invest and expand, which eventually led him to create SMS Audio.
The History of SMS Audio and the SMS Brand
SMS Audio (Studio Mastered Sound) began in March 2011 after Jackson purchased KonoAudio earlier in the year for an unpublicized figure, announcing a desire to acquire and rebrand the company as his own. KonoAudio had been founded in 2007 by Brian Nohe, a former Gillette executive, who transitioned into a role as the President of SMS Audio. KonoAudio was the ideal purchase for Jackson, as he was not only a musician himself but had an interest in high-end audio equipment. Jackson initially based SMS out of Delaware, then moved the company to Florida in August 2011.
In July of 2012, Jackson surprised many fans by transitioning into the sports entertainment industry, announcing that he had become a licensed New York boxing promoter. Jackson is a former boxer himself, and immediately began to heavily scout the East Coast for new boxing talent. During the initial phase of his work as a promoter, Jackson became involved with Floyd Mayweather Jr., who left the partnership about six months later. Jackson renamed his promotional team SMS Promotions.
The new promotional team marked an aggressive shift in the way Jackson viewed his SMS brand. Between March 2011 and early 2012, SMS Audio had released only three types of headphones, but after renaming his boxing promotion arm, SMS Audio began to produce many more products. In December of 2011 Jackson and SMS Audio even initiated their first charity movement, delivering 250 meals to starving Americans for each pair of SMS headphones purchased.
SMS Audio Products
SMS produces high-end audio equipment and other musical accessories, as well as SMS Audio apparel. The SMS Audio line includes theSTREET by 50 in-ear, over-ear and on-ear wired headphones; theSYNC by 50 wireless headphones; and a revised wired STREET by 50 DJ line.

| Product Title | Colors and Styles | Product Description |
| --- | --- | --- |
| SYNC by 50 (Over-Ear Wireless Headphones) | Black, Silver Obsidian, White | These wireless headphones allow users to walk around without worrying about tangled headphone wires or disconnecting during the middle of a song. Perfect for travel, running, or general exercise. Provides clear and clean sound with a dynamic range, and made with durable materials for endurance, comfort, and style. |
| STREET by 50 (Professionally-Tuned Wired Headphones) | Blue (Limited), Green (Limited), Pink (Limited), Red (Limited), Teal (Limited), Orange (Limited), Black, White, Gray, DJ Pauly D Pro DJ* (Limited), Blue Violet (Limited), Yellow (Limited), Magenta (Limited), Ghost White, Phantom Blue, Shadow Black | Jackson touts these over-ear headphones as durable, rugged, and tough, and they utilize Enhanced Bass technology to deliver the cleanest quality of music for whatever genre the user prefers. Available as on-ear or in-ear headphone styles. |
| STREET by 50 (In-Ear Wired Headphones) | Black, Pink, White | Dynamically designed, these easy to move in-ear headphones feature strong cables and sound that is crystal clear. |
*The first celebrity-endorsed SMS set, these STREET headphones feature an extra-long, coiled DJ cable to give listeners more mobility while using the headphones. Bass is enhanced, ear pads are heavily padded, and easily folding hinges make these headphones perfect for aspiring, recreational, or professional DJs.
Benefits of SMS Audio Headphones
With a globally successful musician at the helm, and the backing of an experienced executive and entrepreneur in Brian Nohe, SMS Audio LLC has produced headphones that, utilizing new Kleer Technology, deliver sound quality that could be described as unprecedented. The SYNC audio line, for example, features 16 bit CD-quality digital lossless sound with professionally-tuned 40 millimeter drivers and a digital EQ. The headsets have on board volume and track control, bass boost, passive noise cancellation and limited sound leakage. While music fans will love these features, casual consumers will simply enjoy the beautiful and concentrated sounds.
The technological details of the SMS Audio line might seem overwhelming, but put simply these headphones deliver top of the line audio quality with a stylish and easy to use interface, not to mention pleasant bonus features like memory foam ear pads, which form to the listeners ears and keep that shape. The headphones' sync feature allows four users to sync their headphones to a single audio source from up to fifty feet away, and the seventeen-hour battery life keeps the music going a long, long time.
A quick search online can help you find out more about the SYNC and STREET audio lines. You can find all of SMS Audio's headphones on eBay, as well as their very popular lines of SMS gear, including t-shirts, hats, and iPhone cases, simply by typing a search into the search box at the top of any eBay page.
Shopping for 50 Cent's SMS Headphones On eBay
When you are looking for official SMS Audio merchandise, taking advantage of eBay's broad selection is an ideal starting point. Most SMS Audio products come in just three colors, making them easy enough to find online or in brick and mortar stores. However, the limited edition colors and styles - especially for the STREET by 50 line - can be much harder to track down, and that is when an eBay search can be useful. Try specifying an exact color or exact model when you search, like "SMS Street Blue Violet" or "50 Cent STREET over-ear limited." The narrower your search, the fewer results you will see, but they will also become more accurate.
Many of the SMS headphones can be bid on in a traditional eBay auction, but you can also purchase directly from an authorized dealer, or by meeting an auctioneer's "Buy It Now" asking price before the bidding war ends. Violet and Red wired headphones are just an example of some of the limited edition STREET headphones that can be found on eBay.
Conclusion
Whether you are a big music fan, a professional musician, or just a casual consumer looking for a solid set of headphones, the SMS Audio headphones offer top of the line sound quality, durable materials, and extremely stylish designs. Jackson is not simply a face for the company, but an owner and heavily invested entrepreneur who intends to revolutionize the technology and fashion behind audio gear. If you want a little more guidance on how to choose the right headphones for you, eBay has additional information on how to buy headphones.