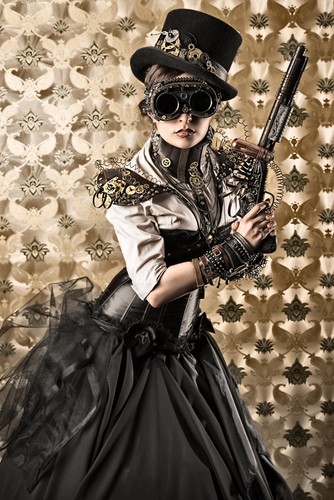 A science fiction and classical Victorian style mixture, steampunk attire is a visual balance between the past and the future. Commonly associated with layered accessories, such as futuristic tools and metal embellishments, completing the right steampunk look requires an eye for traditional garments with a modern flare. Steampunk fashion is highly versatile, allowing wearers to be creative, and quickly adjust the look by adding, removing, or altering a few key accessories.
Regardless of individual fashion sense, to accessorize a steampunk dress shoppers should consider a quick review of the various types of steampunk accessories available, steampunk jewelry characteristics, and what to carry to be steampunk ready. Accessories to enhance a steampunk dress are available at women's department stores and online stores, such as eBay, which offer accessories to fit every budget and personality.
Types of Steampunk Accessories
From aviation inspired eyewear to industrial looking apparel, adding accessories to a steampunk dress is a perfect way to enhance and polish the final look. Steampunk fashion encourages layers of accessories, providing shoppers a range of options to choose from.
Apparel
Often stylized with a blend of military, industrial, and vintage features, steampunk apparel accessories are also major elements to complete the steampunk image. Start with a basic steampunk dress and add a figure enhancing corset or silky set of gloves to quickly alter the overall look. To adhere to steampunk fashion, select black, brown, or metallic hues with zippers, buttons, buckles, and straps.
Corset
A classic Victorian style garment, a corset is a constricting accessory, laced tightly around the waist. Designed to slim the midsection and further enhance the bust and hip lines, adding a black leather corset with lace accents to a steampunk dress dramatically transforms the shape and contour.
Gloves
Accentuate the hands and arms by including a pair of lace or leather gloves to a steampunk dress ensemble. Classic steampunk glove accessory choices include fingerless gloves with clockwork elements and long-sleeved gloves in all fabrics and colors.
Scarf
Perfect for a steampunk dress with an exposed neckline, a scarf is a versatile accessory that ties in different and creative ways. Featured with fringe or made of silk, a scarf with a unique print can also make a stylish statement.
Belt
Adding a belt to a steampunk dress is a slimming and practical accessory for steampunk fashion. Popular steampunk belt choices include metal and leather options with brass features and pouches for gear or tools.
Bustle
A decorative Victorian or military-style bustle is an ideal way to accessorize a steampunk dress. Worn around the waist, a bustle is perfect for accentuating natural curves and increasing overall fullness of a favorite steampunk dress.
Coat
Stay warm and make a dramatic fashion statement by adding a fitted military style or loose Victorian era coat to a steampunk dress ensemble. Popular steampunk coat options include a long duster with buckles, a classic bomber jacket, or a structured tailcoat.
Eyewear
Steampunk eyewear is an essential, easy-to-wear element within steampunk fashion. Commonly worn correctly in place or pushed up to the top of the head, the right steampunk eyewear accessory can create a dramatic visual effect.
Goggles
A highly popular steampunk trend, aviator goggles can evolve a steampunk dress from simple to stylish in an instant. Often embellished with gears and spikes, steampunk goggles are also available in a variety of materials.
Sunglasses
A fashionable alternative to goggles, steampunk-inspired sunglasses are available in a variety of glass colors. To stay in line with steampunk fashion, the favored sunglass shape is traditionally round.
Footwear
Selecting the right footwear accessory is an easy way to significantly enhance a steampunk dress. Regardless if the steampunk dress reaches the floor, distinctive footwear is a creative way to incorporate steampunk style from head to toe.
Boots
Step into a steampunk dress properly with a pair of military or gothic-inspired boots. Adorned with buckles, laces, or zippers, steampunk boots pair well with black or brown boot spats.
Heels
Add a few inches to a steampunk dress outfit with a pair of strappy Victorian or punk-style heels. Shoppers can select from classic pumps to bootie heels and still adhere to popular steampunk fashion.
Headwear
A popular trend in steampunk fashion, headwear accessories provide playful and unique options to boost a steampunk dress. From full-face masks to hats, steampunk headwear is a convenient and easy ensemble addition.
Hat
Top off a steampunk dress outfit with an appropriate styled hat. Held in place with hair pins or intentionally oversized, popular steampunk style hats include a bowler hat, scally cap , top hat, or mini top hat.
Mask
Try an adventurous accessory by adding a mask to steampunk dress attire. Easily removed when necessary, informed shoppers should select agas mask,masquerade mask, or welding helmet to complete the steampunk image.
Steampunk Jewelry
A blend of metallic hues and ornate elements, steampunk jewelry ranges from complex creations to minimal jeweled expressions. Select an industrial bracelet or an edgy pair of earrings, jewelry can transform a steampunk dress from basic to bold instantly. Informed shoppers should consider being open minded by trying on different jewelry options to find which works best for each individual. Below is a chart listing various types of jewelry and common steampunk features to look for while shopping.
| Type of Jewelry | Steampunk Characteristics |
| --- | --- |
| | Select a bronze cuff, leather strap bracelet, or decorative charm bracelet |
| | Select a pair of earrings with industrial or aviation elements, such as wings, keys, clock gears, and feathers |
| | Select a long chain pendant, beaded choker, or multi-chain necklace |
| | Select a gold, bronze, or copper fashion ring with hardware features, such as studs and gears |
Pairing different jewelry accessories together to achieve the right steampunk look varies according to personal preference. When in doubt, consider modeling a favorite steampunk dress and matching jewelry accessories for a friend to gain a second opinion.
How to Be Steampunk Ready
Complete a steampunk dress ensemble with the right equipment accessories to be steampunk ready at any moment. Attend to the time with a pocket watch and rise to any occasion with a set of steampunk inspired tools and additional accessories.
Pocket Watch
An essential element in steampunk fashion, a pocket watch hangs from a chain and features subtle or dramatic details and carvings. A pocket watch is also a functional and convenient way to keep time and accessorize a steampunk dress. Shoppers can select from custom-made designs or antique pocket watches to achieve the right steampunk look.
Tools
Steampunk-style tools are often science fiction and industrial-inspired gadgets, either handmade or custom device creations. Tool accessories are often stored inside attached belt pouches for easy access and convenience. Examples of steampunk tool accessories include:
● Keys
● Wrenches
● Gauges
● Valves
Additional Gear
Further enhance a steampunk dress ensemble by grabbing a few extra useful accessories before completing the finished look. Gain shade under a blackumbrella or keep cool with a colorful hand fan. If the weather is nice, consider carrying a decorative paper and lace parasol to accessorize a steampunk dress. Finally, a futuristic designed weapon, such as apistol,ray gun, or cane is a playful way to add personality to a steampunk look.
How to Buy Accessories for a Steampunk Dress on eBay
Visit eBay directly to find a wide range of fashionable and creative accessories for a steampunk dress. Shoppers can conveniently find " steampunk accessories" directly by using the keyword search bar, or leisurely browse the vast collection of clothing, shoes, and accessories available. Narrowing various steampunk accessory options to match a buyer's unique specifications is simple by filtering the search results according to product price, condition, and geographical location. Prior to making a final purchase, informed shoppers should consider taking a moment to review a seller's feedback rating , which reflects previous buyer satisfaction. If a buyer desires to ask a question about an accessory item, click on "Ask a Question" on the product page to quickly send the seller a question.
For shoppers who enjoy browsing a collection of products available by a specific seller, visit eBay Stores. The stores are perfect for finding accessories to enhance a steampunk dress; simply type the keyword into the search bar to begin.
Conclusion
A steampunk dress is a daring fashion statement with a creative blend of vintage and futuristic components and metal adornments. Further transformed into a memorable and unique ensemble by incorporating layers of industrial accessories, a steampunk dress is the foundation of an individual steampunk image. To add character to a steampunk dress, buyers can select from classic steampunk style gear, such as a brass buckle belt and vintage pocket watch, or adventurous accessories, such as a full-face gas mask or carrying along a set of steampunk tools. Shoppers interested in accessorizing a steampunk dress can find a range of trendy accessories at women's fashion departments, specialty shops, and online distributors. By selecting an online store, such as eBay, shoppers can browse steampunk style accessories directly from the comfort and convenience of home.