This guide explains how can you trace your package with a tracking number within Turkey. First a tracking number has 13 character which start with 2 character letters then 9 character numbers and ends with 2 character letters what explains sending country. If your tracking number has NOT 13 character please demand correct one. Last 2 letters explains sending country's code, in every case this must be TR for Turkey. Below Turkish Post's (PTT) international registered mail tracking link which you can trace your package within Turkey:
http://www1.ptt.gov.tr/tr/interaktif/kayitliposta-yd_yeniweb.php
Copy above and paste your web browser's adress line then press enter.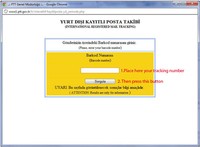 Place your tracking number in the white box in the middle then press "Sorgula" (search) button. In this page you can ONLY trace your package's movements within Turkey. In general conditions you will see in the 4th step your country's name where process place. This means your package is in your country.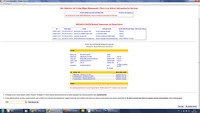 If you want to trace your package in your country same page has a router link. At the bottom of PTT's page you can select your country's Turkish name and then press "Web Sitesini Aç" (Open Website) button. I have guides for some country's tracking page which you can trace in your country. Below the list of English and Turkish names for country's who have web page for tracking. If you don't see your country's name in the list this mean your country has NOT a webpage OR my country doesn't know that your country has a webpage:)