Do you have bigger cats that have trouble fitting in those "jumbo" size covered litter boxes? Do you have a cat that unintentionally pees over the side of the box? Do you find yourself constantly having to wipe the edges of a covered box so urine doesn't drip on your carpet?
I had these problems and after trial and error, found a solution. Here's how you can make your own covered litter box that's big enough for any size cat and too tall to pee over the edge.
Here are the items that you'll need:
large tote bin 17"-18" tall
drill with large drill bit
strong serrated knife
carpenter's metal file
can of spray paint
Find a tote bin that at least 17" to 18" tall. It should be wide enough that your cat can turn around in. I found this perfect Sterilite 22 gal tote bin at Walmart. It's 22" long x 18" wide x 17" tall. Try to also find a bin that is not made of a brittle plastic as they tend to crack easier. (I tried shorter tote bins and left the cover off, but my Annie is able to pee over a 12" tall bin. She doesn't squat when she pees, so I have to have something taller that she can't pee over.)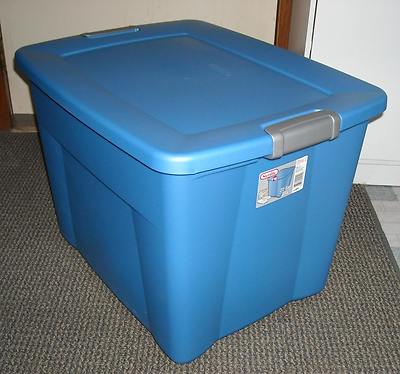 Using a marker, mark an opening on the end that's about 9" x 7". The bottom edge should be 8"-9" above the floor.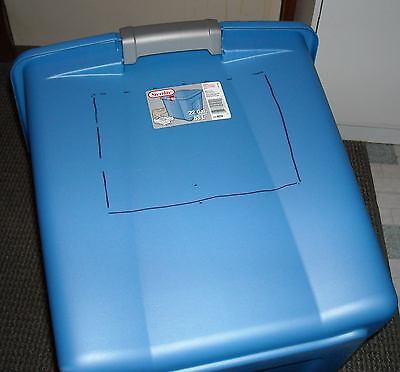 Insert the largest drill bit you have into your drill and drill holes every inch along the marked opening. Drill a couple of holes closer in the corners. (Drilling holes provides guides for your serrated knife to cut to. Without the drill holes, the knife will crack the plastic of the bin where you don't want it too.)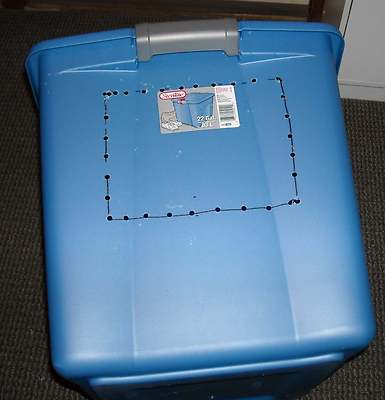 Take a serrated knife and work it in a corner hole and start sawing to the next drill hole. Please be careful not to cut yourself. (I've tried other types of knives, hot knives, and scissors and the serrated knife has worked the best. Mine is strong enough to cut frozen food.)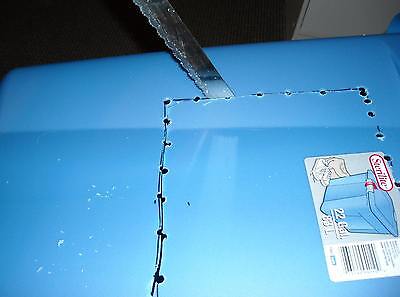 You'll end up with a opening like this. Can you tell that the edges feel a little sharp?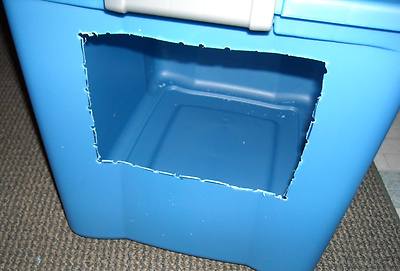 That's why you want to take your metal file and file all the edges till they are no longer sharp. This is for your protection as well as your kitties. The edge will end up fuzzy, which is fine. If that bothers you, you can trim the fuzzies off with a scissor.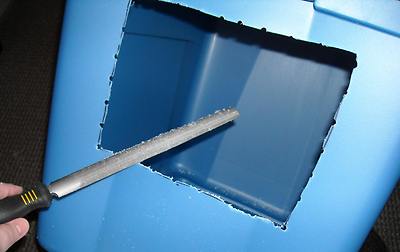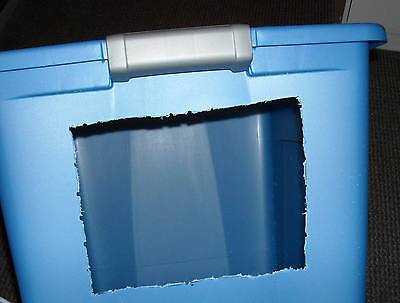 Then take your drill and drill holes into the cover. This is for airflow. Don't drill any holes in the sides of the bin. If you got a stander like my Annie, you don't want any opportunities for peeing through the holes.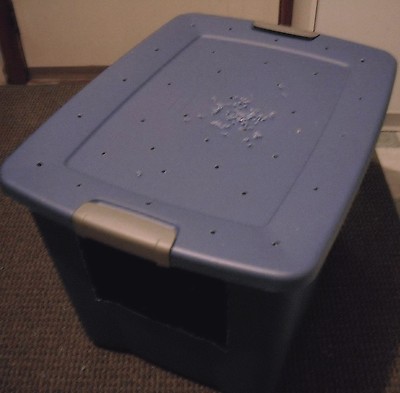 All of this has taken me less than 30 minutes to do. Now if you're fussy like me, I don't usually care much for the color of the bin. So I bought some spray paint in a color that goes with my décor and sprayed the sides of the bin and the outside of the lid. There is no need to paint the bottom of the bin and I don't recommend painting the inside because of the urine and the cat's nails.
It usually takes 2 coats of paint to cover the color completely. This is after the first coat. (I used a cheap plastic $1 tablecloth for a drop cloth.)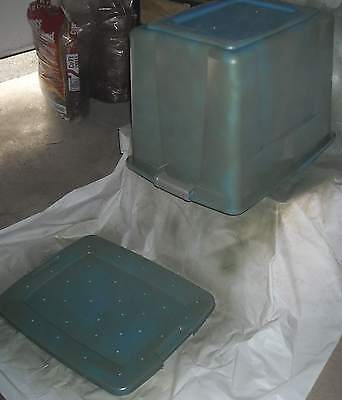 Here's the final result after the 2nd coat. I now have a nice looking cover litter box that's plenty big for my hunka munkas. And even better, it costs me less than $11 for the tote bin and the paint. :)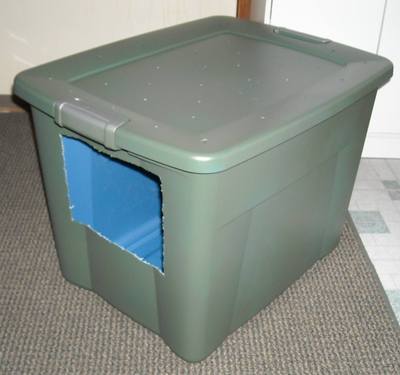 Did you find this helpful? If so, let me know by voting yes. Thanks for reading!