Fairy gardens in vintage suitcases are not just sweet—they're portable. You can change up the decor and move the suitcase around your garden (or patio) where it can be enjoyed throughout the gardening season.

I'll show you everything you need to know to create one for your garden.
3 Quick Tips For Getting Started
1. The number one best tip is: pay attention to scale.
This means, make sure the fairy garden supplies you buy all work nicely together and the sizes match.
You don't want to end up with a giant table and a tiny chair or a fairy cottage that looks way too big next to some little flower pots.
Check measurements before you shop.
2. Think of a fairy garden as a story - what do you want yours to tell?
Who will live there?
What do they like to do?
Start with a theme, character, or accessory you love and build the garden around it. If you can't think of one - ask a child for help.
3. Decide if you want living or synthetic plants.
Living plants will take some maintenance. I used real moss in my garden (shown here).
If you opt for synthetic plants, your garden could be displayed indoors or outdoors.
Vintage suitcase (or any sturdy container will do) - see vintage suitcases
Waterproof plastic sheet (or thick garbage bag) to line suitcase
Plants - moss, creeping sedums, grass lawn - see moss
Potting soil - also known as container soil
Fairy house or cottage or toadstool - see fairy cottages
Fairy garden accessories - see my collection of favorites
Small stones, twigs, acorns (optional)
Garden gloves
Knife to cut moss or grass (optional)
Plant mister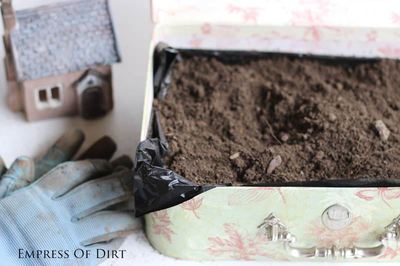 Add a caption
Line the suitcase with a plastic sheet.
Click to Edit Caption
Line suitcase with waterproof, plastic sheet.
Add potting / container soil.
Hide edges of plastic sheet.

You won't need to make drainage holes in the suitcase if you are just using plants like moss.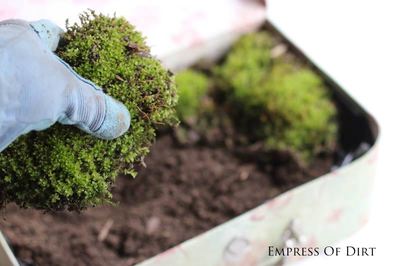 Add a caption
Add moss in sections to fit the shape of the suitcase.
Click to Edit Caption
Moisten plants (moss, sedum, grass) and add to suitcase.

You can tear the moss gently apart or use a serrated knife to trim it if needed.

Optional
If you would like to line the inside lid of the suitcase with moss, you can hot glue it in place and mist it with water to keep it green.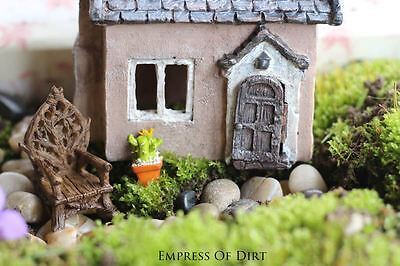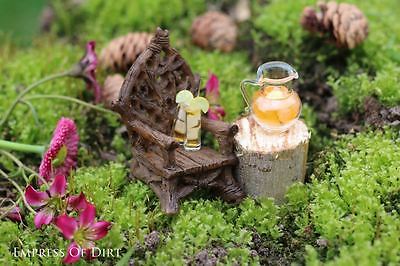 Add a caption
There are so many wonderful accessories!
Click to Edit Caption
Add furniture and accessories.

This is the fun part.

Remember how I said to dream up a theme or character to build your fairy garden for?

Pick accessories you love and the garden will come to life.

My tiny gnome loves lemonade.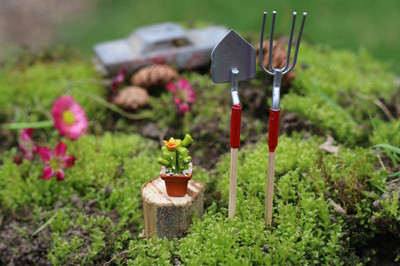 Add a caption
There's work to do in this garden!
Click to Edit Caption
Create little scenes.

Here the garden gnome has left his tools while he's off to do something else.

I also use old toys, aquarium supplies, and dollhouse accessories in my fairy garden.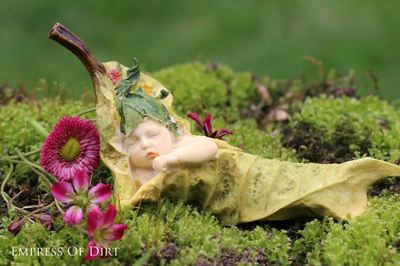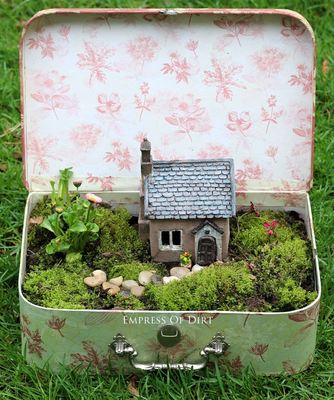 Add a caption
Keep your fairy garden in a sheltered, shady location.
Click to Edit Caption
Taking Care Of Your Fairy Garden

1. Keep the fairy garden in a shady, sheltered location where it won't be disturbed by weather or critters.

2. Mist the moss regularly but avoid getting water on the suitcase.

3. Make sure the gnomes don't drink all the lemonade.