. . .Or, Ruining Your Feedback in Under Six Seconds
It's winter. It's cold, it's snowy. There's nothing to do. Or, is there? You leave the husbands and kids watching some silly movie you've seen a hundred times and head for your computer. "eBay, eBay, eBay," you chant almost wildly. As your computer boots up and the blood rushes through your veins you have to determine what it is you're going to buy today. You give no thought to how much you're going to buy today or what it is you'll spend. All you know is, "eBay, eBay, eBay."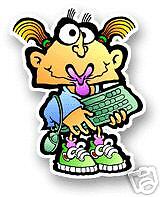 The computer is up and the
eBay Homepage
is staring you in the face. You login. Now what? "Hmmm," you say to yourself, "Maybe some
jewelry
today." As you browse through page after page of eBay ads for jewelry, you spot not one, not two, not three, but several items from the same seller that you just have to have!today." You look at each photo and excitement rushes through you. You see all the words on the page, but you look right through them. Blah, blah, blah. You've read those words on other pages. You don't have time to read them and besides, they're all basically the same. Or are they?
You happily click on the Buy it Now and sit back and wait for your invoice. "Sixteen items in six minutes," you happily say, "Must be some sort of record." As you're daydreaming about what outfit to wear with each piece that you bought the familiar "You've got mail" alarm sounds. You click on the invoice. "What's this?," you ask knowing that no one can hear you. "This is only one piece of what I bought and it's $7.00 to ship? What about the other pieces?" Over and over you hear the "You've got mail" alarm going off signaling the arrival of yet another invoice. "But, I don't want to pay for them separately. I want to pay for them together. The seller doesn't combine? How was I to know?" As you read the invoice you notice payment is due within seven days. "Oh, no. That can't be. Most sellers require ten days. I can't possibly get the money there within seven days. I don't get paid for three more days. This mess isn't my fault." Or, is it?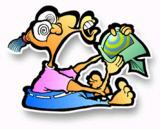 You contact the seller. You're angry, you're upset to the point of tears. "I can't afford all of this," you Email the seller. "I thought you combined shipping. I thought it would be much cheaper than all of this. I can't pay in seven days. I need more time."
The seller won't change her terms and now you're really mad. "I'll get back at her. I'll tell all the buyers on eBay that she's a bad seller," you chant wildly as your mouse pointer is poised above the negative feedback button. The feedback you leave is scathing. It doesn't come anywhere near the truth, but it makes you feel better. It makes you feel victorious. Then you notice that your feedback is no longer 100% and you wonder how this could have possibly happened. What's this? The seller left YOU a negative? For what? She was the one who wouldn't cooperate. She didn't have any right to do this. Or, did she?
Some Tips on HOW to Buy on eBay
What you have witnessed is how NOT to buy on eBay. Buying on eBay takes times. Pictures never tell the whole story. Sure, you want to see what you are buying, but do you know the terms the seller has set for buying that item? Is it new, used, in mint condition or does it have a flaw? What size is it? What are the measurements? Does the seller combine shipping or do you have to pay for each individual item? How about payment? Is it due immediately, in seven days or ten? Checks? Credit cards? Money orders? Which payment form does the seller accept?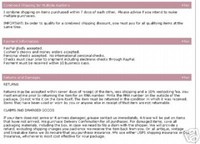 How are you going to know all the answers to all of these questions? Read. Read the ad from start to finish. Make sure you like and understand what you're reading. If there's something you don't understand, make sure you Ask the Seller a Question. It's up to you to be the informed buyer. Read what others have said about the seller in their feedback. Generally, when I'm buying, I look for sellers whose feedback is 98% positive or higher. Being a seller myself, I know that not all negative feedback received by a seller is justified just like in the example above. Above all, make sure you can afford what you're buying and that you are going to follow through with the sale. If not, you could find yourself with unpaid item strikes. Three of these and you're out. Keep in mind that terms and conditions are set by each individual seller. Never assume that they are all the same!
Buying from someone's
eBay Store
can be an easy way to find out what the seller's terms and conditions are all in one place. Many stores have a section devoted to this kind of information. You can find out more information by clicking on the
About the Seller
link. On auction pages this is the "Me" in red and blue that you see by the seller's eBay user ID.
You take the time to look both ways before crossing the street. You take the time to put on your seat belt before driving away in your car. You do these things to protect yourself. Don't stop there, protect yourself by taking the time to read, understand and ask before making a purchase on eBay.