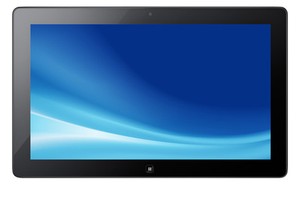 Since the Apple iPad hit the market in 2010, tablet computers have enjoyed significant commercial success. In 2012, 31% of all U.S. Internet users reported owning a tablet computer. While a tablet has many basic purposes, including web browsing, texting, and running apps, most users use these devices to view commercial media, such as video, television shows, books, magazines, and other content. With this focus on media, screen resolution is even more important for tablets than for other computers. In addition, since tablets rely on graphical interfaces, having a larger screen and higher resolution lets users operate tablets more effectively. It is important for buyers to take the time to research the varying capabilities and setups available on the market before purchasing a tablet. A tablet can be purchased at some larger department stores, electronics retailers, and computer stores. In addition, shoppers can find thousands of tablet computers at affordable prices at online marketplaces like eBay.

Common Tablet Screen Sizes and Resolutions
Like computers, tablet screens are measured on a diagonal rather than in length and width. In response to customer demand, tablet manufacturers settled on two main diagonal screen sizes for their computers: 10.1 inches and 8.4 inches. In addition, there are five main resolution classifications used by most manufacturers. Tablet resolutions can be written as either the pixel count or the industry classification. The most common resolutions are 800x600 (WVGA), 1024x600 (WSVGA), 1024x768 (XGA), 1366x768 or 1280x800 (WXGA), and 2048x1536 (QXGA). To determine the physical screen size of a tablet that you already own, take a tape measure and simply measure the diagonal in inches.

Naturally, choosing a tablet with both a larger screen and higher resolution results in a more enjoyable user experience, especially when using a tablet as an e-reader or portable media player for watching movies. Pixels are measured in PPI, "pixels per inch," or DPI, "dots per inch." Anything considered high resolution is 300 DPI at whatever size the screen is, for example, 1280 x 800. When viewing photos on a computer, users can usually test the DPI by looking at an image's properties. The DPI setting can then be adjusted to scale down an image. The color depth of an image refers to the number of bits used to indicate the color in an image.

In addition to the screen size and pixel count, users intending to focus their tablet usage on multimedia functions should also consider the display's aspect ratio. Tablet computers come in two common aspect ratios: a standard 4:3 ratio and a widescreen 16:9 ratio.
Deciding Whether to Use Portrait or Landscape Mode
It is also important to consider whether a tablet is used in portrait or landscape mode, as such a decision has a significant impact on the number of usable pixels. Most users choose to operate their tablets in landscape mode, as it increases the number of usable pixels for displaying web pages and watching video content. Perhaps the only time it is wise to operate a tablet in portrait mode is when using it as an e-reader. Portrait mode allows users to see a full page of text in a familiar way, which makes for easier reading.

For many users, however, it is important to find a tablet with a screen resolution that allows for comfortable viewing of a user's desired content. Each user needs to decide individually whether the tablet is primarily used in portrait mode, landscape mode, or a combination of the two. Only then can a user make an informed decision about what tablet to buy.

Factors to Consider when Selecting a Tablet
There are several other factors to consider in addition to screen resolution when buying a tablet. Besides screen resolution, a tablet's processor, RAM size, storage space, and its touchscreen sensitivity are all important factors that differentiate tablets. These factors determine how powerful a given tablet is and how easy it is for the tablet user to access desired content.
Processors
Like a standard desktop or laptop computer, a tablet's processor is the computer's brain. The speed of the processor and the number of cores it has determines how many processes the tablet can run at once and how efficient each process is. As tablet computers are generally used in more limited scenarios than desktops or laptops, tablet processors are generally smaller and somewhat slower than other processors. While most tablet processors only clock in between 1.0 and 1.6 GHz, most high-end tablets utilize dual-core processors to double the amount of processes and applications the machine can run.
RAM
The amount of RAM a computer has also has an impact on how efficiently the computer processes information. More RAM means less stress on the hard drive while allowing the processor to more easily access the information stored on the RAM. For example, a device with 8GB of RAM generally runs much faster than one with 2GB of RAM. Again, because tablets are generally used for surfing the Web, viewing media, reading e-books, and playing simple games, their RAM requirements are less stringent than those of standard computers. If a user runs into an issue where an app crashes while another app, such as the camera, is in use, it could be that the device does not have enough RAM. While computers have much more RAM, most tablets have 1GB of RAM, with some higher-end models sporting two gigs.
Screen Resolution
As tablets are most often used to consume multimedia, their screen resolution and display ratings are extremely important. Resolutions span a wide variety of sizes, from the 800x480 resolution of many smaller 7-inch tablets to the massive 2048x1536 resolution of the Apple iPad 3rd Generation. Most of the popular tablets, however, offer resolutions of either 1024x768 or 1280x800. Naturally, the higher the resolution, the more detailed the images displayed on the tablet are. Users planning to use their tablets to watch movies, shows, or webcasts should definitely take the time to compare screen resolutions of various tablets.
Touchscreen Capabilities
Since tablets lack other human interface devices like mice and keyboards, their touchscreen capabilities are perhaps the most important factors that buyers take into account when choosing a tablet. All popular tablet computers utilize capacitive touchscreens with multi-touch capabilities. Depending on the model of tablet, the processor can handle two, four, or ten points of contact at once. The higher the multi-touch capabilities, the easier it is for users to interface with the tablet. Having ten points of contact allows users to have all ten fingers on the screen at once, which is ideal for users who utilize an on-screen keyboard.

Screen Resolutions of Popular Tablets
As mentioned above, tablet computers come in a variety of screen resolutions. Users should take into account the screen resolution and intended use of each tablet before deciding which to purchase. Tablets designed primarily for use as e-readers do not need to be as large or have as high a resolution as tablets designed to be used for viewing multimedia or playing games.
The Apple iPad
Perhaps the most popular tablet computer on the market, the Apple iPad is what most casual users think of when they hear the term "tablet computer." The iPad has dominated market share of tablets since it was released in 2010. The newest iPad features a 9.7-inch screen with a display resolution of 2048x1536. This resolution is significantly higher than that available on any other tablet, in addition to being larger than many desktop or laptop screens. This high resolution allows users to watch multimedia content in high definition, a feature that has helped Apple hold on to its market share.
The HP TouchPad and the Samsung Galaxy Tab
There has been little serious competition to the Apple iPad, at least in the large-screen market. The HP TouchPad and the Samsung Galaxy Tab have emerged as viable Android-based alternatives to the iPad. The TouchPad features a 9.7-inch screen, similar to the iPad. However, it can only support a maximum screen resolution of 1024x768, a far cry from the iPad's high-resolution screen.
The Galaxy Tab is one of the leading small form-factor tablets, with a screen size of 7 inches and a maximum resolution of 1024x600 pixels, making it an ideal balance between portability and graphical capabilities. The smaller size of the Tab makes it great for users who want a smaller tablet with comparable graphical capabilities to larger tablets like the iPad or TouchPad.
The Kindle Fire and Nook Tablet
In the small form-factor world, there are two main competitors that are fighting for market dominance: the Amazon Kindle Fire and the Barnes & Noble Nook Tablet. Both of these tablets developed out of inexpensive e-readers, which has contributed to their widespread dominance of the small-scale market. Both tablets feature 7-inch screens with 1028x600 resolutions. The main difference between the Kindle and the Nook is their access to content, as each tablet is tied to their home store for content purchases.

Choosing a Tablet with Confidence on eBay
Shoppers who are looking for tablet computers can find thousands of items for sale on eBay. Potential buyers can browse the selection of tablets by typing a particular model into the Search bar or by using the Categories tabs on the category home page to narrow down the results. In the unlikely event that shoppers are unable to find an item which meets their needs, they can browse eBay Stores or save a search on My eBay.
Selecting a Reputable Seller on eBay
After finding an item that works for them, buyers should always take the time to research both the item in question and the seller, taking special care to pay attention to any comments from previous buyers in the seller's Feedback. Shoppers should also take the time to compare a product's features and price in order to ensure that they are receiving a good deal. eBay's Feedback feature allows buyers to share comments and rate their interactions with the seller. This feature affords users insight into how a seller operates his or her business and how he or she interacts with customers.

Conclusion
Since the introduction of the iPad in 2010, tablet market share has grown exponentially as users realize the benefits of being able to access the Internet and media from any wireless-enabled location. With this popularity, though, have come a number of novice users and potential buyers who do not know what to look for in a tablet computer. Taking the time to research different tablets, especially their differences in screen resolution, will result in an enjoyable user experience and increased ease of use. Though tablets can be found at a number of different retailers, one of the most cost-effective ways of finding quality products at affordable prices is shopping at online marketplaces like eBay. Sites like eBay allow buyers to compare prices and capabilities in order to find the item that works best for them.